Sign up for online consultation
Dentistry in Solomianka
Dental clinic Lumi-Dent [Solomenskiy district, Kiev]
Date of publication:
09.12.2020
MODERN DENTISTRY IN SOLOMENKA DISTRICT IN KIEV
Do you need a good dentistry with modern equipment and qualified doctors? Still, you are not ready to go all over the whole city to get an appointment with a specialist, are you?
Then there is good news for you: the services of a dentist can be obtained entirely near your place - quickly, without queuing, at an adequate price to the extend necessary.
One of the Lumi-Dent dentistry department is located at:

Levka Matsievycha str. 2/4 (earlier known as Sotsialistychna street).

Lumi-Dent dentistry location.

The clinic is located next to the streets: Aviakonstruktora Antonova str., Chokolovskyi Boulevard, Povitroflotskyi Avenue, Prosvesheniya str., Solomenskaya Square, Mytropolyta Vasylia Lypkjvskoho str., Narodnoho Opolcheniya str., Yerevanskaya str.

Go to clinic 3-D tour.

Lumi-Dent took the 1st place in the independent brand rating "People's Brand 2020", as the best dentistry in Kyiv.
The main objectives of Lumi-Dent dentistry, since its foundation:
The help of the qualified dentists available to each client;

Painless and comfortable treatment;

All necessary services in one place – convenient decision for everyone.
The Lumi-Dent network in Kyiv is expanding progressively, and that is only a start.
Foto. The external view of clinic at Solomenka district.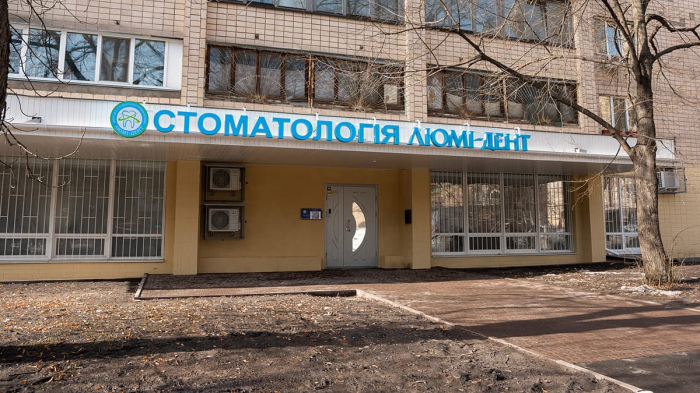 Our department location is the best place to visit for those who live in Solomianka and neighboring departments (Shevchenkovskiy, Pecherskiy, Holoseevskiy districts, etc.).
Now, everyone can get urgent help or undergo treatment right next to home or work.
There is all necessary equipment to provide proven and quality services:
there is a map on our website;

Solomianka department works 7 days a week;

the convenient parking is located nearby our clinic for you, so there is no necessity to look for a parking place long.
Our Lumi-Dent department offers a full range of services, using advanced technology to guarantee a painless treatment with maximum comfort.

Foto. The dentists team of Lumi-Dent.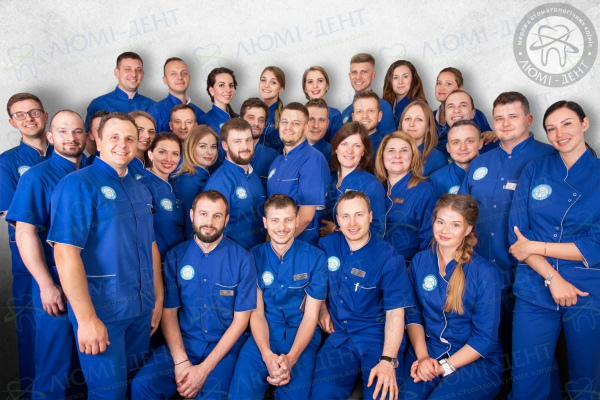 SERVICES PROPOSED IN LUMI-DENT CLINICS, SOLOMENKA DEPARTMENT (KYIV).
The private dentistry has everything you need for a comprehensive treatment.
There are:
painless teeth filling;

teeth implantation with the equipment of new generation;

prosthetics (crowns; bridgeworks, movable and non-movable prosthetics, veneers' teeth restoration);

orthodontic treatment (braces for children and adults, alternative methods of non-braces treatment);

a wisdom tooth (third molar) removing;

scaling and polishing;

gum diseases treatment and etc.
There are the latest technologies in our dentistry: modern X-ray machines, treatment under the microscope, safe anesthesia (it can be used without any risks during pregnancy).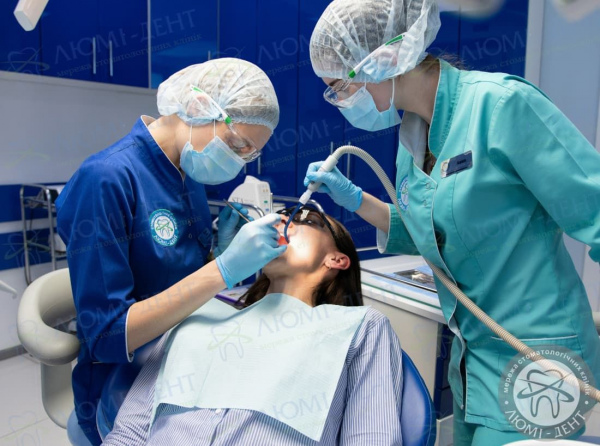 MODERN STOMATOLOGICAL TECHNOLOGIES, KYIV
The latest medical solutions, recognized by the world European dentistry, are used in Lumi-Dent clinics.
Plasmolifting – treatment and strengthening of muscles;

Ozonization of the oral cavity (the safest way of tissue disinfection known by dentists nowadays);

Teeth enamel implantation (painless treatment);

Laser dentistry (in case of surgical intervention necessity);

Digital dentistry (smile modeling before the implantation and prosthetics).
Computerized anesthesia, used in all our departments, completely solves the problem of fear before treatment.
STA (single tooth anesthesia) system is the type of anesthesia during which the patient do not feel an injection. All the process is painless and convenient.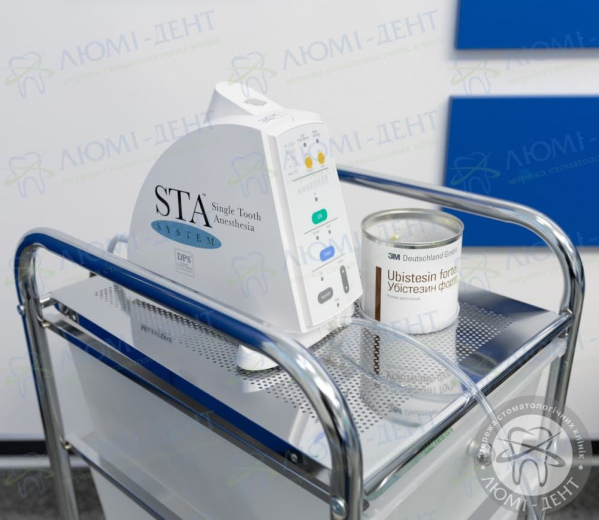 PEDIATRIC DENTISTRY
Lumi-Dent is a family stomatological center of beautiful and healthy smile. Lumi-Dent is a real revelation for Solomenka district.
Pediatric dentistry will pleasantly surprise you with modern technological solutions and fundamentally new approach in work with children.
The main peculiarities of this approach:
Children adaptation;

At the first meeting doctor play and talk to your child, in case of emergency assistance is unnecessary;

After each meeting, the child receives a small gift.
SERVICES PROPOSED IN LUMI-DENT CLINIC PEDIATRIC DEPARTMENT
There are all types of services in pediatric department at Solomianka district:
Deciduous (milk) teeth treatment (including painless treatment under sedation);

Caries prevention (oral cavity hygiene lessons, fissure sealing, etc.);

Gums' treatment;

Orthodontic treatment (braces, Frenkel devices (bright beautiful colored plates that will help correct the baby's bite without any discomfort);

Milk teeth removing, etc.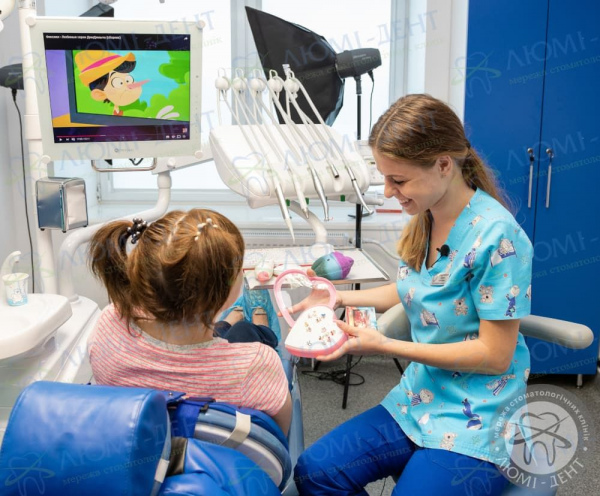 HOW TO BOOK AN APPOINTMENT?
All you have to do to book an appointment for necessary specialist in Solomianka district:
To make a call (it doesn't matter from which district you are);

To make a visit (if it will be convenient for you);

Submit an online application on our website (you may also found out there all the necessary information about our location, prices, services and etc.);
It is possible to book an appointment for planned treatment or in case of medical emergency.
There are experienced anesthesiologists in our dentistry (its rare both for this area and for Kyiv as well).
It is possible to undergo all the necessary services nearby, without waiting times.
POSITIVE SIDES OF TEETH TREATMENT IN LUMI-DENT CLINICS
Ourdepartment of private dentistry in Solomianka district is a well-deserved representative of Lumi-Dent clinic, which always may propose:
Painless and comfortable treatment;

Without overpayments services (fair prices, regular promotions, discount cards);

Quality assurance (lazer dentistry, treatment under the microscope, digital modeling);

It is appropriately located, as well.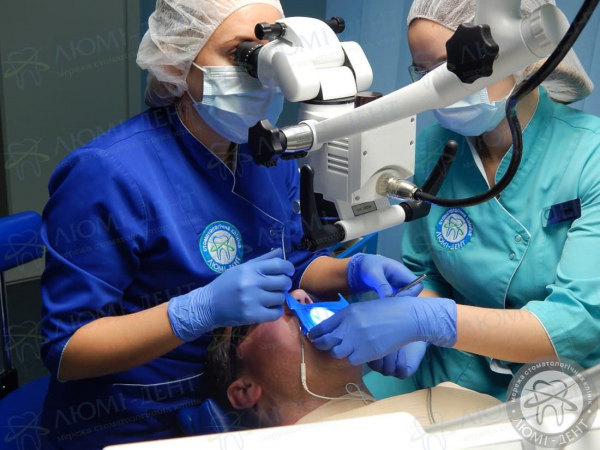 You don't have far to come, now, to receive proper treatment.
Lumi-Dent is the best family dentistry close to your home or work! Just make a call and book an appointment!
We are glad to see you in Lumi-Dent – one of the best dentistry in Solomianka district!
SIGN UP FOR A FREE CONSULTATION!
Until prices rise - sign up for a free consultation!
Sign up for free online consultation