Sign up for online consultation
Katshuk Diana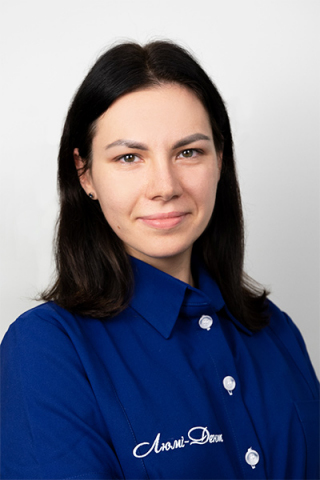 Ortodontist
Make an appointment with this doctor
Orthodontist in the network of dental clinics Lumi-Dent in Kiev, conducts an appointment at the department in Obolon district.
Education:
Graduated from the Kyiv Medical University.

Passed the internship at the Kyiv Medical University with a specialization «General Dentistry».

Get specialization on «Orthodontics» at the Shupyk National Medical Academy of Postgraduate Education.
Specialization, types of activity:
Prevention of dental anomalies in children;

Orthodontic treatment of adolescents and adults with various types of braces;

Orthodontic use of different types of braces;

Orthodontic preparation of patients for orthopedic treatment, implantation;

The use of microimplants as an additional element and support in orthodontic treatment.
Participated in seminars and courses:
2023
«Orthodontic treatment with removal of premolars»;

«Pediatric orthodontics from A to Z»;

«Bends on arcs. Manual skills and biomechanics»;

«Microimplants in orthodontics»;
2022
«Orthodontic assistance in wartime conditions»;

«Wire bending in daily practice. Bends of the first, second and third order»;

«Functional orthodontics: clear protocols for diagnosis and treatment of TMJ pathology»;

«Anatomy and pathology of TMJ on CT. Interpretation of received data»;
2021
Speaker at the International Conference of Young Orthodontists with the topic;

«Influence of early loss of deciduous teeth on dentoalveolar anomalies in children»;

«Current issues in orthodontics»;

«Fundamentals of Fixed Orthodontic Technique»;

Scientific and Practical Conference on Orthodontics «Ukrainian Orthodontic School»;

«Orthodontics yesterday, today, tomorrow»;

Scientific and practical conference with international participation «Orthodontics today. Again, about the main thing»;

«Topical issues of pediatric dentistry. Prophylaxis»;
2020
«Interdisciplinary professional education of a dentist»;

«Профессиональное развитие врача-стоматолога Professional development of a dentist»;

Symposium on Pediatric Dentistry.
Dr. Katshuk Diana statistics

2022

Number of consultations

488

The number of braces installed by type

Metal braces

165

Low-profile metal braces

168

Ceramic braces

162

Sapphire (monocrystal) bracket system

159

Braces Experience GC (metal).

167

The number of corrections

952

Установленных детских пластинок.

194

Установленных прозрачных кап (элайнеров).

165
Video reviews about the Dr. Katshuk D.
Examples of the works of Dr. Katshuk D.
Photo with Dr. Katshuk D.
Return to the list of doctors
Until prices rise - sign up for a free consultation!
Sign up for free online consultation