Sign up for online consultation
Soldatova Olha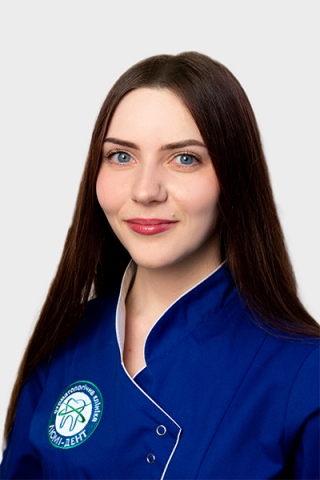 Orthodontist
Make an appointment with this doctor
Orthodontist in the network of dental clinics Lumi-Dent in Kiev, conducts an appointment at the department in Solomianka.
Education:
Graduated from the Dnipropetrovsk Medical Academy of the Ministry of Health of Ukraine;

Internship at the Vinnytsia National Medical University named after M.I. Pirogov;

Completed the specialization «Orthodontics» at the Bogomolets National Medical University.
Specialization, types of activity:
Prevention of dento-jaw anomalies in children;

Treatment of bite pathologies in children and adolescents with removable and non-removable orthodontic equipment;

Orthodontic treatment with various types of bracket systems;

Bite correction using transparent mouthguards (aligners);

Treatment with micro-implants as an additional support;

Orthodontic preparation of the oral cavity before prosthetics, implantation.
Participated in seminars and courses:
2023
«Orthodontic correction after splint therapy»;

«Fundamentals of functional dentistry»;

«Nuances of early orthodontic treatment»;

«Protocols for treating complex orthodontic cases using Bio-Ray microimplants»;
2022
«Early Orthodontic Treatment: When and How»;

«Oral splints: Diagnosis, Design and Treatment Protocols»;

«An Intriduction to Temporomandubular Disoders and Orofacial Pain: Understanding the Problem»;

«Issues of professional responsibility of dentists in the event of a patient filing a lawsuit in court, ways of protection»;

Speaker at the International Conference of Young Orthodontists on the topic «Growth and development of jawbones in the age aspect»;

«Orthodontic residency. Modern principles of orthodontic treatment. Basics of diagnosis. Successful start of practice»;

Active participant in ХV International Scientific and Practical Conference «Innovations and Prospects of World Science»;
2021
«Standards for providing medical dental care in the clinical practice of a dentist»;

«Dental practice in the conditions of a pandemic»;

«Diagnosis and treatment of class 2 anomalies»;

«Diagnosis and treatment of class 3 anomalies»;

Speaker at the International Conference of Young Orthodontists on the topic «Disruption of TMJ structural relationships in bite pathology»;

Active participant in VII International Scientific and Practical Conference «Modern Scientific Research: Achievements, Innovations and

Development Prospects»;
2020
«Start school of orthodontics»;
2019
1st Ukrainian congress with international participation «Integrated medicine and dentistry»;
2018
IX (XIV) congress «Association of dentists of Ukraine»;

«Inter Profi School» by Institute Hyalual.
Statistics of Dr. Soldatova O.

2022

Number of consultations.

408

The number of braces installed by type.

Metal braces.

170

Low-profile metal braces.

163

Ceramic braces.

154

Sapphire (monocrystal) bracket system.

168

Self-ligating (metal) bracket system Damon-3 mx.

146

Self-ligating (ceramic) bracket-system Damon3.

160

The number of corrections.

772

The number of installed children's plates.

185

Number of installed aligners.

176
Return to the list of doctors
Until prices rise - sign up for a free consultation!
Sign up for free online consultation