Sign up for online consultation
Ruslan Korzhev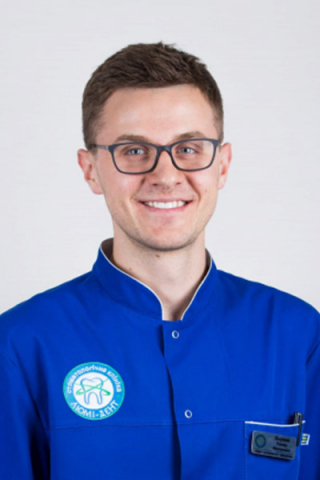 Orthodontist
Orthodontist in the network of dental clinics Lumi-Dent in Kiev, conducts an appointment at the department in Poznyaki Osokorki.
Full member of the Association of Orthodontists of Europe.
Member of Ukrainian Dental Association.
Work experience is 11 years.
Education:
Graduated from Donetsk National Medical University with a degree in Dentistry

Internship was held at the Donetsk National Medical University

Specialization in orthodontics received at the Odessa National Medical University
Specialization, activities:
Prevention of dental anomalies in children

Bite correction and normalization of jaw growth in children and adolescents

Orthodontic treatment of adult patients

Alignment of teeth and bite correction using bracket-systems (classical and self-ligating) and transparent caps
Participated in seminars and courses:
2021
Certificate "Finishing in orthodontics: the art of seeing and knowing" - Davide Mirabella;
2020
Certificate "Occlusion splint. Basic knowledge for practical use";

Certificate "Digital orthodontics - opportunities and implementation";

Certificate "Orthodontic Biomechanics CORE", Wollerau;
2019
Course "Modern Orthodontics: New Concepts and Techniques. Management of skeletal growth. Functional treatment "(prof David Suarez Quintanilla, Spain), Kiev;
2018
"Complex of orthopedic and surgical disorders of Straumann", Kiev;

Conference "FACE Meeting Vienna", Vienna;

Practical course "Multi-loop technique for correction of mesial and open bite", Kiev;

Practical course "Lingual technique of orthodontic treatment", Kiev;
2017
Certificate "Microimplants and Modern Orthodontic Microsurgery", Odessa;

Course "Biomechanics in Orthodontics", Kharkiv;

"Principles technics and Results in Edgewise Orthodontics", Paris, France;

Certificate "Correction of deep bite in adolescents and adult patients", St. Petersburg;

Certificate "Correction of open bite in adolescents and adult patients", Moscow;

Certificate "Treatment of pathologies class 2. FORSUS", Lviv;

Certificate "Secrets of work with BiHelix devices. Tipodont";
2016
Diploma "Innovative approaches in the treatment and prevention of orthodontic pathology", 2nd Ukrainian Orthodontic Congress, Kiev;

Diploma "Early effective orthodontic treatment: key positions and new approaches" (Prof Marco Rosa, Italy), Minsk;
2014
Master class on the use of the system of invisible trays "Eabp Align";
2013
89th Congress of the Europian Orthodontic Sociaty, Reykjavik;

Diploma "Orthodontic management of adult patients – possibilities and limitations", Prague;
2011
Diploma "Mini-implants - skeletal anchorage", Kharkov;
2009
Cycle 1: "Apparatus "straight arc", its structural elements, features of their use in orthodontic treatment".
Statistics Dr. Ruslan Korzhev

2022

Number of consultations

825

The number of braces installed by type

Installation of metal braces

166

Installation of low-profile metal braces

198

Installation of ceramic braces

167

Installation of sapphire (monocrystal) bracket system

162

Installation of the self-ligating (metal) bracket system Damon-3 mx

176

Installation of the self-ligating (ceramic) bracket-system Damon3

181

The number of corrections

920

The number of installed children's plate's

196

Number of installed aligners

277
VIDEO REVIEWS OF DR. KORZHEV R.
EXAMPLES OF THE WORK OF DR. KORZHEV R.
PHOTOS WITH A DR. KORZHEV R.
Return to the list of doctors
Until prices rise - sign up for a free consultation!
Sign up for free online consultation