Sign up for online consultation
Polozhyi Ruslan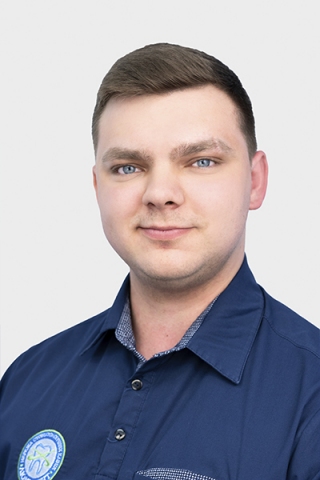 Surgeon-implantologist
Make an appointment with this doctor
Doctor implant-surgeon in the network of dental clinics Lumi-Dent in Kiev, conducts an appointment at the department in Poznyaki Osokorki.
Education:
Graduated from Kyiv Medical University;

Internship on the basis of the department of the Kyiv Medical University.
Specialization, types of activity:
Typical and atypical tooth extraction;

Immediate and delayed dental implantation;

Navigational surgery;

Augmentation, NKR;

Sinus lifting (open, closed);

3D planning of complete rehabilitation in the absence of a tooth, as well as edentulous jaws;

Soft tissue plastic;

Navigation implantation;

Work with immediate load protocols All-on-4, All-on-6;

Implantation with systems (Straumann, MegaGen, Nobel, Neodent, NeoBioTech);

Carrying out surgical interventions under local and general anesthesia;

Tooth-preserving operations.
Participated in seminars and courses:
2023
«Tactical medicine in combat conditions»;

«East European conference on problems of dental implantation»;

«Surgical and orthopedic aspects of working with dental implants»;
2022
«Basics of minimally invasive techniques»;

«New trends and technologies in dental implantation»;
2021
«Inclined implantation: immediate implant-supported prosthetics in severe atrophy of the jaw»;

«Symposium. Swiss Days in Ukraine. Simplification of immediate load protocols»;

«Comprehensive training in orthopedic and surgical solutions Straumann»;
2020
«Protocols of aesthetic rehabilitation: from single implantation to total»;

«Sinus lifting from A to Z»;

Symposium «How to achieve a successful result of regenerative treatment?»;
2018
«Modern periodontology and implantology».
Dr. Polozhyi Ruslan statistics

2022

Consultations held

637

The number of implants installed, the total number and separately for the types of implants:

- Nobel Biocare

67

- MIS

17

- MegaGen

173

- Straumann

126

Total number of implants installed per year

359

Simple tooth extractions

174

Wisdom tooth extractions

261

Operations performed sinus lift

42

Amount of soft-woven plastic held including recession closure

268

Bone grafts performed

39
Video with Dr. Polozhyi R.
Examples of the works of Dr. Polozhyi R.
Photo with Dr. Polozhyi R.
Return to the list of doctors
Until prices rise - sign up for a free consultation!
Sign up for free online consultation