Solonchenko Illia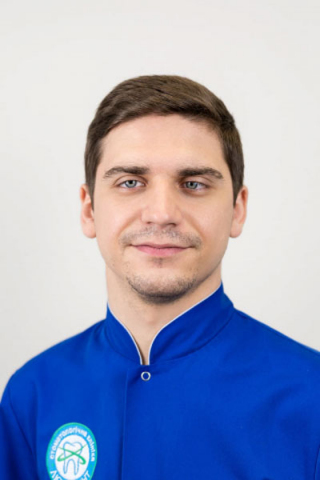 Therapist
Make an appointment with this doctor
Therapist in Kyiv Lumi Dent clinics, conducts an appointment at the department in Solomianka district.
Education:
Graduated from the Ukrainian Medical Dental Academy;

Passed an internship at the Kharkiv National Medical University.
Specialization, activities:
Complex professional hygiene (manual, ultrasonic scelling, Air Flow);

Direct dental restorations using photopolymer materials;

Treatment of carious and non-carious dental lesions, as well as their complications;

Treatment of dental root canals using a dental microscope and the use of modern obturation techniques;

Removal of foreign bodies from root canals;

Preparation of teeth for orthopedic treatment.
Participated in seminars and courses:
2020
Dental internship in Bulgaria, "Swiss Dentaprime";
2019
Dental Forum United Dental Forum;

"Ceramic Weekend 2", "BG Academy";
2018
"Prosthetic dentistry: Inlays, Veneers", "Fenestra";

"Endodontics from a scientific point of view", "United Dental Group";

Took part in the United Dental Forum;
2017
Endodontic symposium during international dental forums and exhibitions "MEDVIN";
| | |
| --- | --- |
| Dr. Solonchenko Illia statistics | 2020 |
| Consultations | 214 |
| Tooth fillings | 251 |
| Treatment under anesthesia | 202 |
| Professional teeth hygiene | 309 |
| Teeth whitening | 7 |
| Treated root canals | 208 |
| Maryland bridges installation | 4 |
| Plasmolifting procedures | 3 |
Return to the list of doctors