Sign up for online consultation
Hnyp Vitalii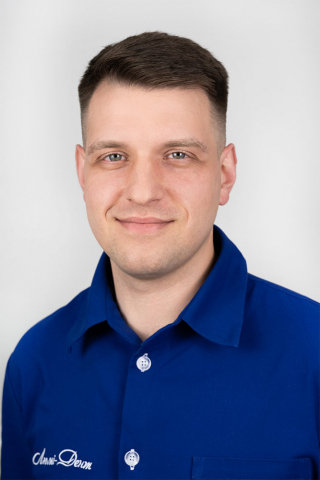 Surgeon-implantologist
Make an appointment with this doctor
Doctor implant-surgeon in the network of dental clinics Lumi-Dent in Kiev, conducts an appointment at the department in Solomianka district.
Education:
Graduated from the Bogomolets National Medical University;

Passed the internship at the Bogomolets National Medical University at the department of the Surgical Dentistry and Maxillofacial Surgery;

Got specialization on the Surgical Dentistry at the Ukrainian Military Medical Academy of the Ministry of Defense of Ukraine.
Specialization, types of activity:
Extraction of wisdom teeth, atypical extraction;

Atraumatic extraction of teeth, which allows dental implantation instead of the extracted tooth on the day of surgery;

One and two-stage implantation of teeth;

3D planning of complete rehabilitation in the absence of a tooth, as well as with completely edentulous jaws;

Work with navigation templates for dental implantation;

Tooth-preserving operations;

Periodontal surgery;

Jaw bone grafting with use a variety of techniques;

Bone grafting (GBR, sinus lifting);

Surgery under local and general anesthesia;

Soft tissue augmentation (elimination of gingival recessions, plastic of the vestibule of the oral cavity).
Participated in seminars and courses:
2020
«Modeling of soft tissue around implants»;

«Implantology - basic course: just about the complex and difficult about the simple»;
2019
Dentsply Sirona Conference «Therapy. Digital dentistry. Implantology. Prosthetics»;

«Successfully passed the Clinical Course Art of the Microscope Enhanced Endodontics»;
2018
«Ideas for advanced restoration of lateral teeth»;

«Dental implant planning with immediate loading of prosthetics»;

«Easy start into dynasty»;

«Clinical aspects when working with all-ceramic restorations»;

«Artistic restoration of the frontal and lateral group of teeth»;
2017
«Complications of implantological treatment: from aesthetic failures to peri-implantitis»;

2016
«Stetes of emergency in dentistry»;

«Prosthetics on collapsible and non-collapsible implants»;

«Basic Theoretical and Practical Course For Implantology».
Dr. Hnyp Vitalii statistics

2022

Consultations held

922

The number of implants installed, the total number and separately for the types of implants:

- Nobel Biocare

98

- MIS

17

- MegaGen

395

- Straumann

176

Total number of implants installed per year

628

Simple tooth extractions

746

Wisdom tooth extractions

313

Operations performed sinus lift

48

Amount of soft-woven plastic held including recession closure

597

Bone grafts performed

83
Return to the list of doctors
Until prices rise - sign up for a free consultation!
Sign up for free online consultation