Sign up for online consultation
Dental Prosthetics In Kiev
Content:
Stomatologist near me
What is dental prosthetics and what is its use?
What is the price of dental prosthetics?
Removable teeth prostheses
Fixed prosthesis
Stomatologist near me
If you have damaged or removed teeth, you can restore them by the procedure of fabrication of prosthetic dentures.
There are already modern dental clinics in Kiev ready to offer quality dental prosthetics up to the world standards at a fair price.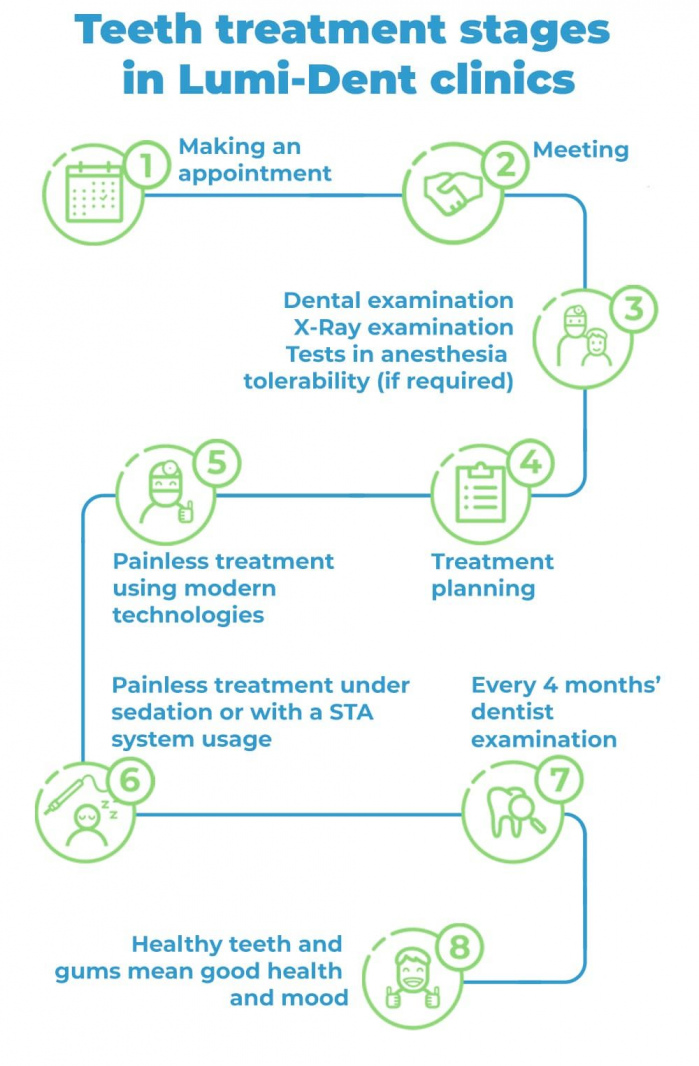 What is dental prosthetics and what is its use?
Modern dental prosthetics in the clinic of dentistry Lumi-Dent in Kiev Ukraine allows you to restore quickly and painlessly the row of teeth and its functions, as well as to solve aesthetic problems. It is carried out using high-quality materials and polymers, as well as high-precision equipment. In addition, modern orthopedic dentistry applies innovative methods which allow to achieve the highest results in each individual case.
Prosthesis is also used to prevent further destruction of the teeth rows and for the bite adjustments, as well as for the prevention of development of diseases of the gastrointestinal tract.
In the clinic of dentistry Lumi-Dent everyone can get a reliable free consultation on the optimal design of construction. Doctors of various specializations take part in this consultation - which allows to work out an integrated approach to each patient taking into account individual peculiarities of the oral cavity.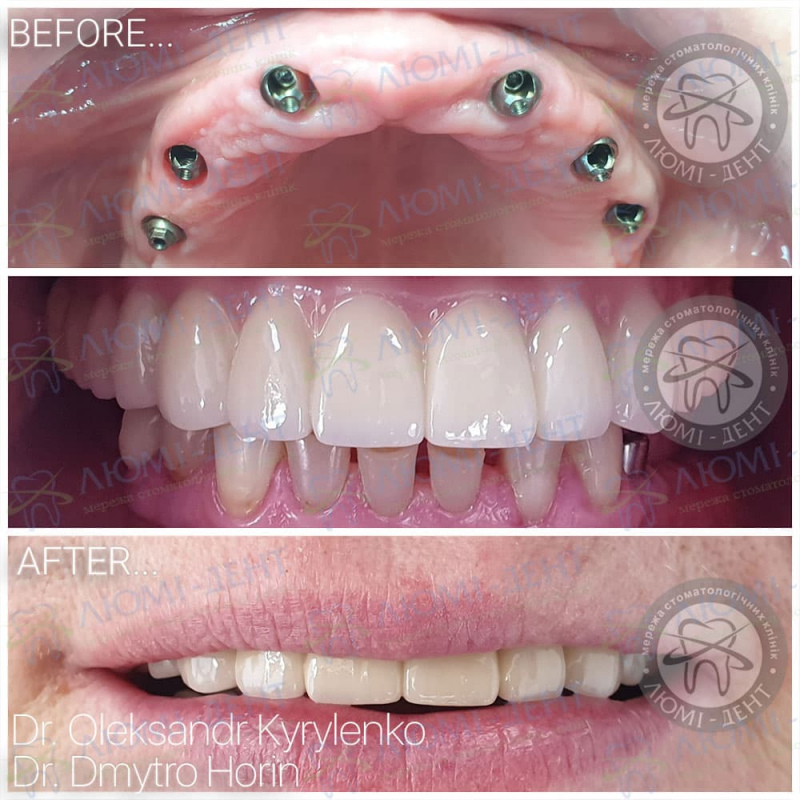 What is the price of dental prosthetics?
The cost of services and prices for the constructions are calculated individually for each case. Everything depends on the material chosen for the crown and the complexity of the procedure. The most budgetary option is the installation of metal-ceramic crowns and composite materials. And the most expensive options are the ceramic and porcelain crowns, which in appearance can't be distinguished from the real teeth.
Arrange an appointment for treatment in our dentistry, and we will give you a beautiful smile, you will be pleasantly surprised with our prices!
Lumi-Dent has its own innovative dental prosthetic laboratory with a full cycle of the latest digital dentistry: the most advanced dental milling machine Imes Core 350i, the intraoral digital scanner 3 Shape, the extraoral digital scanner Medit 500, and the 3-D printer Formlabs 3. Such technologies provide an opportunity to produce all types of dentures of the best quality.
We are ready to offer you removable and fixed constructions.
Removable teeth prostheses
Removable constructions include clasp dental prosthesis and laminar dentures (plastic and nylon).

Fixed prosthesis
Porcelain fused to metal crown.

The most common type of fixed prosthesis. Advantages: low cost, good strength, normal appearance, disadvantages: lack of significant preparation of dental tissues, it is often necessary to remove the nerve before prosthetics, there is a gingiva reaction to the crown in the form of inflammation.

All-porcelain dental crown.

Advantages: excellent aesthetics, excellent tolerance from the gingiva.

Ceramic Zirconium oxide dental crown.

This dental prosthetics combines a high aesthetics with a strong prosthetic strength.

Veneers.

They are installed to improve the appearance of the front teeth. Create an excellent smile without a significant removal of dental tissues.
Foto. Ceramic veneers, before and after placing.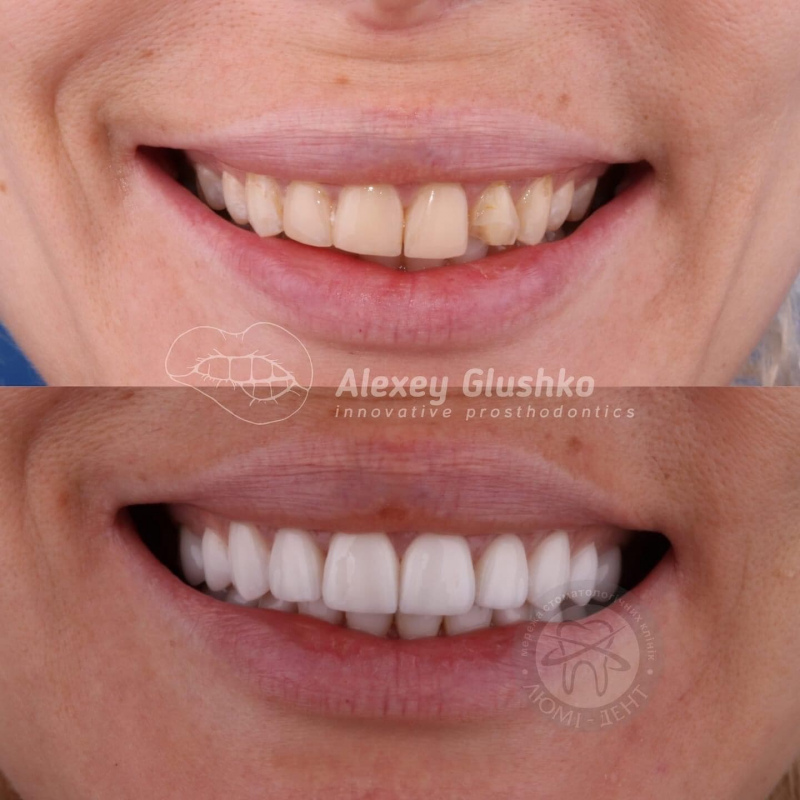 Ceramic dental inlays.

These are the same dental seals which are just made of ceramics in the laboratory by a technician and have an excellent appearance and strength. The inlays do not change shape and color with time, they are attached with a special glue.

Temporary plastic crowns

are used for some period between the visits to the doctor in case of dental prosthetics. Temporary constructions for a certain period replace the constant crowns until they are produced. They temporarily assures esthetics and accomplish chewing function.

Microprosthesis

is used with reinforcing fiberglass posts and metal pins.

Teeth splinting

– is one of the popular methods of connecting wobbly teeth with each other, which reduces their mobility, and allows to significantly extend their life.
The cost of dental prosthetics in the dentistry Lumi-Dent in Kiev in our clinic is available to almost every client. Prices for services can be seen in the section «Dentistry prices», as well as on pages devoted to individual types of prosthetic dentures.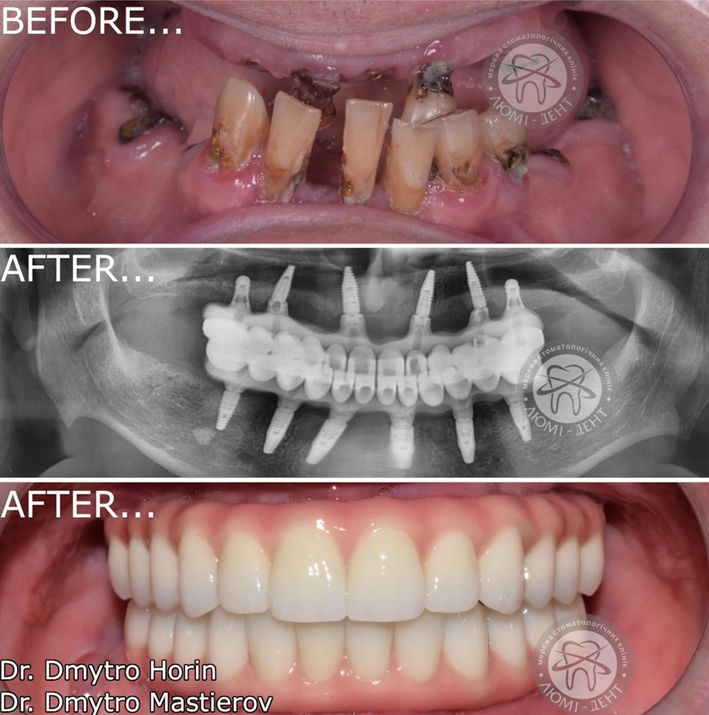 On the basis of our dentistry there is an innovative fully digital dental prosthetic laboratory, the analogs of which are difficult to find. Constantly used intraoral and extraoral digital scanners, 3-D printer for printing surgical templates, mouth guards, temporary constructions.
But the "pearl" of our laboratory by right is a unique digital dental milling machine Imes-Icore 350i. This equipment produces almost all types of constructions (crowns, frames, temporary constructions, individual abutments, etc.) on the basis of digital (without dental impression compound) impression from the oral cavity.
Such latest technologies allow our dentistry Lumi-Dent to offer all the modern types of dental prosthetics at the highest level, at excellent prices.
Apply for a free consultation at our clinic and assure yourself personally!
Order a free consultation!
Service prices
Ceramic dental inlay
5900

UAH
Zirconium dioxide crown CAD-CAM technology "Budget"
7500

UAH
All-porcelain dental crown
6470

UAH
Ceramic veneer


Special offer! Only till 31st of December!

6040

UAH
Ultra-thin ceramic veneer (without grinding enamel)


Special offer! Only till 31st of December!

11354

UAH
Clasp prosthesis with clasp fixation
12780

UAH
This service in our clinic is provided by:
Date of publication:
12.09.2016
Until prices rise - sign up for a free consultation!
Sign up for free online consultation