Irina Shapovalova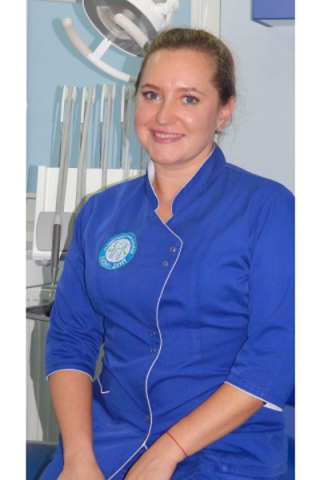 Therapist 
Make an appointment with this doctor
Doctor therapist in the network of dental clinics Lumi-dent in Kiev, conducts an appointment at the department in Poznyaki Osokorki.
(birth surname Yakimchuk, part of the certificates was issued for this surname)
Full member of the Association of dentists of Ukraine.
Education
In 2009 she graduated from the Ukrainian Medical Dental Academy in Poltava.
Specialization, types of activity:
Diagnosis and treatment of all types of caries and its complications;

Conducting rational anesthesia;

Endodontic treatment (treatment of pulpitis and periodontitis);

Sterilization and treatment of root canals, carious cavities before filling with ozone generator " Ozonymed";

Depoforez impassable root canals;

Manual and machine processing of root canals, using the technique of three-dimensional hot obturation using obturation systems;

Work with a dental microscope.

Work with cofferdam;

Professional oral hygiene by ultrasonic method, "AIRFLOW" system;

Aesthetic restoration of all groups of teeth with photopolymer composite materials;

Fissure sealing;

Temporary restoration of the dentition with adhesive bridges;

Splinting of teeth;

Teeth whitening with modern methods;

Scaling by hand tools;

Preparation of the oral cavity for prosthetics.
Participated in seminars and courses:
Participation in the third Pan-European dental Congress, 2009;

Passed internship at the Academy of postgraduate education named after P. L. Shupik, 2011;

Diploma "Modern technologies of treatment and prevention in practical dentistry", 2012;

Defended the qualification category in the specialty "Dentistry", 2014;

Diploma "Modern strategies of prevention and treatment of dental diseases: world experience and development prospects", 2015;

Certificate "Direct restoration of the chewing group of teeth", Kyiv, 2017;

Certificate "Diagnosis and primary treatment of periodontal diseases", Kyiv, 2017;

"MICROSCOPIC ENDO", Dr. Andriy Polovinshchykov, Vinnytsia, 2018;

"Restoration of teeth", Vadim Zagorodniy, Vinnica, 2018;

"Comprehensive training on orthopedic and surgical solutions Straumann", Kyiv, 2018;

"MICROSCOPIC ENDO level 2", Dr. Andriy Polovinshchykov, Vinnytsia, 2018;

«Endo Micro Surgery», Andriy Polovinshchykov, Vinnytsia, 2018.
| | |
| --- | --- |
| Statistics of Dr. Shapovalova I. V. | 2020 |
| Number of held consultations | 336 |
| Number of installed fillings | 638 |
| Number of anesthesia | 421 |
| Number of cleanings | 256 |
| Number of whitening | 53 |
| Number of treated canals | 139 |
| Number of installed adhesive bridges | 12 |
| Number of performed plasma Lifting sessions | 15 |
Return to the list of doctors