Sign up for online consultation
Falinskyi Mykhailo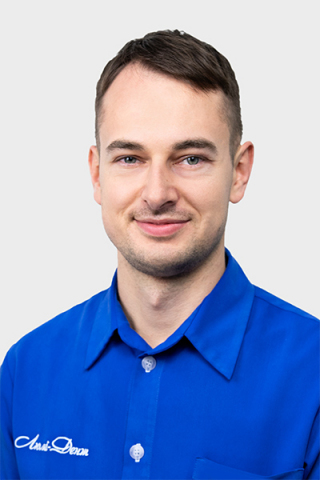 Orthodontist
Make an appointment with this doctor
Orthodontist in Kyiv Lumi Dent clinics, conducts an appointment at the department in Posniaki district.
Education:
Ternopil State Medical University graduated.

National Medical Academy of Post-Graduate Education Named After P.L. Shupik orthodontist specialization graduated.
Specialization, types of activity:
Malocclusion treatment both in children and adults using removable and non-removable devices;

Orthodontic treatment with different types of braces;

Correction of malocclusion and position of teeth with the help of transparent cap systems (Easy Align);

The use of microimplants and multiloop arch as an alternative to immediate tooth extraction;

Orthodontic treatment as preparation for prosthetics and implantation.
Participated in seminars and courses:
2021
"Orthodontics according to the rules. Diagnosis and planning of orthodontic treatment" Kyiv;

"CBCT and MRI diagnostics in dental practice, teeth, TMJ and more";
2020
"Orthodontic treatment with removable devices" Kyiv;

"Protocols for the treatment of complex

orthodontic

cases";
2019
"Craniomandibular orthodontics" Kyiv;

"MEAW Advanced Orthodontics Training Course";
2018
"Orthodontics and periodontium. Diagnosis and re-orthodontic treatment of periodontal complications" Lviv;

"Early orthodontic treatment" Kyiv;
2016
"Scientific-practical conference with international participation "Ukrainian Orthodontic School: yesterday, today, tomorrow" Kyiv;

«Current Concept in management of temporomandibular disorders. Orthodontic and restorative treatment options»;
2015
«Improving Orthodontic Outcome»;

"The Cannon Ultra technique by Dr. Stephen Williams" Lviv;
2014
"Orthodontic pathology treatment of the second degree";

"Philosophy of orthodontic treatment, part II: Arc as the main link in the mechanism of orthodontic treatment";

"Philosophy of orthodontic treatment, part III: Self-ligature system, as a step into the future".
Statistics of Dr Falinskyi

2022

Number of consultations

403

The number of braces installed by type

Metal braces

160

Low-profile metal braces

175

Ceramic braces

159

Sapphire (monocrystal) bracket system

161

Self-ligating (metal) bracket system Damon-3 mx

165

Self-ligating (ceramic) bracket-system Damon3

158

The number of corrections

763

The number of installed children's plate's

147

Number of installed aligners

153
VIDEO REVIEWS OF DR. Falinskyi M.
EXAMPLES OF THE WORK OF DR. Falinskyi M.
PHOTO WITH A DR. Falinskyi M.
Return to the list of doctors
Until prices rise - sign up for a free consultation!
Sign up for free online consultation