Sign up for online consultation
Vitalii Melanich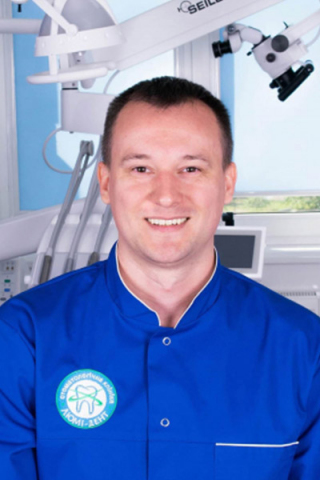 Orthopedist
Make an appointment with this doctor
Doctor orthopedist in the network of dental clinics Lumi-Dent in Kiev, conducts an appointment at the department in Obolon'.
Full member of the Ukrainian Dental Association.
Education:
Graduated from the National Medical University, named after A.A. Bogomolets.

Passed specialization in the course "Prosthetic Dentistry" at the National Academy of Postgraduate Education, named after P.L. Shupik.
Specialization, activities:
Modern methods of aesthetic and functional restoration of teeth;

Computer diagnostics of occlusion and bite T-Scan;

Work with kofferdam;

The unique method of preparation of teeth under the crowns «Vertiprep»;

Metal-free ceramics: production of veneers, crowns, onlays, individual abutments according to E.max and Cercon press ceramics technology;

Production of metal-free and metal stump inserts;

Production of metal-ceramic crowns and bridges;

Manufacturing of metal-free crowns, based on dioxide zirconium;

Prosthetics on implants: removable, conditionally removable, non-removable

Receiving digital impressions with an intraoral scanner 3Shape Trios;

Removable prosthetics: manufacturing all types of prostheses.
Participated in seminars and courses:
2020
«Diastema — orthodontic or orthopedic treatment?»;
2018
«Features of re-treatment of root canals», I. Noenko;

«Endo + resto: Non surgical retreatment and the new role of surgical approach by Dr. Fabio Gorni»;

«The interdisciplinary treatment plan in restorative and in adhesive prosthetics by Dr. Giuseppe Marchetti», Dental Fight Club;
2017
International Dental Congress "Unique combination of modern scientific achievements and practice in dentistry", National Medical Academy of Postgraduate Education named after P. L. Shupyk;

"The Art of Gnathology. We are just talking about the complicated";

«Vertiprep and B.O.P.T. Concept by Dr. Stefano Conti», Dental Fight Club;

«Orthopedic Dentistry: veneers and inlays»;

"Removable Prosthetics".
| | |
| --- | --- |
| Statistics of an orthopedist Melanich V. | 2022 |
| Number of consultations | 255 |
| All ceramic crowns | 40 |
| All ceramic crowns from dioxide zirconium | 189 |
| Veneers | 207 |
Return to the list of doctors
Until prices rise - sign up for a free consultation!
Sign up for free online consultation