Sign up for online consultation
Dzhetymova Alina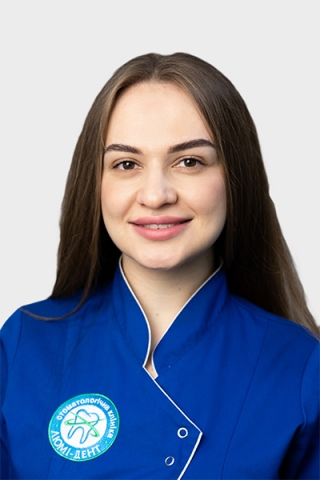 Therapist
Make an appointment with this doctor
Therapist in the network of dental clinics Lumi-Dent in Kyiv, conducts an appointment at the department in Posniaki district.
Education:
Graduated from Poltava State Medical University (PSMU);

Internship at the P. L. Shupyk National University of Health Care of Ukraine.
Specialization, types of activities of the dentist:
Dental photo protocol;

Drawing up a treatment plan;

Complex professional hygiene of the oral cavity;

Office and home teeth whitening;

Diagnosis and treatment of caries;

Treatment of root canals (primary endodontics);

Sealing of fissures;

Splinting of tooth rows;

Working with a dental microscope.
Participated in seminars and courses:
2023
«Primary Endodontics»;

«Charitable All-Ukrainian Stomatological Conference»;

«All-Ukraine Charity Dental Conference»;
2021
«Emergency situations in dentistry»;

«Modern strategies for the prevention and treatment of dental diseases: world experience and prospects for development»;
2020
«Aesthetic composite restorations of the front group of teeth»;

«Comprehensive training on Straumann orthopedic and surgical solutions»;
2019
«All-Ukrainian scientific and practical conference with international participation "Current problems of dentistry, maxillofacial surgery, plastic and reconstructive surgery of the head and neck"»;
| | |
| --- | --- |
| Dr. Dzhetymova Alina statistics | 2022 |
| Consultations | 165 |
| Tooth fillings | 187 |
| Treatment under anesthesia | 183 |
| Professional teeth hygiene | 119 |
| Teeth whitening | 21 |
| Treated channels | 172 |
Return to the list of doctors
Until prices rise - sign up for a free consultation!
Sign up for free online consultation