Sign up for online consultation
Lenko Iryna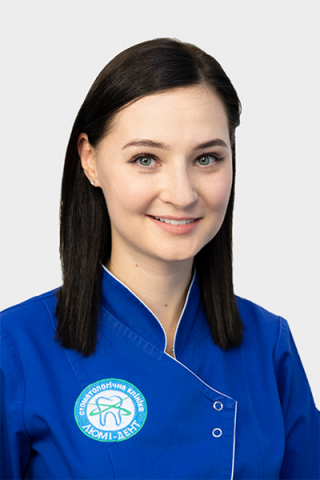 Dentist Therapist
Make an appointment with this doctor
Doctor therapist in the network of dental clinics Lumi-Dent in Kiev, conducts an appointment at the department in Obolon'.
Full member of the Association of Dentists of Ukraine.
Education:
Graduated from the National Medical University named after A.A. Bogomolets'
Specialization, activities:
Professional hygiene of oral cavity;

Home and ofice dental whitening;

Fissure sealing;

Treatment of caries and noncarious dental lesions;

Endodontic treatment of root canals (pulpitis and periodontitis);

Treatment of dental hyperesthesia (decrease the sensitivity of the teeth);

Artistic restoration of teeth with photopolymer materials;

Dental splinting;

Work with kofferdam;

Work with dental microscope.
Took part in seminars and courses:
2021
"Direct restorations in the practice of a dentist";
2019
"Repeated endodontics";

"Spring seminar DentArt 2019 CONTACTS";

"9th conference UES";

"Aesthetics and function. Direct restoration of anterior and posterior teeth";

Teeth art restoration training course;
2018
"The art of photography to diagnose and motivate a patient before treatment":
2017
"Key points in choosing tactics and techniques for endodontic treatment";

"Lecture program by Dentsply Sirona during the international dental forum 2017";

"Ceramic veneers, ultra-conservative tooth preparation, photo-video planning, adhesive fixation and isolation protocols, the use of magnification and digital technology".
| | |
| --- | --- |
| Statistics of Dr. Lenko Iryna | 2022 |
| Contucted consultations. | 234 |
| Number of installed fillings. | 302 |
| Number of anesthesia. | 326 |
| Professional teeth cleaning | 243 |
| Dental bleaching | 49 |
| Number of treated root canals | 292 |
| Number of installed adhesive bridges. | 14 |
| Plasma lifting sessions. | 11 |
Return to the list of doctors
Until prices rise - sign up for a free consultation!
Sign up for free online consultation