Sign up for online consultation
Tetiana Dudko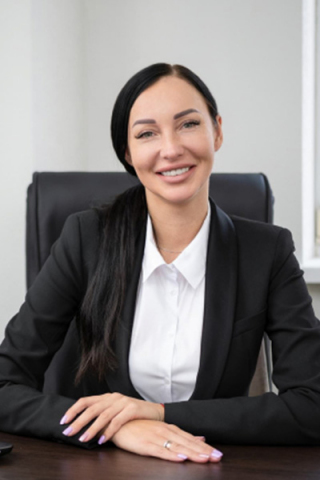 Head Doctor
Therapist
Head doctor
Therapist in the network of dental clinics Lumi-dent in Kiev, conducts an appointment at the department in Obolon and Poznyaki Osokorki.

Full member of the Ukrainian Dental Association.
Certified specialist in microscopic endodontic dental microsurgery, plasmolifting, restoration techniques.
Work experience is 14 years.
Education:
Graduated from Kiev Institute of Traditional Medicine.

Specialty - "Therapeutic Dentistry"
Specialization, activities:
Comprehensive professional oral hygiene (Scalling, Air-Flow, Vector)

Laser whitening

Home teeth whitening;

Fissure sealing;

Treatment of caries;

Treatment of pulpitis;

Treatment of pulpitis;

Art restoration of teeth;

Techniques for the restoration of teeth with the help of modern restoration systems;

Specialist in laser dentistry and work with a dental microscope.
Took part in seminars and courses:
2019
Whitening «Beyond Power Whitening»;
2018
"Complex of orthopedic and surgical disorders of Straumann", Kiev;
2016
Practical course "Endodontics 1.0 Effectiveness and Efficiency";
2015
Workshop "Plasmolifting in Dentistry";

Conference "Regenerative medicine based on autologous plasma";

4th International Medical Congress "The introduction of modern achievements of medical science in the practice of health protection of Ukraine", Kiev;
2014
Certificate "Work with modern restoration materials and equipment", Kiev;

Certificate "Modern technologies in endodontics" Profident, Lviv;

Seminar "Prevention in Dentistry";

Certificate "Possibilities of modern endodontics and microsurgery. Use of rotary nickel-titanium instruments and modern root canal obturation systems", Lviv;
2013
Diploma "Modern Endodontic Treatment" Fenestra;

Diploma "Splinting and adhesive bridges in dentistry" Fenestra, Kiev;

Diploma "The feasibility of using pin systems in the restoration of different groups of teeth" Fenestra, Kiev;

Diploma "Artistic modeling of teeth" Fenestra, Kiev;

Certificate "Modeling the shape of the front and posterior teeth. A modern approach to clinical endodontics" Appoloniya, Poltava;
Constantly increases her level of knowledge on the Internet, studies the advanced domestic and foreign literature on new technologies in dentistry.
Statistics Dr. Dudko T. V. for 2021-2022:
| | | |
| --- | --- | --- |
| | 2021 | 2022 |
| Conducted consultations | 381 | 340 |
| Installed fillings | 436 | 622 |
| Number of anesthesia | 282 | 471 |
| Number of cleanings | 236 | 314 |
| Number of whitenings | 47 | 81 |
| Treated channels | 83 | 157 |
| Installed adhesive bridges | 4 | 10 |
| Plasmolifting sessions | 18 | 19 |
VIDEO REVIEWS OF DR. DUDKO T.
EXAMPLES OF THE WORK OF DR. DUDKO T.
PHOTO WITH A DR. DUDKO T.
Return to the list of doctors
Until prices rise - sign up for a free consultation!
Sign up for free online consultation