Sign up for online consultation
Dentistry Lumi-Dent Obolon
Date of publication:
17.10.2018
MODERN DENTAL CLINIC IN OBOLON' IN KIEV
It is a subdivision of the renowned dental network of clinics Lumi-Dent.
ADDRESS OF DENTISTRY IN OBOLON':
HEROES OF STALINGRAD AVENUE 24-A

.

Enter from Prirechnaya street. The clinic is located at the very end of the house with access to Prirechnaya street. Nearby is the restaurant "V Rebro".
IMMEDIATE DENTISTRY NEAR THE STREETS:
Heroes of Stalingrad Avenue, Prirechnaya street, Marshal Malinovsky street, Polyarnaya street, Marshal Timoshenko street, Yordanskaya street , Obolonsky Avenue, Zoya Gaidai street, Heroes of Dnieper street. Near the Minskaya metro station, Heroes of Dnieper metro station, Petrovka metro station, Taras Shevchenko metro station.
We offer our guests - free secure parking in front of the entrance.
At your service - a complete list of dental services at the highest level, using advanced technologies and new dental equipment.
For our long-time clients, which have been served for a long time in our other centers in Kiev - the new dentistry in Obolon' is the continuation of the good traditions of the Lumi-Dent brand.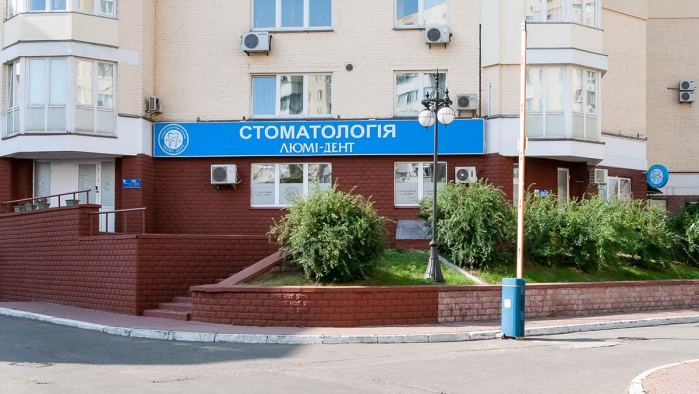 Our advantages:
Forget about the pain in the dentist's chair! Only in our centers - all procedures are performed under a unique computer anesthesia STA, without using a conventional syringe with a needle. The process of introducing anesthetic using a computer is also painless.




In this regard, we are an absolute exception to the general rule.

The possibility of carrying out any treatment in drug sleep (under sedation). In this case, the patient sleeps and dreams. After waking up - in an hour you can return to normal daily chores. This service is very popular among our visitors. We have a special license. Every day we have a professional anesthesiologist who performs general sedation.

Digital radiology right here - you get absolutely all possible types of radiological images - a periapical X-ray, an orthopantomogram, a computerized tomogram, a teleroentgenogram. All images are immediately displayed on the working monitor in the medical setting.
Computer tomografia in Lumi-Dent.
A set of new technologies, the complex of which is not available in other clinics in Kiev. In short - we treat teeth only under microscopes, we use full digital technology for implantation and prosthetics, our own ultra-modern dental laboratory will help you. We make bone grafting from the client's own material - namely, from venous blood - much cheaper than replanting foreign bone material, and always a great result. Instead of a scalpel, we use a laser in our work - it works less traumaticly, without blood, without swelling.

Religning teeth without braces. We put ultra-thin outer ceramic plates on the teeth - a beautiful smile forever.
Teeth treatment with microscope.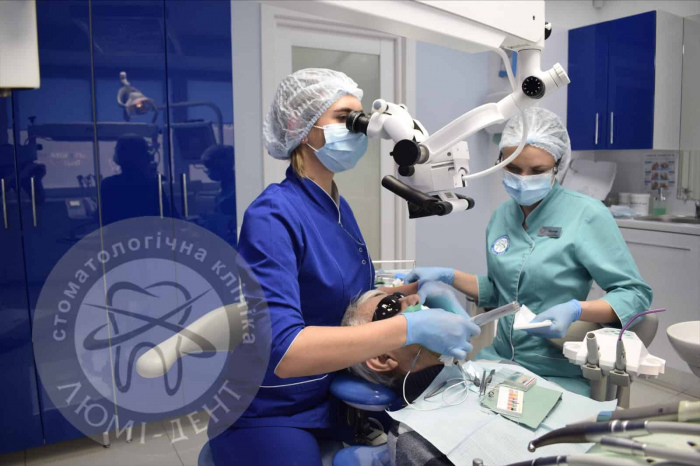 Professional team of doctors - in the network Lumi-Dent always consists of a group of doctors of different narrow specializations. Never a doctor who puts fillings, and makes crowns, and inserts dental implants, and corrects bite in adults and children - will not truly be a true professional in all areas. Unfortunately, this tradition is firmly rooted in almost all private dentistries in Obolon', Kiev and Ukraine. For many years, the technology of close communicative cooperation of narrowly focused specialists in various fields has given truly amazing results for our patients. Practically for each of our patients, a consultation of dentists of various directions — orthodontists, general practitioners, orthopedists, implant surgeons, and gnatologists — gathers to develop a joint effective strategy for restoring aesthetics and chewing effectiveness in each particular patient.

Many photos of the works of our dentists before and after - we have nothing to hide from you. We are ready to show you the results of our many years of practice. You need to have confidence in our abilities and an understanding of what you can expect from working with our team. Many photos of our work in various areas of treatment - see the section "Our work".

Reviews about the dentistry. Text and video reviews of real patients - reflects the general opinion of people who visited our best dental clinics in Obolon' and Poznyaky in Kiev. We make every effort to have such positive feedback as much as possible.

Cumulative system of discounts, allowing you to receive all the benefits of a regular customer. General discount card is valid in any clinic of our network. You receive a starting discount already at the first reception or at an online recording on our site.

Excellent prices at which we give service and services of the highest class. Which own only a few elite clinics in the center of Kiev.
Veneers placement in Lumi-Dent.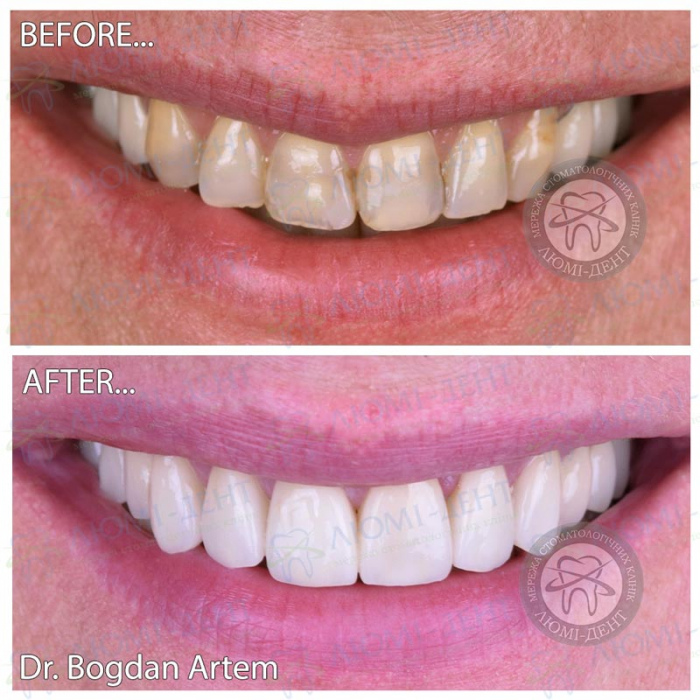 The network of dentistries Lumi-Dent has long gained great popularity among residents of Kiev, Ukraine, and many countries around the world.
We have long mastered a progressive marketing system and level of service, which make customer service by our team impeccable.
At your service there will always be a personal manager who will personally lead the course of all your work all the time from the beginning to the end of the treatment.
You will not look for a doctor, but a doctor will call you and find out all the details of your well-being, a day or two after each visit to our clinic. You will not feel like one of many.
CHARACTERISTICS OF DENTISTRY IN OBOLON
| | |
| --- | --- |
| Number of working medical offices with dental units | 6 |
| X-ray department | 1 |
| The number of dentists | 15 |
| Orthodontists | 3 |
| Implant surgeons | 3 |
| Orthopedists | 4 |
| Therapists | 4 |
| Hygienist | 1 |
| Administrators | 8 |
| Dental assistants | 28 |
Doctors who previously worked in our other clinics now also provide dentist services in Obolon' at Heroes of Stalingrad Avenue 24 A.
Also, our team has been replenished with new professionals who have undergone tough competitive selection, additional professional training, and now fully comply with the level of the best dental clinic in Obolon' and the capital.
Doctors team.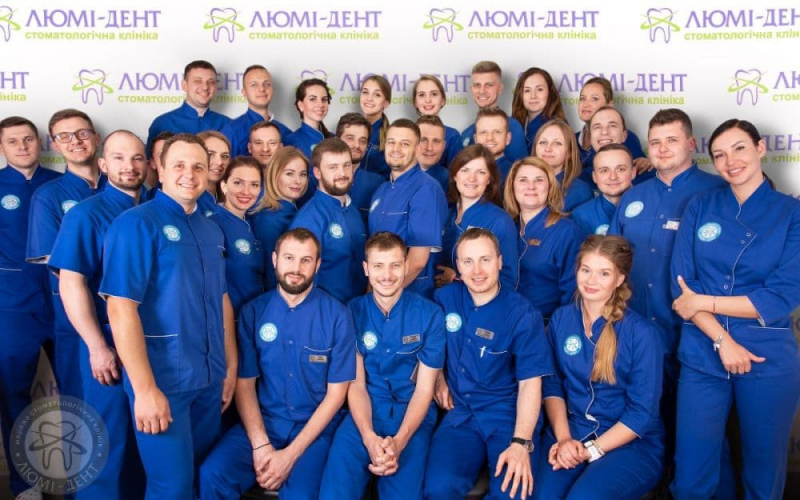 OUR TEAM OF DENTISTS IN OBOLON' PROVIDES THE FOLLOWING SERVICES
The clinic has a X-ray department, with a radiovisiograph, and a computer tomograph Vatech PHT-6500. All types of digital dental X-rays: periapical X-ray, panoramic X-ray (orthopantomogram), a computer tomogram (3-D image of the teeth and jaws), a teleroentgenogram (a head X-ray in the lateral projections).
– bone grafting on the basis of membranes from the patient's own venous blood.
– laser dentistry.
– services of gnathologist.
– dental implant navigation.
– hyaluronic acid injections in the gums.
– plasmolifting.
– treatment under a dental microscope.
– computer simulation of a smile.
– sterilization of the gums and root canals with ozone.
– computer diagnostics of teeth bite.
Treatment and filling of teeth.

Surgery, removal of teeth, plastics of frenula of the lips and tongue.

Dental implantation in 1 day.

Prosthetics - removable and non-removable dentures, including implants supported.

Aesthetic dentistry - veneers, lumineers, home and office whitening.

Correcting the abnormal bite - plates, splints without braces, systems of braces.
IT IS NOT DIFFICULT TO FIND OUR NEW BEST DENTISTRY IN OBOLON'
It is located at Heroes of Stalingrad Avenue, the nearest to the Polyarnaya street, Prirechnaya street, Marshal Timoshenko street, Marshal Malinovsky street, Zoya Gaidai street, Heroes of Dnieper street. Near the Minskaya metro station, Obolon' metro station, Heroes of Dnieper metro station, Petrovka metro station, Taras Shevchenko metro station.
Receptionists.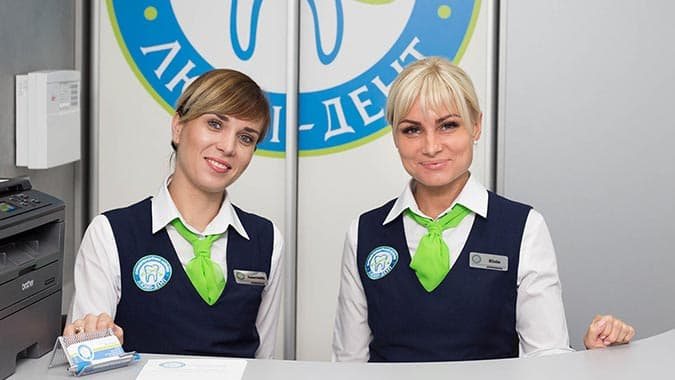 WE'LL BE GLAD TO SEE YOU IN LUMI-DENT - THE MODERN BEST DENTAL CLINIC IN OBOLON!
Until prices rise - sign up for a free consultation!
Sign up for free online consultation