Sign up for online consultation
Pediatric Dentist- 3 Dental Clinics In Kiev
Content:
Pediatric dentistry - price in Kyiv
Pediatric dentistry in Kyiv
Reasons to choose the best children's dentists in Kyiv in Lumi-Dent, for a visit with your kids:
Why we the best pediatric dentists in Kyiv?
Dental treatment for children under sedation
Pediatric dentistry - price in Kyiv
| | |
| --- | --- |
| Type of pediatric dentist service | Price, in UAH |
| Removal of temporary teeth | from 750 to 950 |
| Dental treatment under general anesthesia (1 hour) | 3960 |
| Сaries treatment without drilling (1 tooth) | 1450 |
| Fissure sealing (1 tooth) | from 725 to 875 |
Pediatric dentistry in Kyiv
Many parents do not know whether it is worthwhile to treat temporary teeth, because after a while they will be replaced by permanent ones and the problem, in their opinion, will disappear itself.
Pediatric dentistry is an area in which covers all diseases of the oral cavity from a very young age.
Even if the child has only one tooth, and it is worried, you definitely need to go to good pediatric dentistry - and our Lumi-Dent clinics are the best choice for treating children's teeth.
When we talk about problems with temporary teeth, nothing happens on its own, without the participation of a good pediatric dentist.
If you do not treat temporary teeth on time, which in the future will change, then their problems and ills will be passed on already constant.
Photo. Everything is ready for treating a child's tooth while sleeping, Lumi-Dent Pediatric dentistry.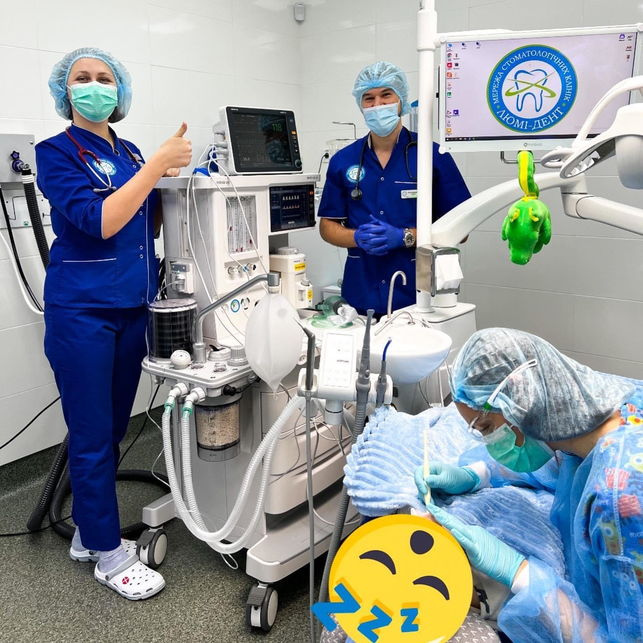 Due to inflammation of tissues and other complications, permanent teeth grow crooked, with pathological problems — as a result, fixing the problem later costs much more.
Moreover, every good pediatric dentist in Kyiv and another city warns: Any problem with dairy teeth can go into serious inflammation - and this is always a blow to the body, especially on the body of a child who is not always ready to cope with the situation on his own.
Early and timely treatment of dairy teeth in good pediatric dentistry - will make it possible to deprive the kids of anxiety and pain, to reliably protect the young organism from penetration and exposure of chronic infection, will give an opportunity to develop normally and cut permanent teeth, to form a regular bite correctly.


On the photo – our little patients in the dental clinic Lumi-Dent at the residential area Poznyaky, 14A, Anna Akhamatova Str.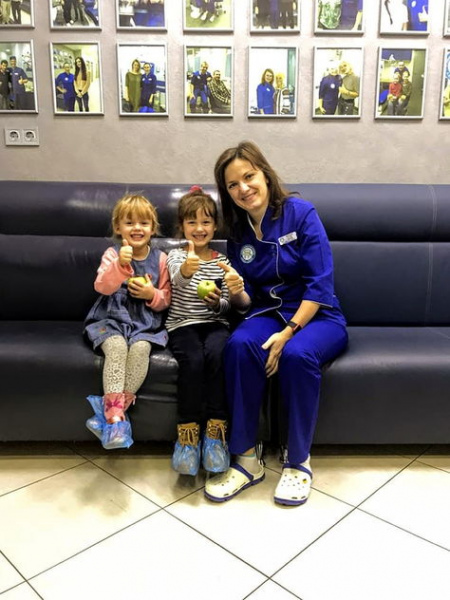 Good children's dentistry, unfortunately, on a professional level is represented quite in a small number of dental clinics.
Finding the best pediatric dentist in Kyiv is not easy. Considering that this specialist, in addition to excellent and modern dental skills, should be able to find an approach to the child, establish practically friendly relations with him, not to frighten in the process of dental care.
In the best dental clinics of Lumi-Dent (Poznyaky and Obolon' residential areas) - you can offer all services for qualitative and professional treatment of teeth to children under anesthesia, and without it, with the help of unique and painless local computer anesthesia.
On the photo – Pediatric dentist with her patient, dental clinic Lumi Dent on Obolon', on 24, Avenue of Volodymir Ivasiuk.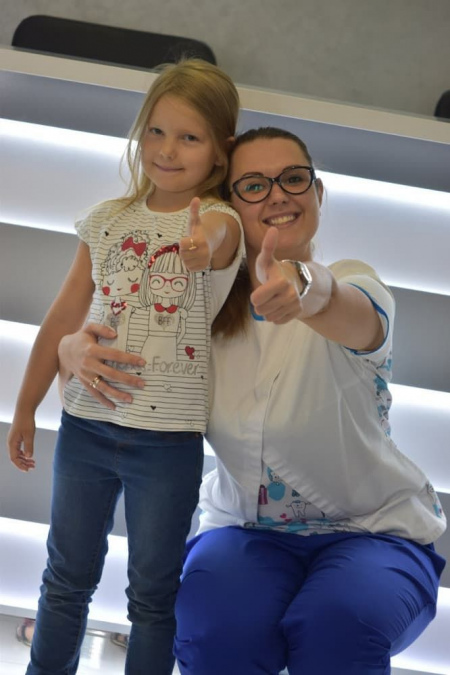 Reasons to choose the best children's dentists in Kyiv in Lumi-Dent, for a visit with your kids:
Medical license for children's dentistry;

Experienced best pediatric dentists in Kyiv;

Specialized doctors in dental treatment for children under anesthesia;

A large list of dental materials used only in the treatment of teeth in children;

Six orthodontists are constantly working in the clinics, able to solve any problems with incorrect medication;

All types of safe digital X-ray diagnostics - in all of our centers - computed tomography (CT), tele-radiography (TRG image). CT and TRG imaging are crucial for the correct diagnosis and planning of upcoming treatment;

In our work, we use dental microscopes that allow us to carry out all work with maximum accuracy;

For the treatment of the most troubled patients, various types of sedation are provided. Our clinics have all the necessary equipment for dental treatment for children under general anesthesia;

We do not use syringes in our dentistry! Each medical office in our best pediatric dental clinics in Kyiv is equipped with a special electronic computer anesthesia device that does not scare babies and does not hurt him, while reliably anesthetizing the necessary denticle or gum section;

We attach great importance to prevention - we clean soft dental deposits and stone, we carry out sealing of dental fissures, for the prevention of caries of milk and permanent teeth. We teach parents and children in good game the proper oral hygiene. We individually select and recommend all means for home oral hygiene;

It is extremely important for us that the little patient does not get pain and stress during a visit to the pediatric dentist. After all, negative experiences can give rise to fear of dentists and people in white coats, for life. Therefore, we are doing our best to keep the baby calm during treatment. If he is concerned about visiting a doctor, our specialists will tell you at the initial consultation how to properly prepare for the visit. They will recommend safe sedatives, which will need to be taken a certain time before a visit to dentistry;

While waiting for a dental appointment - at your service are toys and drawing kits so that time passes fun and discreetly!

While waiting for the appointment - at your service are toys and drawing kits so that time passes fun and imperceptibly!

We have nothing to hide - you can watch video reviews of children and their parents about our clinics, in the section "Testimonials";
Reasonable dentistry prices for services of the highest quality. Pleasant funded family discount programs for treatment for the benefit of the health of the whole family.
On the photo – our happy patient with pediatric dentist.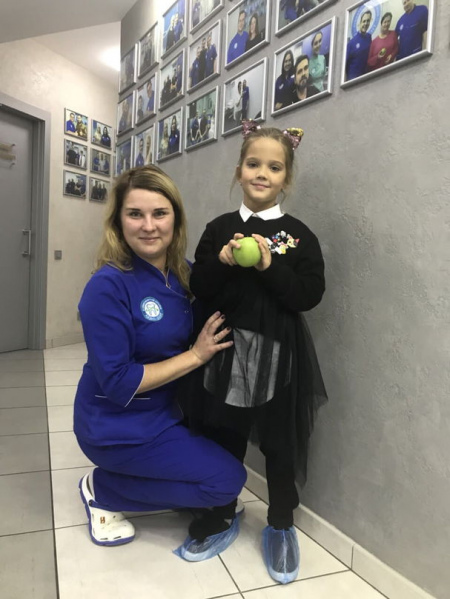 Why we the best pediatric dentists in Kyiv?
Our dentists will be able to find a common language with your baby, regardless of what mood he came to see.
If desired, special colored fillings can be put on the back teeth, the little children are happy to go through the procedure of their installation, for them it is more like a game, because the tooth is practically not drilled, and it is possible to enjoy fillings of different colors of the rainbow for a long time!
Bring your children, come to our best dentistry clinics in Poznyaky and Obolon' - to be treated with the whole family, because it is a real pleasure to be together as long as possible, even during dental treatment!
Dental treatment for children under sedation
Quite often, it is not possible to find a common language with a baby - he categorically refuses to open his mouth with screams and tears, and allows the dentist to do all the necessary manipulations. Today, in the best children's dentistry in Kyiv, Lumi-Dent is not a problem.
Our dental clinics have all the necessary equipment and trained personnel for dental treatment for children under general anesthesia (other terms - under general sedation, in a state of medication sleep).

You may not worry about the baby's health - this procedure is much safer than regular injections. In addition, running processes in the oral cavity sometimes carry more danger than professional general sedation.
During anesthesia - the baby just falls asleep and dreams. And when you wake up - everything is already done, parents and the dentist are smiling - beauty!
Dental clinics Lumi-Dent are licensed for general sedation, and in particular for general anesthesia for children. Licensed anesthetists and dentists work with your little children.
Summary statistics of some services for children, provided in Kyiv in dental clinics Lumi-Dent for 2022:
| | |
| --- | --- |
| Number of computer anesthesia. | 151 |
| Treatment of teeth for children under sedation. | 48 |
| Fillings installed. | 132 |
| Milk teeth removed. | 96 |
| Fissure sealing contucted. | 39 |
| Number of dental deposits removing. | 122 |
| Course of dental fluoridation. | 168 |
| Braces. | 134 |
| Plates for bite balancing. | 109 |

Remember – preventing oral disease –
always cheaper than subsequent treatment!

Sign up for an appointment in our pediatric dentistry clinics at Poznyaky, Solomenka and Obolon'!
Pediatric Dentist Service Prices
Consultation and preparation for parents and child for dental treatment
350

UAH
Computer anesthesia STA
500

UAH
Dream Dentistry for children (1 hour)
3960

UAH
Consultation of a pediatric anesthetist
600

UAH
Anesthesia care for children (recovery from sedation) (1 hour)
3500

UAH
Nitrous oxide sedation (15 minutes)
675

UAH
Milk tooth extraction
from 750

UAH

to 950

UAH
Removable orthodontic apparatus
4535

UAH
Metalic braces American Orthodontics


Special offer! Only till 31st of October!

5999

UAH
Frenuloplasty with the application of laser
1500

UAH
Treatment of tooth decay
1450

UAH
Ortopantomogramma (panoramic picture)
290

UAH
This service in our clinics is provided by pediatric dentists
Date of publication:
03.06.2019
Until prices rise - sign up for a free consultation!
Sign up for free online consultation