Sign up for online consultation
Artemenko Marta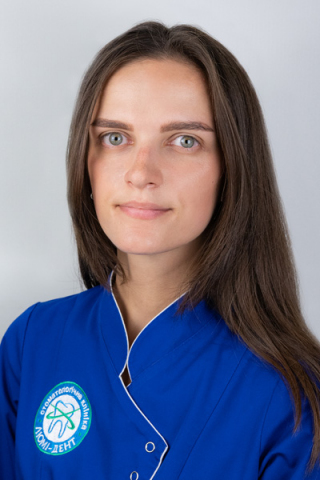 Therapist
Make an appointment with this doctor
Therapist in the network of dental clinics Lumi-Dent in Kiev, conducts an appointment at the department in Solomianka district.
Education:
Graduated from the National Medical University named after A.A. Bogomolets;

Passed internship at the National Medical University named after A.A. Bogomolets;

Received specialization as a dentist-therapist in the P.L. Shupyk National Medical Academy of Postgraduate Education.
Specialization, types of activities of the dentist:
Comprehensive professional oral hygiene (Scaling, Air Flow, Vector);

Home andhardware teeth whitening;

Aesthetic restorations of the frontal and lateral groups of teeth with modern techniques;

Primary and secondary endodontics (treatment and retreatment of root canals);

Work with the dental microscope;

Dental splinting;

Diagnosis and treatment of caries and its complications;

Preparation of the oral cavity for prosthetics;
Participated in seminars and courses:
2023
«Direct posterior restoration»;
2021
«Clinical endodontics and aesthetic dentistry»;

«Modern biomimetic method of creating aesthetic restorations»;

«Conceptual periodontology, protocols, clinical cases. Modern hardware techniques»;

«The art of photography for diagnosis and patient motivation for treatment»;

XVIII international conference «New technologies in endodontics»;
2019
«Direct restoration»;

«Restoration of the functional properties of chewing teeth with improved aesthetic properties»;
2018
«Modern endodontic treatment»;

Conference for volunteer dentists «Best for the Best»;

«Primary endodontic treatment»;
2017
«Modern diagnostics of periodontal diseases».
| | |
| --- | --- |
| Dr. Artemenko Marta statistics | 2022 |
| Consultations | 211 |
| Tooth fillings | 237 |
| Treatment under anesthesia | 320 |
| Professional teeth hygiene | 139 |
| Teeth whitening | 43 |
| Treated root canals | 198 |
| Installed adhesive bridges | 8 |
| Plasmolifting procedures | 12 |
Return to the list of doctors
Until prices rise - sign up for a free consultation!
Sign up for free online consultation