Sign up for online consultation
Tsyntsovska Oksana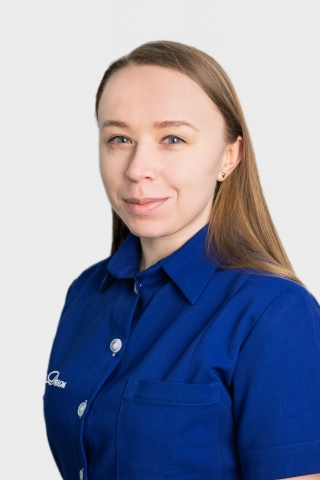 Orthodontist
Make an appointment with this doctor
Orthodontist in the network of dental clinics Lumi-Dent in Kiev, conducts an appointment at the department in Obolon.
Education:
Graduated from the Poltava State Medical University with a specialty in «Dentistry»;

Internship at the Zaporizhzhia Medical Academy of Postgraduate Education, specializing in «General Dentistry";

Specialization "Orthodontics" at the P. Shupyk National University of Health Care.
Specialization, types of activity:
Prevention of dento-jaw anomalies in children;

Treatment of bite pathologies in children and adolescents with removable and non-removable orthodontic equipment;

Orthodontic treatment with various types of bracket systems;

Orthodontic preparation of the oral cavity before prosthetics, implantation;

Bite correction using transparent caps.
Participated in seminars and courses:
2023
«Digital technologies in orthodontics»;

«Bends on arcs. Manual skills and biomechanics»;

«Children's orthodontics from A to Z»;

«Protocols for the treatment of complex orthodontic cases using Bio Ray microimplants»;

«Certification in orthodontic treatment with ClearCorrect aligners»;
2022
«Orthodontic care in wartime conditions»;

«International scientific and practical online conference of young orthodontists»;

«Additional methods of treatment. Aligners and micro-implants»;

«Anatomy and pathology of TMJ on CT. Interpretation of the received data»;
2021
Speaker at the International Conference of Young Orthodontists with the topic «Retention, dystopia in orthodontics»;

«Actual problems of orthodontics»;

«Introduction to biomechanics»;

«Fundamentals of fixed orthodontic technique»;
2020
«Miniimplants-skeletal anchorage»;

«Individual positioning of braces»;
2019
«Class II treatment. Forsus»;

«Zoboalveolar compensation of distal occlusion in patients with premolars removed»;

«Aspects of modern digital technologies in dentistry»;
2018
«Orthodontics according to the rules. Diagnosis and planning of orthodontic treatment».
Statistics of Dr. Tsyntsovska O.

2022

Number of consultations.

268

The number of braces installed by type.

Metal braces.

14

Low-profile metal braces.

23

Ceramic braces.

19

Sapphire (monocrystal) bracket system.

15

Self-ligating (metal) bracket system Damon-3 mx.

12

Self-ligating (ceramic) bracket-system Damon3.

14

The number of corrections.

619

The number of installed children's plates.

37

Number of installed aligners.

23
Return to the list of doctors
Until prices rise - sign up for a free consultation!
Sign up for free online consultation