Bogdan Artem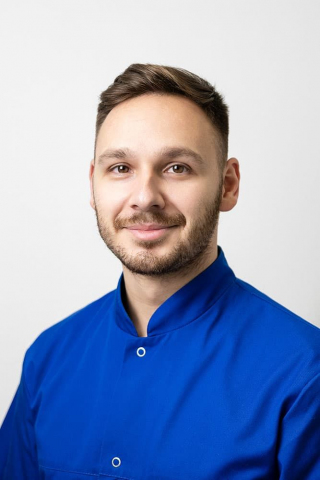 Orthopedist
Make an appointment with this doctor
Doctor dentist orthopedist in the network of dental clinics Lumi-Dent in Kiev, conducts an appointment at the department in Poznyaki Osokorki and Solomianka.
Education:
Graduated from the National Medical University named after A.A. Bogomolets, specialty "Dentistry".

Graduated from an internship at the National Medical Academy of postgraduate education. P. L. Shupik.

Passed specialization in the direction of "Orthopedic dentistry" at the National Medical Academy of postgraduate education. P. L. Shupik.
Specialization, types of activity:
Using a dental microscope and a dissecting microscope for prosthetics.

Work with kofferdam.

Using of digital smile simulation (DSD) in their practice.

Work with the front arc, taking into account all the individual functional parameters of the patient.

Aesthetic prosthetics with restoration of functional components.

Implant-supported prosthetics with removable, non-removable and conditionally removable structures.

Receiving of digital prints using the 3shape Trios intraoral scanner, 3D diagnostics.
Fixed prosthesis:
Metal-ceramic structures.

Prosthetics using crowns, bridge structures made of solid ceramics (e.max) and based on zirconium dioxide.

Restoration of teeth with ceramic veneers and linings (in/on/overlay).

Implant prosthetics: Straumann, MegaGen (AnyOne/AnyRidge), MIS, NeoBiotech, Bicon, Nobel.
Removable prosthetics:
Full and partial dentures made of different materials: acrylic, nylon, clasp dentures.

Full dentures supported by implants.
Participated in seminars and courses:
2019
«Vienna School of Interdisciplinary Dentistry»;

«The art of gnathology. We're just talking about a complicated one»;
2018
«Digital Protocols in dental practice»;

«Architecture of a daily consultation»;
2016
« From theory to practice»;

Practical course – «Dissection from Oleksii Krasnozhon»;
2015
«Modern endodontic treatment»;

«Work with modern restoration materials and equipment»
| | |
| --- | --- |
| Statistics of dentist orthopedist Artem Bogdan | 2020 |
| Number of consultations | 198 |
| Porcelain-fused-to-metal dental crowns | 103 |
| All porcelain crowns | 40 |
| Full anatomical zirconium dioxide dental crows | 112 |
| Veneers | 106 |
Return to the list of doctors