Sign up for online consultation
Yuliia Nagirna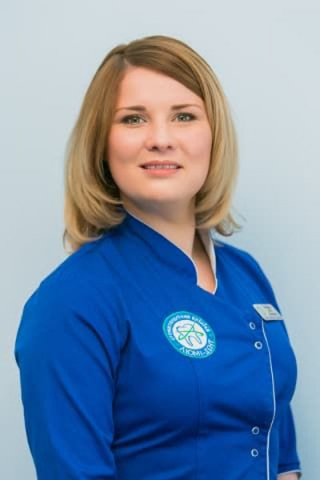 Therapist 
Make an appointment with this doctor
Therapist in the network of dental clinics Lumi-dent in Kiev, conducts an appointment at the department in Poznyaki Osokorki.
Full member of the Ukrainian Dental Association.
Certified specialist in endodontic microscopic dental microsurgery and restoration techniques. Author of many videos and articles on our website.
Work experience - 17 years.
Education:
Graduated from the Poltava Dental Academy.
Specialization, activities:
Professional oral hygiene;

Endodontics (root canal treatment);

Restoration (restoration of color and shape of teeth with the help of filling materials);

Teeth whitening.

The techniques of dental restoration with the help of modern restoration systems.

Specialist in laser dentistry and work with a dental microscope.
Participated in seminars and courses:
2019
Participation in the congress "Everything Around Endo 2", September 21-22, Kiev;
2018
«Complexes for orthopedic and surgical disorders of Straumann», Kiev;

«MICROSCOPIC ENDO level 2», Dr. Andriy Polovinshchykov, Vinnytsia;

«Endo Micro Surgery», Andriy Polovinshchykov, Vinnytsia, 2018;
2017
Samuel Kratchman "Directed replantation";

Conference for endodontists, surgeons, periodontologists and heads of clinics "Endoperiocont";
2016
"Methods of splinting teeth with the use of reinforcing structures and modern restoration composite materials", Kiev;
2009
"Modern endodontic concepts of machining and obturation of the root canals", Kiev;
2008
"Modern endodontic treatment", Kiev;

"Life threatening conditions that may occur in the dentist's office. Causes, prevention, urgent action", Lviv;
2007
"Aesthetic restorations of the frontal group of teeth from 3M ESPE", Foros;

"Professional hygiene: an integral part of successful dental practice", Lviv;

"Restoration therapy using equipment, materials and technologies of Densply International Corporation, Poltava;
| | |
| --- | --- |
| The statistics of Dr. Yuliia Nagirna | 2022 |
| Number of contucted consultations | 336 |
| Number of installed fillings | 943 |
| Number of anesthesia | 544 |
| Number of cleanings | 180 |
| Number of whitenings | 23 |
| The number of treated channels | 208 |
| Number of adhesive installed bridges | 11 |
| The number of performed Plasma lifting sessions | 18 |
VIDEO REVIEWS OF DR. DR. Nagirna Y.
EXAMPLES OF THE WORK OF DR. Nagirna Y.
PHOTO WITH A DR. Nagirna Y.
Return to the list of doctors
Until prices rise - sign up for a free consultation!
Sign up for free online consultation