Sign up for online consultation
Levadna Oleksandra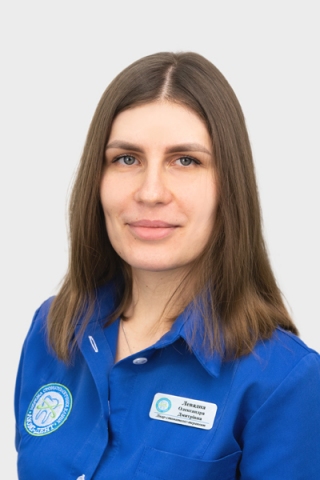 Therapist
Make an appointment with this doctor
Therapist, periodontist in the network of dental clinics Lumi-Dent in Kiev, conducts an appointment at the department in Solomianka.
(The maiden name of Portna, part of the certificates was issued for this surname, a copy of the marriage certificate is attached).
Education:
Graduated from Dnipropetrovsk Medical Academy;

Passed an internship at the Dnipropetrovsk Medical Academy.
Specialization, activities:
Comprehensive professional oral hygiene (Scaling, Air Flow);

Treatment of caries and non-carious lesions of the teeth;

Restoration of teeth (restoration of the color and shape of teeth using filling materials);

Primary and secondary endodontics (treatment and retreatment of root canals);

Fissure sealing;

Teeth whitening (Beyond, Magic Smile);

Working with a rubber dam;

Working with a dental microscope.
Took part in seminars and courses:
2022
«Rational of ENDODONTIC TREATMENT»;
2021
2020
«Start practicing in a microscope;

«Periodontology: SMART CONCEPT»;

«GBT protocol. Powder for hygienic and periodontal methods»;
2019
«DIRECT POSTERIOR RESTORATION»

.
The statistics of Dr. Levadna O.

 

2022

Number of conducted consultations

235

Number of installed fillings

257

Number of anesthesia

303

Number of cleanings

215

Number of whitenings

21

The number of treated channels

204
Video reviews of Dr. Levadna O.
Examples of the work of Dr. Levadna O.
Photo with a Dr. Levadna O.
Return to the list of doctors
Until prices rise - sign up for a free consultation!
Sign up for free online consultation