Romaniuk Mariia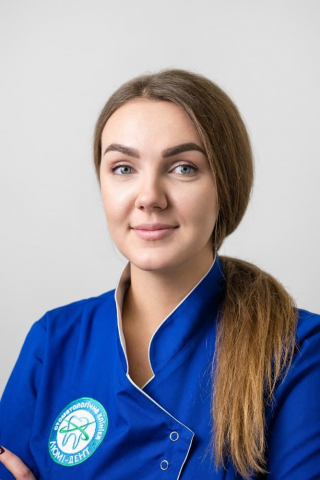 Therapist
Make an appointment with this doctor
Therapist in the network of dental clinics "Lumi-Dent" in Kyiv, takes appointments at the department in Poznyaki Osokorki.
Education:
She graduated from Bohomolets National Medical University, received the specialty "Therapeutic dentistry".
Specialization, activities:
Professional complex hygiene of the oral cavity;

Primary and secondary endodontics (treatment and retreatment of root canals);

Diagnosis and treatment of decay of any complexity and its complications;

Aesthetic restorations of all groups of teeth with photopolymer materials
(hardware and home teeth whitening).
Dental specialist participated in seminars and courses:
2019
«Первинна ендодонтія. Інструментальна обробка кореневих каналів»;

«Работа над ошибками. Повторное эндодонтическое лечение»;

«Эндодонтия: базовые принципы»;

«Основи ручного скейлінгу»;

«Участь у 9 з'їзді УЕС».
2018
«Симпозіум Української Ендодонтичної Асоціації та Української Ендодонтичної Спільноти;

«Implementation of international protocols in dental practice»;

«Імплеменація міжнародних протоколів у стоматологічну практику».
2017
«Perio-Endo-Resto: Science. Practice. Experience»;

«День практичної парадонтології».
2016
«The basics of posterior teeth restoration»;

«Implantology and Prosthodontics".
Statistics of a dentist

Romaniuk M.

2020

The number of contucted consultations

201

The number of installed fillings

280

The number of anesthesias

275

The number of cleanings

157

The number of whitening procedures

28

The number of treated nerve canals

130

The number of installed resin bridges

7

The number of performed Plasma lifting sessions

7
Return to the list of doctors