Sign up for online consultation
Dentists Lumident in Kyiv
Date of publication:
30.08.2016
| | |
| --- | --- |
| Our doctors | |
Dental clinics LUMI-DENT
The professional dentistry network Lumi Dent in Kyiv is located in the residential area of Obolon', Poznyaki, Solomenka.
Lumi-Dent company has 23 treatment rooms on the Right and Left Bank of Ukraine`s capital, including 6 surgical departments.
Dentists of dental clinics Lumident have extensive experience and the best equipment for the successful treatment of any dental diseases of the teeth and gums.
In order to deal effectively all dental problems in our patients, the staff of Lumi Dent clinics actively adapts the latest innovations in the field of modern dentistry - the use of:
dental microscopes and other optics;

depophoresis;

a laser;

methods of using the client's blood plasma to restore bone tissue;

ozone;

surgical templates for implantation;

computer bite registration;

intraoral scanners for obtaining digital impressions without the impression material;

and many others.
Read more about innovative technics used in Lumident, in the section "New Technologies".
Photo - Work with microscope in clinic Lumident.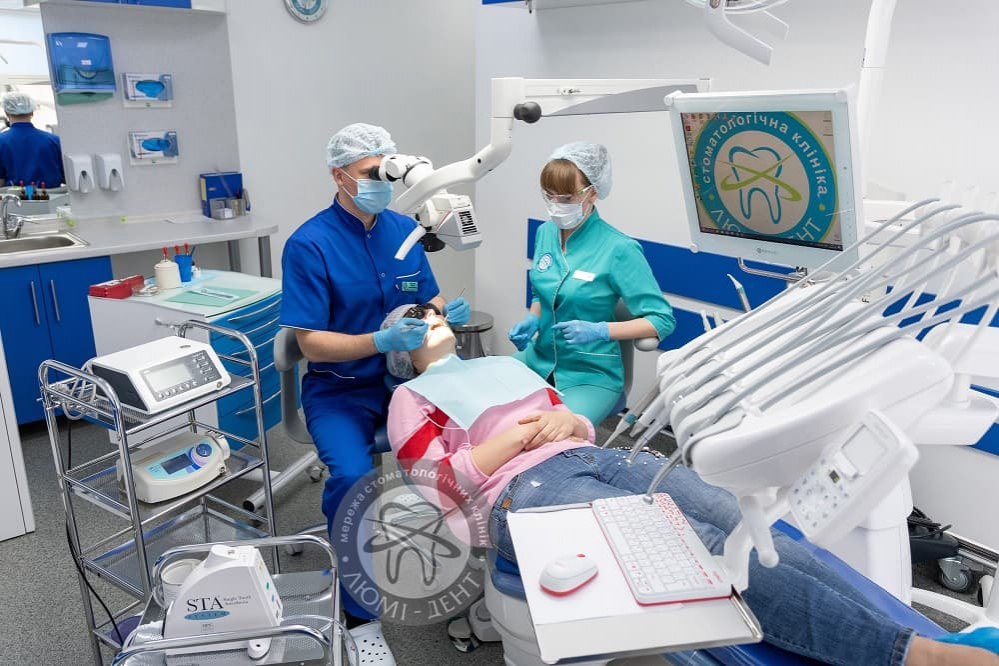 Outpatient surgical procedures, such as dental implantation, are performed in a special operating room. Complete painlessness in the elimination of all dental problems is achieved through a unique computer anesthesia system STA.
The use of intraoral camera allows you to take pictures of the working area before, during and after treatment.
With the help of a powerful dental microscope, dentists of the clinic perform complex operations that require high precision.
Our modern dentistry offers patients to undergo a full course of computer diagnostics using x-ray, tomograph and radiovisiograph with a reduced dose of radiation.
The clinic has a ultramodern dental laboratory with a full cycle of the latest digital dentistry: the latest generation milling machine - Imes Icore 350i, 3 Shape intraoral scanner and Medit 500 intraoral one, as well as Formlabs 2 3D printer. These technologies make it possible to produce any kind of best quality dental prostheses.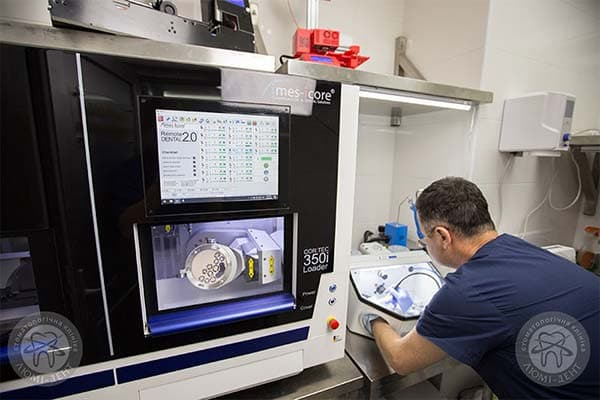 Many patients come to us from the countries of near and far abroad, where modern dentistry of such a high level costs many times more. Video reviews of our patients you may see here.
We are significantly different from the majority of Kyiv clinics in many factors –pricing, discipline and ethics of staff, professionalism of specialists, concentration of new dental technologies and equipment, full information about our advantages is on the page "Prices". Be sure to read!
While accompanying our clients, everything is thought out to the smallest detail - personal concierges are at your service who will not be distracted by telephone conversations with other clients.
These specially trained specialists will give you maximum attention in the clinic, they will not forget to call back the next day and ask about your well-being.
These concierges will always promptly monitor the time of manufacture of dental structures in the dental laboratory, always remind in advance about the date and time of the next visit to the clinic.
In modern dentistry in Kyiv «Lumi-Dent» you will find excellent service and friendly staff that may turn your visit to the dentist into a useful and pleasant pastime.
History of the company

The founder of the Lumi-Dent company - citizen of Ukraine Dudko Valerii, specializing as a dentist orthopedist. Valery Dudko graduated with honors from the Bogomolets Medical University in Kiev, in 1997.
After that, he worked as an orthopedic dentist in government dental clinic in the Darnitsa district in Kiev, where he acquired professional experience. The first private dental office was opened in 1997, right after Valery Dudko graduated from the Medical University.
After that, in 2006, a private dental clinic was opened in Troyeshchina in Kiev, co-founded by Valerii Dudko.
The idea of ​​opening a serious professional business in the dental industry came to V. Dudko when he met with a lawyer and businessman Arthur Polozhii, whom was offered the position of director in the newly created Lumi-Dent company.
On photo - Valerii Dudko, founder, and Artur Polozhii, director of LUMI-DENT LLC.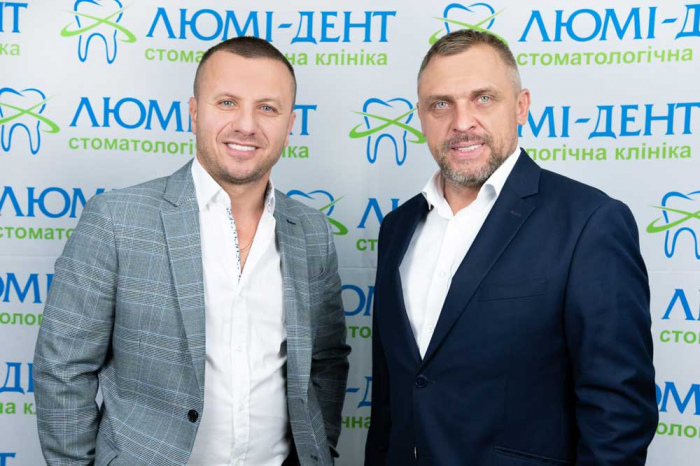 Together started the company construction and the first dental clinic Lumi-Dent in Kiev on the Anna Akhmatova str. 14A, that opened doors in 2013.
Thanks to a well-thought-out strategy, the business gained rapid growth, and from 2013 to 2017, the Lumi-Dent clinic increased 3 times - from 3 to 9 dentist offices.
The development did not end there - in 2018, another new dental clinic Lumi-Dent was opened in Obolon district in Kiev, with 6 dentist offices.
In March 2021, a new large dental clinic of the Lumi-Dent network began to work, in the center of Kiev, Solomensky district, at the address: Levka Matsievicha str. 2/4, for 8 dentist offices.
Mission and values

The main tasks of the Lumi-Dent company are:
Provision of high-quality and inexpensive dental services to the population, using advanced technologies and the best dental materials;

High level of service and professionalism;

Creation of new job places, with good working conditions and self-improvement of personnel;

Participation in social and charitable projects in Ukraine.
Charity, social projects


Help for the orphanage

The company helps to orphanage "Berezka", located in Kiev, where live orphans with serious illnesses live - infantile cerebral palsy, AIDS and others. We buy food products, household appliances, toys, and personal hygiene items for the orphanage.
Photo. Director of "Lumi-Dent" LLC Polozhii A. in the orphanage "Berezka".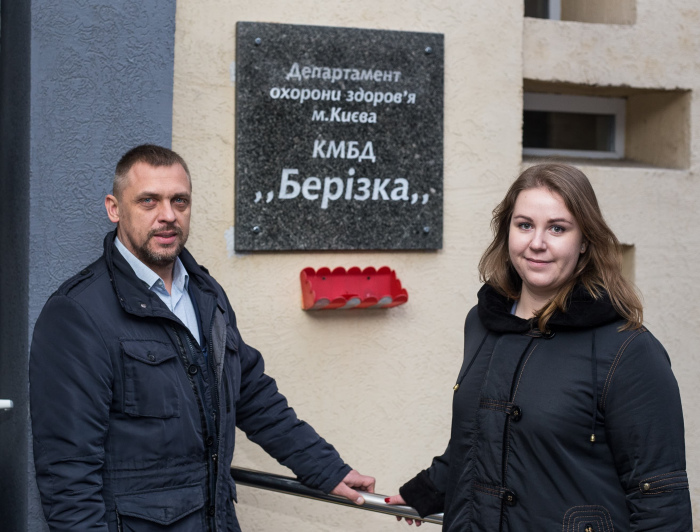 Social project Scholarship

In 2019, Lumi-Dent launched a social project Scholarship, in that it identified prizes for students and school students who write their research on new technologies in dentistry. The total prize fund was 44,000 UAH.
Objectives of the project:
Assistance to promising youth in paying for education in higher educational institutions.

Assistance in the subsequent employment of the most successful job seekers for a job in the company.


Reviews

Text and video reviews of many of our patients who have undergone treatment at Lumi-Dent clinics are available on the "Dentistry reviews" page.
In modern dentistry in Kiev "Lumi-Dent" you will find excellent service and friendly staff who can turn your visit to the dentist into a useful and pleasant pastime.
Come to us and see for yourself!
Sign up for a free consultation!
On photo - team Lumi-Dent at summer rest, June 2019.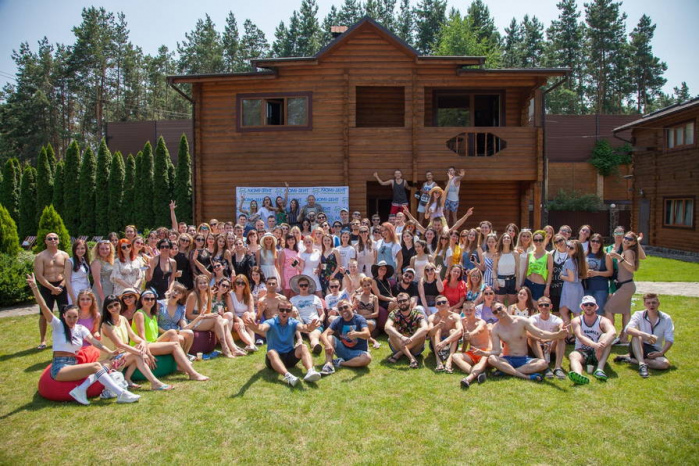 Until prices rise - sign up for a free consultation!
Sign up for free online consultation