Kopychko Denys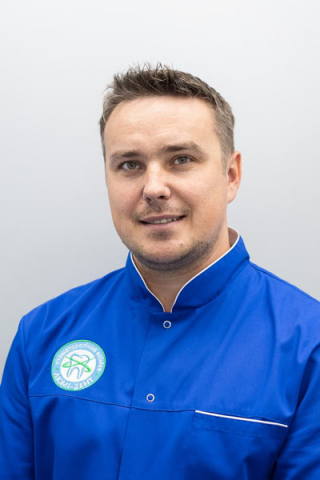 Surgeon-implantologist
Make an appointment with this doctor
Doctor implant-surgeon in the network of dental clinics Lumi-Dent in Kiev, conducts an appointment at the department in in Obolon'.
Education:
Graduated from Vinnitsa National Pirogov Medical University with a degree in dentistry.

Ukrainian Military Medical Academy, qualified as a master of medicine.
Briefly about surgeon-implantologist:
Installed more than 3,000 implants. Over 97.5% - successfully.
Practice in:
Department of the head and neck of the regional cancer center in Vinnitsa;

Central Dental Clinic of the Ministry of Defense of Ukraine;

Clinic of Oral and Maxillofacial Surgery and Dentistry, the main military medical clinical hospital;

9th Military Hospital, 169 Desna Training Center, resident of the dental department;
Surgical skills:
Removal of teeth of any difficulty;

One and two-stage dental implantation;

Elimination of complications of implant treatment;

Work with navigation templates for dental implantation;

Bone grafting (GBR, sinus lifting);

Soft tissue augmentation (elimination of gingival recessions, plastic of the vestibule of the oral cavity);

Tooth-preserving operations;

Plastic surgery in the maxillofacial region - vestibuloplastic operations, cutting the frenulum of the lips and tongue, removing Bisha's lumps;

Surgery under local and general anesthesia.
Surgeon-implantologist Kopychko Denys Mykolaiovych works with the most famous and popular dental implant systems: Neobiotech, MegaGen, Nobel, Straumann.
Participated in seminars and courses:
2018
"Computer implant planning. Surgical implant implantation with surgical templates", Odessa;

"Fundamentals of organization and management of a medical institution", Kyiv;

"Dental implant planning with immediate loading of prosthetics";
2017
"Dentistry is life changing Miguel Stanley";

"Implantation with atrophy of the lower jaw Dr. Kwang-Bum Park";
2016
"Prosthetics on collapsible and non-collapsible implants", Kyiv;
2014
"Modern computer 3D-X-ray diagnostics in the work of a dental surgeon";

"Modern microprosthetics: full cast tabs, ceramic and collapsible multi-root tabs. Features of preparation, removal of impressions, mistakes. Practical experience";

"Examination of the Ministry of Health of Ukraine concerning pre-approval of licensed conditions of medical practice", Kyiv.
2013
"Ortho-facial surgery and orthodontics", Moscow;

"Scientific-practical conference - modern aspects and prospects of development of military dentistry"

"The Art of Root Canal Instrumentation. Mtwo and Reciproc Algorithm and Clinical Application. Using VDW Ultra Ultrasound. Filling the Root System with Vertical BeeFill 2in1 VDW Condensation, A New Look at Guttafusion Root Canal obturation; Aesthetic Postendolysis Technology;"

"Root canal treatment with a single Reciproc tool. Achieve clinical use of Reciproc translational instruments (VDW) versus Mtwо rotary system (VDW). Ultrasound, principles of its use in endodontics", Kharkov;
2011
"Restoration of a tooth stump";

"Radiation diagnostics in the outpatient practice of a dentist ", Kyiv;
2008
"Work with modern restoration materials and equipment".
Statistics of Dr. Kopychko D.

2020

Number of all consultations held

1110

The number of implants installed, the total number and separately for the types of implants:

- Nobel Biocare

114

- MIS

17

- MegaGen

524

- Straumann

202

Total number of implants installed per year

857

The number of simple tooth extractions

816

The number of wisdom tooth extractions

309

The number of operations performed sinus lift

60

Amount of soft-woven plastic held including recession closure

628

Number of bone grafts performed

74
Examples of the work of dr. Kopychko Denys
Photos of dr. Kopychko Denys
Return to the list of doctors