Sign up for online consultation
Kukhar Irina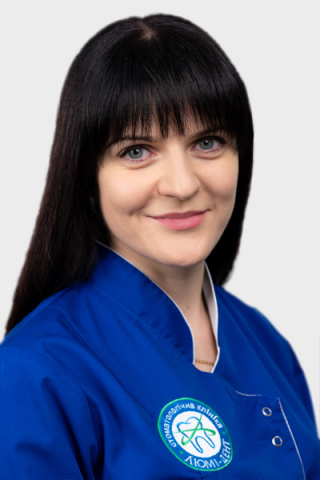 Therapist
Make an appointment with this doctor
Therapist in the network of dental clinics Lumi-Dent in Kiev, conducts an appointment at the department in Solomianka district.
Education:
Graduated from the National Pirogov Memorial Medical University.

Passed internship at the National Pirogov Memorial Medical University.
Specialization, types of activities of the dentist:
Diagnosis and treatment of caries and its complications;

Professional oral hygiene by ultrasonic method, "AIRFLOW" system;

Restoration (restoration of color and shape of teeth using filling materials);

Endodontic treatment (treatment of pulpitis and periodontitis);

Work using the kofferdam system;

Teeth whitening;

Plasmolifting;

Grooves sealing.
Participated in seminars and courses:
2021
«Primary endodontic treatment. Instrumental treatment of root canals»;

«Emergency care in dental practice. Anaphylaxis: Know. Warn. Save life»;

«Calculation of frontal sectarians for the reconstruction of the dentition. Algorithm for direct restoration of posterior teeth and long-term influencing factors»;

«Clinical endodontics and aesthetic dentistry»;
2020
«Risk prevention and complications in the treatment of periodontal diseases»;
2019
«Pain free hospital – hospital without pain»;

«The concept - is a step further. Diagnosis. Therapy. Digital dentistry»;
2018
«Art restoration of the frontal group of teeth».
| | |
| --- | --- |
| Dr. Kukhar Irina statistics | 2022 |
| Consultations | 147 |
| Tooth fillings | 168 |
| Treatment under anesthesia | 198 |
| Professional teeth hygiene | 130 |
| Teeth whitening | 18 |
| Treated root canals | 96 |
Return to the list of doctors
Until prices rise - sign up for a free consultation!
Sign up for free online consultation