Evgenij Pavluchenko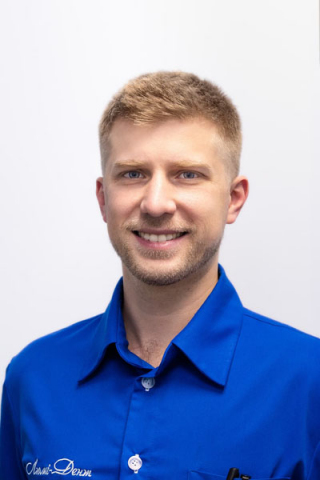 Surgeon-implantologist
Make an appointment with this doctor
Doctor implant-surgeon in the network of dental clinics Lumi-Dent in Kiev, conducts an appointment at the department in Poznyaki Osokorki.
Full member of the Ukrainian Dental Association.
Education:
Graduated from Kharkiv National Medical University with a degree in dentistry.
BRIEFly about surgeon-implantologist:
Installed more than 6,100 implants. Over 97.5% - successfully;

He passed practical work in the department of maxillofacial surgery at the department of surgical dentistry on the basis of the Kharkiv Regional Clinical Hospital. Scientific work was carried out, there are printed articles;

In 2011, he completed an internship at the CityDental Dental Clinic in New York, USA.
SKILLS OF THE surgeon-IMPLANTOLOGIST:
Two-stage implantation of teeth;

Complicated tooth extractions;

Surgical periodontics;

Bone grafting;

Directed osteosynthesis;

Piezosurgery.
He works with the most famous and popular implant systems: Neobiotech (South Korea), MIS (Israel), Straumann (Switzerland). Surgical dental interventions of any complexity in the maxillofacial area under local anesthesia.
Provided simultaneous translation of a course of lectures by foreign dental professionals at trainings in Kiev.
Surgeon-implantologist Pavlyuchenko E. constantly takes part in scientific conferences, symposia, seminars, and also has publications in specialized medical journals, meets with monographs and publications of leading foreign implantologists, which allows him to keep abreast of new technologies, approaches, concepts and directions in dental implantation.
Participated in seminars and courses:
Diploma "Directional bone regeneration around implants", 2012;

Diploma "Legal regulation of dental practice", Kharkov, 2012;

Diploma "Achievement of the predicted aesthetics in periodontology and implantology", Kharkov, 2013;

Diploma "Sinus-lifting", Kiev, 2015;

Diploma "Horizontal augmentation of the alveolar ridge", Kiev, 2015;

Diploma "Flaps in implantology. Soft tissue augmentations", Kiev, 2015;

Certificate "Surgical and orthopedic aspects of working with the Bicon system", 2015;

Certificate "Vertical and mixed augmentation of the alveolar ridge", Kiev, 2015;

Certificate "Complicated aesthetic protocols of implant treatment", Kiev, 2015;

Certificate of "Clinical integrated approach to imaging techniques used in oral and maxillofacial pathology", Kiev, 2015;

Certificate "Surgical features of work with the dental system of implants Strauman: TL / BL", Kiev, 2016;

Certificate "Soft-tissue regeneration. Howard Gluckman", Kiev, 2017.;

Life changing dentistry. Dr. Miguel Stanley. Kiev, 2017;

Certificate "Implantation in everyday practice", Cherkasy, 2018;

Complex studying of orthopedic and surgical solutions of Straumann", Kiev, 2018.
DATA ON Surgeon-implantologist PAVLUCHENKO E.

2020

The number of all consultations

919

The number of implantations

277

The number of installed implants, the total number and separately by type of implants:

- Neobiotech

31

- MIS

11

- MegaGen

501

- STRAUMANN

219

Total number of installed implants per year

762

The number of simple tooth extractions

815

Number of wisdom teeth removal

293

The number of performed sinus lifting operations

67

Number of other operations (vestibuloplasty, etc.), as well as bone plastics

213
VIDEO REVIEWS OF DR. Pavluchenko E.
Examples of the work of Dr. Pavluchenko E.
Photo with a Dr. Pavluchenko E.
Return to the list of doctors