Sign up for online consultation
Dmytro Mastierov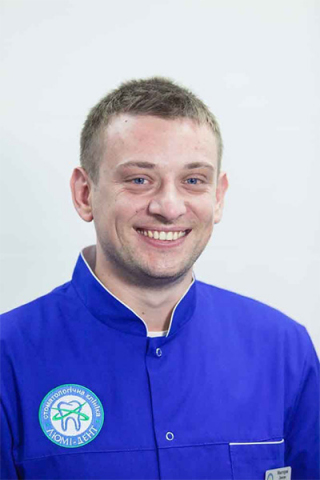 Surgeon-implantologist
General Member of Ukraine Dental Association.
Head of the surgical department of Lumi-Dent clinics at the department in Poznyaki Osokorki.
Certified specialist in working with implants Biohorizons (UK), MegaGen (South Korea), MIS (Israel), Straumann and Nobel Biocare (Switzerland).
Author of many articles and videos on our website.
Work experience is 17 years.
Educational background
Graduated from Kyiv Medical University of UAFM.
Briefly about Dmytro Mastierov:
the percentage of successful implantation and bone plastic surgery is more than 97%;

installed more than 4200 dental implants, more than 97% of them have been successfully adapted;

have interned at the department of maxillofacial surgery of academic chair of Surgical Dentistry at National Medical University n.a Bogomolets in Kiev municipal clinical hospital №12 and in a number of private dentistry clinics.

rewies on our dental implantologist in Poznyaky district are only positive
Work experience at Lumi-Dent clinic (Kiev, Poznyaki) - 4 years.
PRICES FOR TEETH IMPLANTATION YOU MAY SEE HERE
Dental implantologist's professional skills:
removal of teeth of any complexity;

one and two-stage implantation of teeth;

elimination of complications of implant treatment;

work with navigation templates for dental implantation;

bone plastic and soft tissue augmentation;

periodontal surgery;

tooth-preserving operations;

buccal fat extraction.
Dental surgeon Dmytro Mastierov works with the most famous and popular implant systems: Neobiotech, Megagen, Biohorizons, Straumann. Performs surgical dental interventions in the maxillofacial area under local anesthesia.
Doctor implantologist Dmytro Mastierov constantly takes part in scientific conferences, symposia, seminars in Kiev, Ukraine and abroad. Gets acquainted with the works of leading doctors of his field and related specialties.
Data on the dental surgeon Dmytro Mastierov

2022

Total number of all performed consultations

1050

Number of implant operations

283

Number of implants installed, the total amount and separately depending on the types of implants:

- Neobiotech

35

- MIS

23

- MegaGen

522

- STRAUMANN

187

Total number of installed implants for 2016

767

Number of simple tooth removals

817

Number of removals of wisdom teeth

312

Number of sinus lift operations performed

67

Number of other operations (vestibuloplasty, etc.), as well as bone grafting

399
Text and video reviews about the dental surgeon Dmytro Mastierov - You can see on this page.
Up to date it is extremely important to understand - how to choose the best implantologist, as in practice in advertising of each clinic there is a proposal of the service of a dental surgeon.
What should be taken into consideration when choosing:
1) The clinic must have a license for providing services of surgical dentistry. These are the increased requirements for performing practice - additional rooms are required, increased air exchange rate, special requirements for interior decoration, etc.
2) The doctor implantologist must obligatorily have a specialization in surgical dentistry, since this field requires separate and long term training.
3) Dentistry must have such attributes as computer-anesthesia, a computer tomograph, piezotome, equipment for its own bone grafting and many others that are inherent to provide services of high quality.
4) In particular, as for the implantation of teeth - the best dental surgeons are obliged to apply navigation templates in their work. This is an obligatory factor for successful dental implantation. In addition, it is necessary to have in your arsenal at least 3-4 different implant systems that allow the introduction of new teeth under any conditions in the oral cavity, and also offer the client the optimal solution taking into consideration his financial capabilities.
5) It is obligatory to have photos of your works, our photos, you may see on our website in the section "Our works". How will you determine - what result will you get if you just believe on "the say-so" of the doctor implantologist of the clinic?
6) The dentist implantologist must necessarily have good patient reviews on independent dentistry portals.
7) It is very desirable that you can see in advance the dental implantologist, his speech, the manner of communication, in order to understand - is this professional sympathetic to you as a person? Are you ready to entrust to him all your problems? Will you enjoy the ordinary communication with him? Video with our specialist can be seen on our channel in Youtube (link at the top of the site), or on the pages of particular services on our website.
Only in a few clinics the best dentistal surgeons in Kiev meet all of the above mentioned requirements. Make an appointment at Lumi-Dent located at Poznyaki residential area, and make sure - the teeth will you serve for a long time!
Proved in practice - Lumi-Dent!
Examples of works at our dental surgery
Photos with doctor implantologist Dmytro Mastierov
Participated in seminars and courses:
2021
«Clinical skills center Nobel BioCare»;
2019
«Steigmann implant institute. Soft tissue management. Module 2, Module 3»
2018
«Straumann symposium»;

«Interpositional bone graft»;

«Digital principles of implantation»;

«Migovo 2: modern concepts in dental implantation»;

«Simplification in implant full-arch rehabilitation», Kuneo;

«Simulation of soft tissues to increase bone volume»;

«Zero bone loss concepts», Vilnius;

«Comprehensive training in orthopedic and surgical solutions Straumann»;

«International Congress Nobel Biocare», Batumi;
2017
«13th Annual MegaGen International Symposium», Tokyo;

«2nd MegaGen MEASM», Jordan;

"Implant related soft tissue management: contemporary strategies for biological and esthetic long term success";

"3D scanning, 3D modeling, 3D printing in dental practice";

Dentistry changing the life. Dr. Miguel Stanley;

Methods of rehabilitation in the concept All-on-4. Expert forum;

«Straumann forum», Riga;
2016
"Aesthetic cosmetology in alternative practice of a doctor";

"Surgical protocol of one-stage and delayed implantation with immediate loading in combination with directed bone regeneration and gingival augmentation";
2015
"Plastic surgery on soft tissues of the oral cavity in an aesthetically significant zone: elimination of gingival defects in the implant area";

"Fundamentals of surgical dentistry. Basic course ";

Lecture "Repeated endodontic treatment";

"Modeling of soft tissues in the area of implants in an aesthetically significant zone. Surgical and orthopedic aspects ";

"Planning dental implantation. Drill guides";

"Computer guided implant placement and orthopedic rehabilitation based on CBCT. An intraoperative use of the surgical guide";

"Quintessence of periodontology and implantology";

"Local anesthetics and allergy", Odessa;

IV Congress of the Ukrainian Association of cranio-maxillofacial surgeons, Kiev;

"Multidisciplinary approach in the treatment of dental patients", Lviv;
2014
"Elimination of complications in implantology", Lviv;

"Implantation: Osteointegration";

International Symposium of Quintessence "Periodontology and Restorative Dentistry. Selection of biomaterials and methods in periodontological implantological plastic surgery ", Moscow;

Workshop session "Plasmolifting";

"Installation and prosthetics of implants";
2013
"Alveolar ridge reconstruction with autogenous onlay block grafts", Vilnius;

"Practical application of functional diagnostics for reconstructive prosthetics using implants", Odessa;
2012
"Computer modeling in medicine", Kiev;

"Implantology", Kiev;

"Surgical methods of periodontal treatment", Kiev;

"Sinus-lifting" from A to Z". Practical course", Kiev;

"Periodontal treatment. Elimination of complications when installing implants in the aesthetic zone. The right choice of the technique of soft tissue transplantation ", Odessa.
Date of publication:
06.09.2016
Return to the list of doctors
Until prices rise - sign up for a free consultation!
Sign up for free online consultation