Alexey Glushko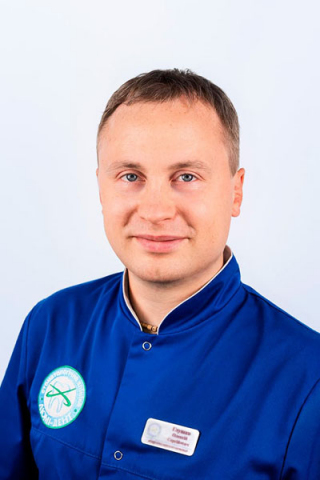 Orthopedist
Make an appointment with this doctor
Doctor dentist orthopedist in the network of dental clinics Lumi-Dent in Kiev, conducts an appointment at the department in Poznyaki Osokorki.
Full member of the Ukrainian Dental Association.
Education:
Graduated from the National A. Bogomolets Medical University.

Member of the German Association of Oral Implantology (orthopedic department) in 2013

Specialty: general dentistry on the basis of the Ukrainian Medical Dental Academy.

Passed specialization in the course "Orthopedic Dentistry" on the basis of the Ukrainian Military Medical Academy.

From 2010 to 2012 - Assistant courses for improvement of dental technicians at the National Medical Academy of Postgraduate Education named after P.L. Shupika, lecturer KUZT
Specialization, activities:
Modern technologies of aesthetic prosthetics in dentistry;

Specialist in laser dentistry and work with a dental microscope;

Owns techniques for the manufacture of prostheses with support and fixation on dental implants;

Certified Lumineers® Cerinate® Smile Design;

Certified Duo PCH ™ veneer installer;

Certified Snap-On-Smile Crown Fitting Specialist.
Unremovable prosthetics:
Metal-free ceramics (veneers, three-quarter crowns, as well as full crowns based on zirconium dioxide), press ceramics;

Aesthetic prosthetics on implants (ceramics based on zirconium dioxide, on individual abutments, as well as metal-ceramic constructions on standard abutments;

Manufacturing of pin structures, pin teeth lined with ceramics;

Production of metal-ceramic crowns and bridges of any complexity;

Manufacturing of temporary structures.
Removable prosthetics:
Production of full removable and partial dentures based on acrylic and nylon masses;

Manufacturing of clasp prostheses with locking and clasp fixation system.
Participated in seminars and courses:
Diploma "Free design in the restoration of posterior teeth", Kiev, 2011;

Diploma "Periodontal aspects in dental implantation", Kiev, 2011

International Congress: "Cortical Osseointegration in Dental Implantology", Kiev, 2011;

Certificate "Comprehensive approach in dentistry. From endodontics to restoration", Kiev, 2014;

Theoretical and practical course on the installation of Lumineers Lumineers® Cerinate® Smile Design - "Lumineers - the beauty of a smile"

Practical course at Nazariy Mikhailuk "Modern technologies in dentistry, manufacturing of ultra-thin ceramic veneers", 2016

Certificate "Digital Protocols of Work in Practice", Kyiv, 2017;

Certificate "3D scanning, 3D modeling, 3D printing in dentistry", Kiev, 2017.

Certificate "Implantation in everyday practice", Cherkasy, 2018

"Complex of orthopedic and surgical situations Straumann", Kiev, 2018
International internships of the specialist:
Implantation XIVE and Ankylos. Bone tissue augmentation and plastic surgery on the mucous membranes of the oral cavity using the PRGF membrane system;

Orthopedic restorations on implants, Virheim, Germany, 2012

Internship on the basis of Martin Lexman dental laboratory. Features of prosthetic facial arcus digger Arcus Digma

Using an intraoral scanner to get digital impressions, Dresden, Germany, 2013.

Nostrified (confirmed) the diploma of a dentist in the Czech Republic, Prague, 2014
The statistics of Dr. Alexey Glushko

 

2020

Number of consultations

311

Veneers

156

Metal-ceramic crowns

419

All-ceramic crowns

47

Whole anatomical zirconia crowns

226
Return to the list of doctors