Sign up for online consultation
Nazaryna Liliia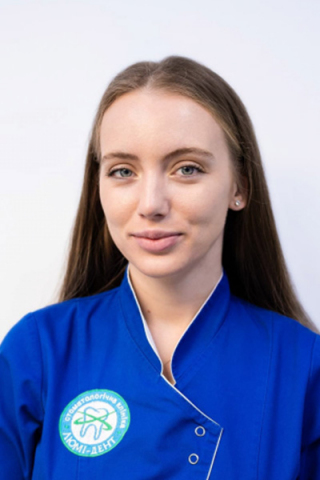 Ortodontist
Make an appointment with this doctor
Dentist orthodontist in Kyiv Lumi Dent clinics, conducts an appointment at the department in Posniaki districts.
Ukrainian Dental Association Member.
Education:
Bogomolets National Medical University graduated;

Bogomolets National Medical University Dental medical center internship;

P.L. Shupyk National Medical Academy of Postgraduate Education in the orthodontics department graduated.
Specialization, activities:
Preventive care of dental anomalies in children;

Bite correction in children and teens with the removable and non-removable orthodontic devices;

Orthodontic treatment of adolescents and adults with various types of braces;

Orthodontic treatment with different types of braces and Orthodontic treatment with different types of braces.
Participated in seminars and courses, internship:
2020
Speaker at the International Conference of Young Orthodontists with the topic «Comparison of the biomechanics of surgically associated expansion of the upper jaw during the distraction devices usage with tooth and bone types of fixation»;

«Clinical photography in dental practice»;

«The bite height and occlusal plane correction. How is it possible to carry out effective and complete rehabilitation»;

«Biomechanics of orthodontic arch wires usage. Basic bends»;

«Treatment of a patient with first class pathology from «A» to «Z» on a wax tipodont»;

«Distal and mesial bite. Clinical presentation and treatment mechanics»;
2019
«Orthodontic treatment with removable devices»;

«MBT Treatment Mechanics»;

Ormco Orthodontics School. «Treatment stages with the help of modern fixed orthodontic equipment: from the first arch to the treatment completion»;
2018
«The way from dental anatomy and biomechanics to the braces design»;

«Trios scanners and 3shape software products usage»;

«Orthodontic Treatment. Diagnosis and Planning»;
2017
«Teeth with abrasion restoration»;

«Day of Practical Periodontology»;

«Lunos from Durr Dental Preventive system»;
2016
Petramed clinic Internship. Slovakia;

«Best student» diploma. Slovakia;

All-Ukrainian Congress of the Ukrainian Dental Students Association.
Statistics of Dr Nazaryna

2020

Number of consultations

116

The number of braces installed by type

Metal braces.

11

Low-profile metal braces.

8

Ceramic braces.

7

Sapphire (monocrystal) bracket system.

2

Self-ligating (metal) bracket system Damon-3 mx.

9

Self-ligating (ceramic) bracket-system Damon3.

4

The number of corrections.

194

The number of installed children's plate's.

17
VIDEO REVIEWS OF DR. Nazaryna L.
EXAMPLES OF THE WORK OF DR. Nazaryna L.
PHOTO WITH A DR. Nazaryna L.
Return to the list of doctors
Until prices rise - sign up for a free consultation!
Sign up for free online consultation