Anna Kovalenko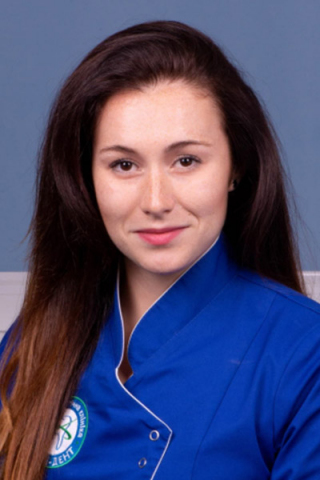 Orthodontist
Make an appointment with this doctor
Orthodontist in the network of dental clinics Lumi-Dent in Kiev, conducts an appointment at the department in Obolon'.
Full member of the Association of orthodontists of Ukraine.
Education:
Graduated from the National Medical University named after Bogomolets with a degree in dentistry.

Internship at the Bogomolets National Medical University.

Specialization in orthodontics in the Ukrainian Military Medical Academy.

Clinical residency at the Department of orthodontics and propaedeutics of prosthetic dentistry of National Medical University named after O. O. Bogomolets.
Specialization, types of activity:
Prevention of bite pathologies in children of different ages;

Treatment of malocclusion in children using removable and non-removable devices, as well as trainers;

Orthodontic treatment with different types of braces;

Correction of malocclusion and position of teeth with the help of transparent cap systems (Easy Align, Invisalign);

The use of microimplants as an additional element and support in orthodontic treatment;

Orthodontic treatment as preparation for prosthetics and implantation.
Participated in seminars and courses:
2018
Course "Standart Edgewise Technique in Contemporary Orthodontics", Kemer, Turkey;

Theoretically practical course "Treatment of class II on Anglo using braces Canon Ultra", Kyiv;

WorkShop on microimplants with Dr. Patricia Vergara Villarreal, Kiev;
2017
Diploma "Invisalign Certification Course", Kiev;

Course by Prof. Andrea Deregibus "Functional applications: when and how to use them";

Course by Dr. Marco Rosa "Early orthodontic treatment", Kyiv;

Lecture course "Biomechanics in orthodontics", Kharkiv;

First International Orthodontic Symposium, Kiev;

Certificate " Diagnostic protocols for determining the strategy and tactics of management of patients with maxillofacial deformation. 3-D cephalometry. Current status of temporomandibular joint disorders»;

"Biofisiological Orthodontics with H4»;
2016
Certificate "Self-Ligating bracket system", Kiev;

"Principles of diagnosis and treatment of class II,", Kiev;

"Orthodontics. Start – school";

«Orthodontics. The first error»;

«Orthodontics. Working with arcs»;

"FDI Annual World Dental Congress", Poznan, Poland;

Seminar of Professor Aladin Sabbah "Manual functional diagnostics of temporomandibular joint and therapy with AquaSplint", Minsk;
2015
Cycle I: "Apparatus" straight arc", its structural elements, features of their use in orthodontic treatment", Kiev;

Cycle II: "Fundamentals of orthodontic patient documentation according to the requirements of the Ministry of health of Ukraine, modern methods of diagnosis in orthodontics»;

Master class on the use of invisible automatic transmission system "Easy Align", Kiev;

Cycle III: "Dental Alveolar compensation of distal occlusion in patients with removal of the first premolars on the upper jaw and the second on the lower jaw. The mechanics of the treatment apparatus of the direct arc»;

Cycle IX: "Indications, contraindications, manufacturing and use of removable orthodontic appliances in patients with sagittal malocclusion»;
Statistics of doctor Kovalenko A.

2020

Number of consultations.

410

The number of installed braces on the species.

Metal bracket systems.

9

Low profile metal bracket system.

33

Ceramic braces.

14

Sapphire (single-crystal) bracket system.

12

Braces Damon-3 mx (metal) self-ligating.

19

Braces Damon-3 clear (ceramic) self-ligating.

15

Number of corrections performed.

703

Installed children's plates.

61

Installed aligners.

19
EXAMPLES OF THE WORK OF A DENTIST ORTHODONTIST KOVALENKO A.
Photo with doctor Dr. Kovalenko A.
Return to the list of doctors