Prosthetic teeth
Clinical cases
Clinical case 4
Complaints:
There is no possibility to wear a removable denture.
Diagnosis:
Significant atrophy of the alveolar ridge.
Treatment:
Implantation of 6 MIS dental implants was performed. The final stage of prosthetics is an ultra-light, fixed construction on the lower jaw of Peek material, with screw fixation on implants.
Clinical case 5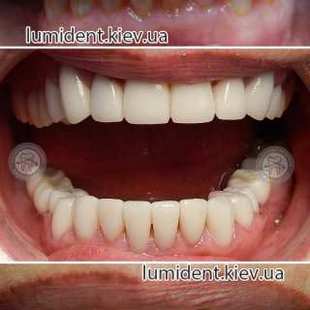 Implantation was carried out in the chewing areas of the upper and lower jaws, orthodontic preparation of the lower jaw for prosthetics with veneers, root canal treatment of the teeth.

At the finish of the treatment, a complex combined prosthesis was performed with the following constructions:
- anatomical anatomical crowns made of zirconium dioxide in the masticatory areas of the upper and lower jaws, based on implants with screw fixation and on supporting teeth. (15-17 and 25-27 teeth on the upper jaw, and 35-37 and 45-47 teeth on the lower jaw;
- Zirconia-based crowns with ceramic applied in the frontal part of the upper jaw (teeth 14 to 24);
- veneers in the anterior part of the lower jaw (from 34 to 44 teeth);
- in the manufacture of prints, after the preparation of the teeth was used facial arc Ivoclar UTS 3D. The work was carried out in the articulator Ivoclar Sratos;
- After cementation and installation of structures, analysis and normalization of occlusion was performed using T-SCAN.
Our doctors' other work examples: