Zoya Tsypko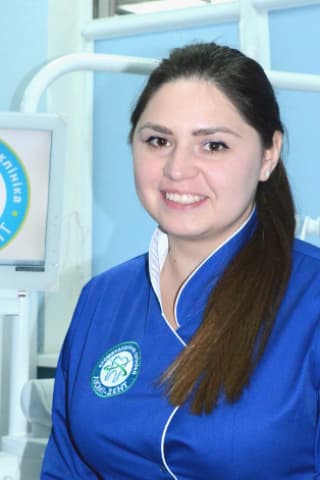 Therapist 
General Member of Ukraine Dental Association
Educational background:
Graduated from The Institute of Ecology and Medicine, Kiev city

Passed an internship at the Academy of Postgraduate Education n.a P.L. Shupik
Specialization, types of activities of the dentist:
Diagnosis and treatment of all types of caries and its complications;

Performing of rational alleviation of pain;

Professional oral hygiene by ultrasound with the application of «air flow» system;

Aesthetic restorations of all groups of teeth with photopolymer composite materials;

Dental fissure sealing;

Application of fiberglass systems;

Temporary restoration of the dentitions with adhesive prosthetic bridges;

Dental splinting;

Teeth whitening;

Use of dental dum.
Participated in seminars and courses:
Participation in the third PAN-European dental congress, 2009;

Certificate "Free design in the restoration of the front teeth", 2011;

International lecture course "Modern technologies of treatment and prevention in practical dentistry", 2012;

Certificate "Modern strategies for the prevention and treatment of dental diseases: world experience and development prospects", 2015 - 2016;

Participation in the conference for endodontists, surgeons, periodontists and heads of clinics "Endoperiocont", 2017;

Participation in the master class of Samuel Krechman "Directional Replantation", 2017;

Certificate "Modern practical solutions for effective endodontic treatment", 2017;

Certificate "Diagnosis and primary treatment of periodontal diseases", Kyiv, 2017.
Statistics for 2017-2018 of Doctor Zoya Tsypko:
| | | |
| --- | --- | --- |
| | 2017 | 2018 |
| Number of consultations | 280 | 307 |
| Number of seals installed | 528 | 602 |
| Number of performed anesthesia | 300 | 497 |
| Number of cleanings | 78 | 150 |
| Number of teeth whitenings | 13 | 65 |
| Number of treated canals | 113 | 149 |
| Number of installed adhesive dental bridges | 6 | 13 |
← Return to the list of doctors