Sign up for online consultation
Therapeutic dentistry
Content:
Lumi-Dent therapeutic dentistry in Kyiv
Oral hygiene
Removal of dental plaque
Periodontics
Treatment and filling of teeth
Tooth root canal treatment
Fissure sealing
Fluoride treatment
Lumi-Dent therapeutic dentistry in Kyiv
Therapeutic dentistry is a huge branch of tooth's health service that deals with the study and treatment of stomatopathy.
Oral hygiene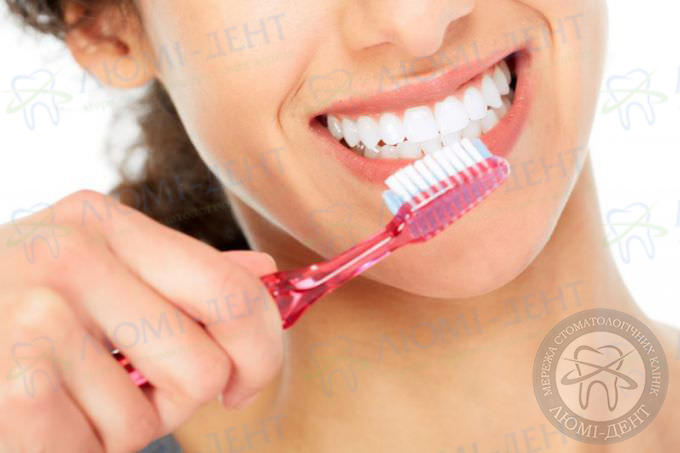 Almost all patients should periodically perform oral hygiene, as this is the main preventive measure for dental health.
Removal of dental plaque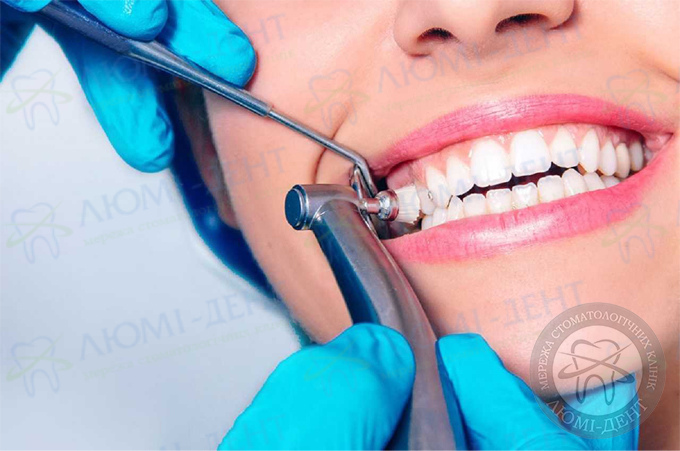 Professional dental cleaning at the dentist is important, since it is one of the main prophylaxis for many diseases of the teeth and periodontal tissues.
Periodontics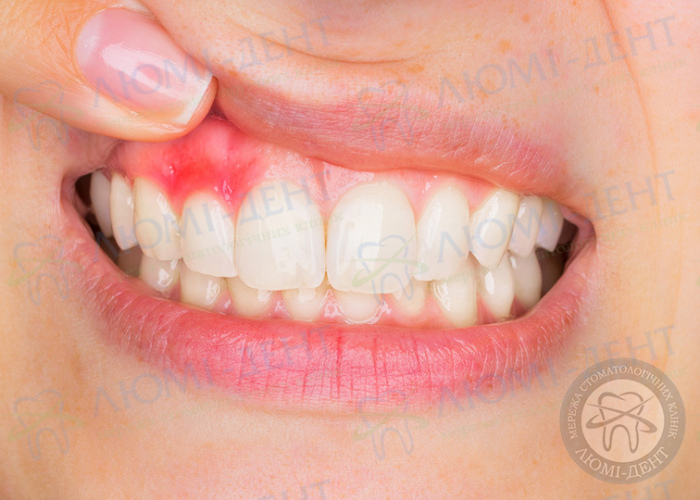 Periodontics is the diagnosis and treatment of gum disease by a periodontist therapist. More than 80% of people are affected by inflammation of the periodontal tissues.
Treatment and filling of teeth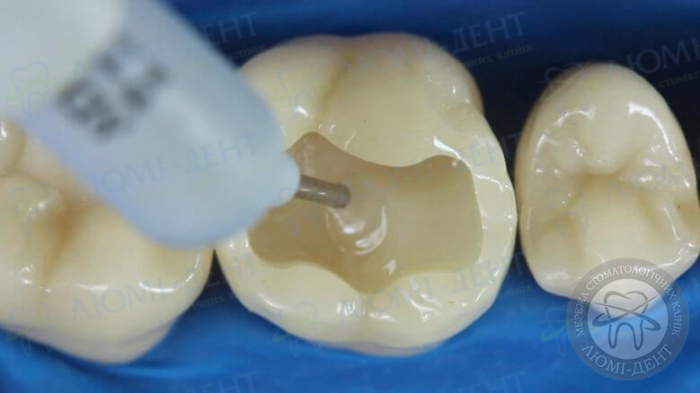 If painful sensations occur in the teeth, it is necessary to treat them at the dentist immediately, such as any delay can lead to the process progression, and the transition of inflammation to the neurovascular bundle of the tooth - the pulp.
Tooth root canal treatment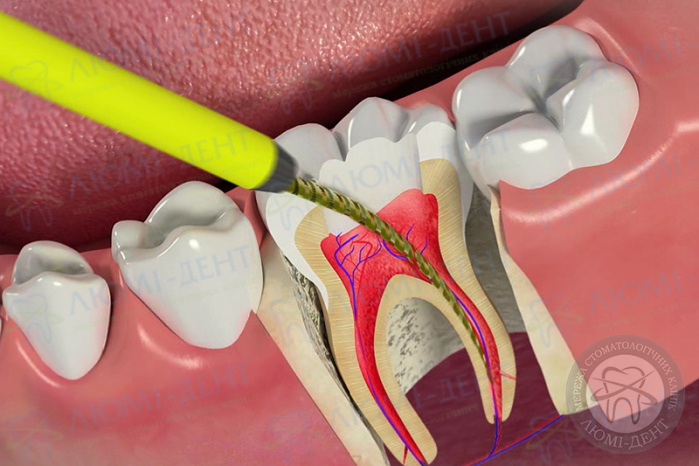 Pulpitis is an inflammatory disease of the nerve (pulp). Pulpitis is characterized by pulsating paroxysmal pain, mostly at night...
Fissure sealing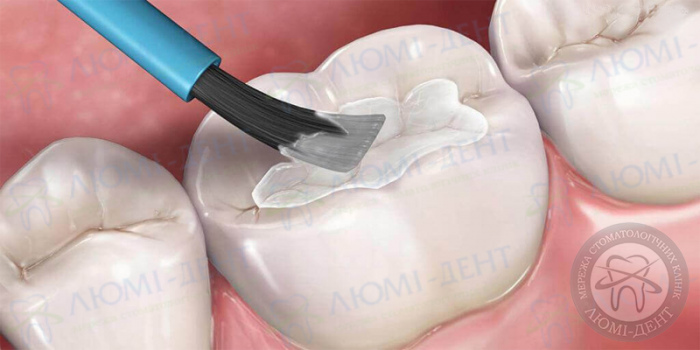 It is an important factor in the prevention of tooth decay.
Fluoride treatment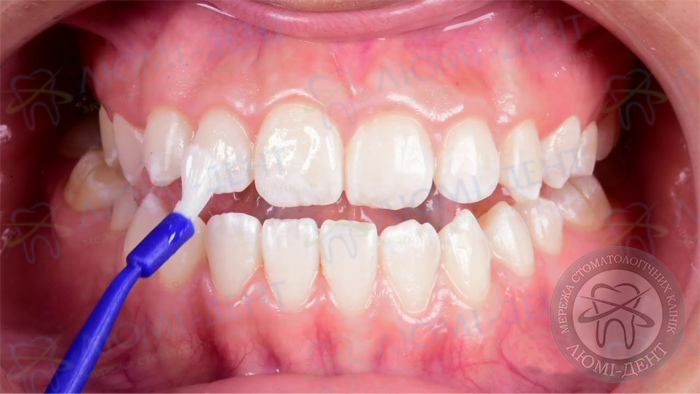 Dentists carry out deep fluoridation to quickly restore tooth enamel.
Caries, pulpitis, periodontitis - this is not a complete list of diseases that are treated by dentists, therapists employed in therapeutic dentistry.
In addition to eliminating the pathological process and toothache, professional dental therapists pay more attention to the therapeutic restoration of dental tissues that have been destroyed by this process.
It is noteworthy that thanks to modern therapeutic methods of treatment, its price is decreasing. Dentists at Lumi-Dent dental clinics in Kyiv carry out therapeutic treatment using local anesthesia, which not only reduces the healing time, but also reduces the number of visits to dentistry by the patient.
Thus, for example, therapeutic debridement of root canals, which usually required several visits to the dentist, can be performed in dentistry in just one visit, thanks to local anesthesia.
Modern dentistry is constantly evolving, increasing the level of comfort for patients. While the prospect of going to the dentist used to terrify most people, now visiting the dentist is becoming less and less daunting.
Moreover, thanks to modern diagnostic methods in dentistry, a general practitioner can prevent most dental diseases even before they appear.
Send an application for an appointment, and dentists of Lumi-Dent dental clinics will provide free examination of your oral cavity and provide you with detailed advice.
You can see reviews of our clinics and general practitioners on the page of our website "Dentistry Reviews".
The cost of the work of the dentists of the Lumi-Dent clinics on the Right and Left Banks of Kyiv is very acceptable for our clients. You can see all our prices on the website, "Dentistry prices" page.
Important! Our dentists offer a 2-year warranty, the rest of the dentists offer a 1-year warranty. It is safer with us!
Sign up for your free consultation!
Prices for services
| | |
| --- | --- |
| Examination, consultation | free |
Complex hygienic teeth cleaning (per 2 jaws)


Special offer! Only until 31st of December!

1499

UAH
Home whitening (1 jaw)
2900

UAH
Removing plaque Air-Flow
575

UAH
Ultrasonic cleaning of dental plaque (1 jaw)
550

UAH
Nitrous oxide sedation (30 minutes)
1350

UAH
Nitrous oxide sedation (15 minutes)
675

UAH
Computer anesthesia STA
500

UAH
These services in our clinic are provided by:
Date of publication:
09.09.2016
Until prices rise - sign up for a free consultation!
Sign up for free online consultation