Sign up for online consultation
Stetsenko Bohdan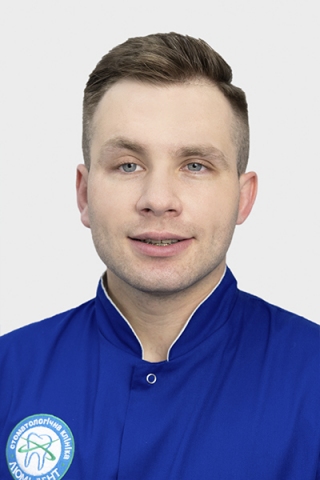 Therapist
Make an appointment with this doctor
Therapist in the network of dental clinics Lumi-Dent in Kiev, conducts an appointment at the department in Poznyaki Osokorki district.
Active member of the Ukrainian Dental Association.

Education:
Graduated from the Medical Institute of Sumy State University;

Internship at the Sumy Regional Clinical Hospital.
Specialization, types of activities of the dentist:
Treatment of caries and non-carious tooth lesions;

Aesthetic restoration of frontal and lateral groups of teeth;

Performing manipulations using the cofferdam system;

Photo and laser whitening;

Comprehensive professional oral hygiene (ultrasonic scaling, Air-flow, Vector);

Manufacturing of adhesive bridge prostheses;

Splinting of dentition;

Treatment of pulpitis and periodontitis;

Working with a microscope;

Fissure sealing.
Participated in seminars and courses:
2022
«Basic principles of isolation in dentistry: anatomy, physiology, physics»;
2021
«Primary Endodontics. Instrumental treatment of root canals»;
2020
«Direct restoration of the lateral group of teeth»;

«Restoration of teeth in the key of occlusion»;
2019
«Cofferdam in dentistry. Luxury or Necessity».
| | |
| --- | --- |
| Dr. Stetsenko Bohdan statistics | 2022 |
| Consultations | 181 |
| Tooth fillings | 146 |
| Treatment under anesthesia | 163 |
| Professional teeth hygiene | 186 |
| Teeth whitening | 17 |
| Treated root canals | 139 |
Return to the list of doctors
Until prices rise - sign up for a free consultation!
Sign up for free online consultation