Sign up for online consultation
Hrytsyshyna Veronika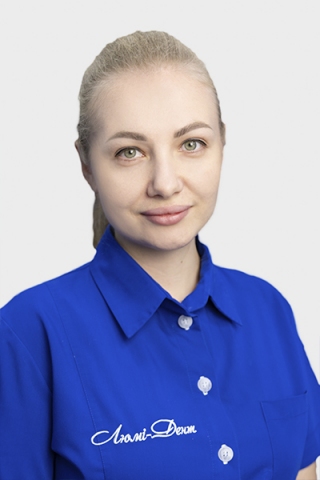 Therapist
Make an appointment with this doctor
Therapist in the network of dental clinics Lumi-Dent in Kiev, conducts an appointment at the department in Obolon' district.
Education:
Graduated from the Ukrainian Medical Dental Academy;

Internship at the Lugansk State Medical University.
Specialization, types of activities of the dentist:
Modern methods of diagnosis and treatment of caries and its complications;

Professional oral hygiene by ultrasonic method, "Air flow" system

Work using the kofferdam system;

Aesthetic restoration of all groups of teeth;

Fissure sealing;

Splinting of teeth;

Teeth whitening;

Endodontics (root canal treatment).
Participated in seminars and courses:
2021
«Rule 4 Endodontics: Modern Approaches»;

«The Art of Photography for Diagnosis and Patient Motivation for Treatment»;
2020
«Possibilities of modern endodontics and microsurgery: the use of rotary nickel-titanium instruments and modern root canal obturation systems»;

«Achievement of the predicted result in indirect aesthetic restoration. Minimally invasive approach»;

«The use of coferdam in dental practice»;

«Splinting and adhesive bridges in dentistry»;
2019
«Diagnostics of functions and planning of aesthetics in total rehabilitation of patients»;
2018
«Aesthetic restoration of the frontal group of teeth according to the Style Italiano method. Just about the hard stuff».
| | |
| --- | --- |
| Dr. Hrytsyshyna Veronika statistics | 2021 |
| Consultations | 201 |
| Tooth fillings | 196 |
| Treatment under anesthesia | 216 |
| Professional teeth hygiene | 143 |
| Teeth whitening | 18 |
| Treated root canals | 139 |
| Number of adhesive installed bridges | 8 |
| The number of performed Plasma lifting sessions | 7 |
Return to the list of doctors
Until prices rise - sign up for a free consultation!
Sign up for free online consultation