Sign up for online consultation
Digital Computed Dentistry
Date of publication:
02.05.2017
Digital dentistry in Kyiv
3Shape Trios® scanner
Lumi-Dent dental clinics use only advanced technologies for dental care and diagnostics. When new digital technologies appear in the world of dentistry, we introduce them into our practice immediately. Digital taking of dental cast model using 3Shape Trios® scanner is one of these technologies – it is already available in our clinics!
3Shape Trios® intraoral scanner is an innovative equipment in computer dentistry that provides quick and easy acquisition of high-quality digital 3-D dental cast model.
The digital dental cast model allows dentists to fix the state of the patient's oral cavity and create a high-precision 3-D computer model of teeth and gums.
How are dental cast models taken?
The traditional process of taking a dental cast model consists of the following steps:
the dentist kneads the impression compound, puts it into the special spoon;

the spoon with the impression compound is inserted into the patient's oral cavity;

the dentist needs to press the spoon on the patient's teeth to get a high-quality dental cast model, it can cause discomfort in the patient, a feeling of nausea, excessive salivation;

this structure must be kept in the mouth for several minutes, it can cause some inconveniences to patients.
Photo. Digital scanner 3Shape-Trios.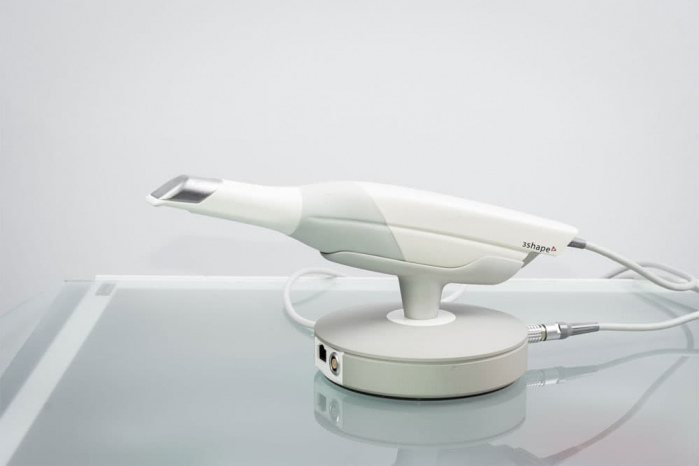 There is often a risk of getting a poor-quality dental cast model, and it becomes necessary to carry out this procedure all over again. In addition, the impression material gives a certain shrinkage, and the future design often does not very accurately adhere to the abutment teeth, which significantly affects the service life of such dental prosthesis.
3Shape Trios® digital scanner avoids many problems that arise with the classic dental impression procedure. From the very beginning of the digital dental scanning procedure, accurate and high-quality impressions are ready, ensuring the patient's comfort during the procedure.
Key features and benefits of 3Shape Trios® digital scanner:
1.Taking dental cast models has become much more comfortable for dentists and patients.
The procedure of taking digital cast models by using 3Shape Trios® scanner does not involve the use of impression materials, and does not cause pain or discomfort to patients (especially to people with an increased gag reflex and to children). The dentist needs simply to put the scanner close to the patient's teeth and take a picture.
Photo. Computer dentistry Lumi-Dent - getting an impression with a Medit scanner.
2. The usage of advanced technologies of scanning and imaging by 3Shape Trios® scanner.
Ultrafast Optical Sectioning technology can capture approximately 1000 3D images to create a highly accurate digital 3D dental cast model. A high quality of dental cast models and preparations are ensured thanks to a wide range of other smart digital scanning tools. 3Shape Trios® scanner supports a wide range of dental restorations, and CAD / CAM systems function will create maximum precision and quality in the manufacture of each individual restoration.
3. Reducing the time of care encounters and visits.
The digital technology of 3Shape Trios® scanner eliminates re-taking of impression taking due to poor-quality dental cast models. There is no need for high-quality kneading of the impression material, the holding time in the patient's oral cavity and further adjustment and grinding of the material, as there is in the traditional procedure for taking a dental cast model.
4. Digital technologies for scanning teeth.
The complete digital process of 3Shape Trios® scanner allows the dentist to send scans to the dental laboratory immediately, for example by email.
It saves time and prevents damages during transportation. Also, the dental cast model is stored digitally in the dentistry database and can be reused if necessary.
3Shape Trios® is much more than just a scanner! Thanks to innovations, 3Shape TRIOS® has become a multifunctional digital solution for dentists that creates 3D digital dental cast models, measures tooth shade and makes HD intraoral photos – and single device combines all these functions. Combined case information can be used effectively by dental technicians to help them to design and produce improved dental restorations.
Photo. The process of obtaining a digital impression of teeth, Lumi-Dent dentistry.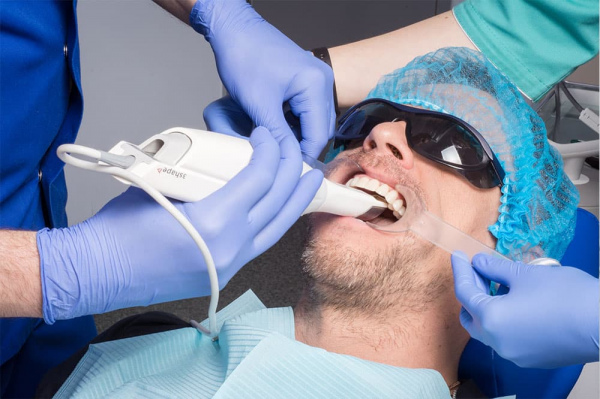 5. Full digital production cycle of all types of dental prostheses.
The digital dental cast models obtained by the scanner in the form of an electronic file are sent to our dental laboratory immediately. After the doctor and technician have processed the file, crowns or other types of dental prostheses can be automatically printed or cut from special ready-to-use blocks.
This is the latest innovative technology in digital dentistry, which has allowed us to reach a completely new level of dental services. From now, making dental prostheses will be fast and incredibly accurate.
Follow the link for more information about the digital dental laboratory of digital dentistry in Lumi-Dent.
We recommend you to view the important pages of our site:
Until prices rise - sign up for a free consultation!
Sign up for free online consultation