Sign up for online consultation
Message from a Head doctor
Date of publication:
16.09.2016
DENTAL CENTERS OF ESTHETIC DENTISTRY IN KIEV - LUMI-DENT

One of the largest in our city network of Dental Centers for Esthetic Dentistry Lumi-Dent in Kiev in the Obolon', Poznyaki, Osokorki, Kharkivskyi, Bereznyaki, Rusanovka, Darnytsya, Levoberezhnaya residential areas – invite you!
People are happy with their life when they have a big family and a favorite job.
We claim that our team - more than 500 employees - is a team of people contented with life, who have an excellent life goal - to make our clients confident, happy, healthy, create a good mood.
The logo of our first ranked dental centers - a healthy and beautiful tooth, which is surrounded by a beautiful aura and shine - precisely confirms our vital tasks - to be the best in your direction, to be professionals, to gift people beautiful smiles with optimism and inspiration.
In our large dental clinics there are 15 doctor's office with dental units, including 4 separate surgical suits. We are the largest representatives of private professional dentistry in the capital of Ukraine.
CENTERS OF ESTHETIC DENTISTRY
All visitors of the Lumi-Dent clinics in Kiev are VIP – clients, who are surrounded with warmth and care, as gratitude for the fair and objective choice of our advantages. We try first of all to give the maximum result - in communication with patients, as the final result. Reviews of satisfied customers may be seen on our website, and well-known medical portals.
Our team works to perform the highest quality of services, has a personal approach to each person, and is in charge of reputation for any provided service.
FIRST DENTAL CENTERS IN KIEV
Lumi-Dent dentistry has undeniable advantages over other clinics:
1) Consultation is always free.
2) An X-ray, a panoramic image, and a tomogram are taken right from us, no need to go anywhere else. Also, tomogram for dental implants is free.
3) Our dentists conduct the majority of visitors' visits under the control of three dental microscopes, which guarantee the highest accuracy and quality of all stages of the treatment.
4) All manipulations are performed ONLY (!) under reliable and ultramodern computer anesthesia. We do not use syringes! Such anesthesia is painless, you will not feel discomfort at the time of its conduction, and after its occurrence.
5) In the centers of esthetic dentistry Lumi-Dent in the Obolon', Poznyaki, Osokorky, Kharkivskyi, Bereznyaki, Rusanovka, Darnitsya, Levoberezhnaya residential areas - we use the latest innovative developments, the complex of which we can boast of: laser, microscopes, plasma lifting, use of osteoplastic material for dental implants on based on the patient's own blood, computer anesthesia, preliminary modeling of a smile on a computer, a digital scanner instead of receiving ordinary impressions, and many other technologies, Allowing the team to be ahead in terms of the level and quality of customer service.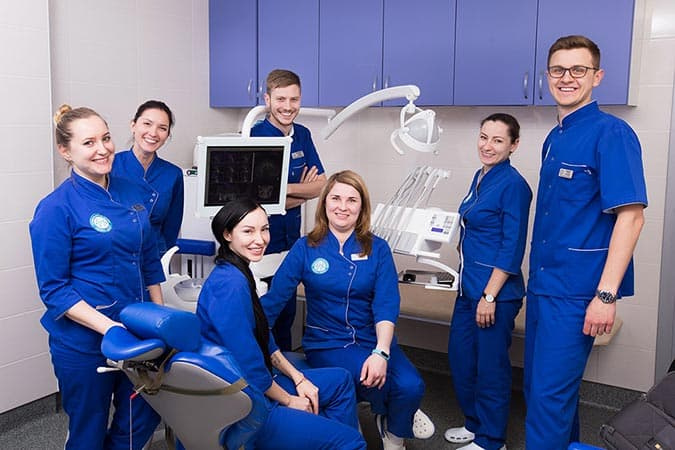 6) On the basis of our centers of esthetic dentistry, an ultramodern digital dental laboratory works with the latest equipment:
Milling machine of the last generation Imes Icore 350i.

intraoral digital scanner 3 Shape.

extraoral digital scanner Medit 500.
This equipment allows to make any type of dentures of the best quality.
7) We do not just advertise ourselves - on the website of clinics you can see photos of our work in the section "Our Works", also on the "Testimonials" page there are textual and video comments of patients, as well as links to specialized catalogs that contain independent and objective assessments of our dentistry.
8) Prices for all services, compared with other dental centers in Kiev of this level - out of competition, you can see for yourself by looking at the page "Prices".
I am, the head doctor of dental centers Lumi-Dent, guarantee you absolute comfort and only great emotions during your visits.
With respect, T.V. Dudko.
Sign up for free consultation!
Until prices rise - sign up for a free consultation!
Sign up for free online consultation