Surgical dentistry in Kyiv
This service is provided by dentists in our clinics
Watch a video with our dentists
Surgical dentistry is a field of medicine, under which all the manipulations associated with surgical intervention in hard or soft tissues of the oral cavity are combined.
The quality of surgical dentistry today has very serious requirements: they relate to the qualifications of the doctor, the safety of the process itself, as well as pain relief.
DIRECTIONS OF SURGICAL DENTISTRY IN KYIV IN THE NETWORK OF Clinics LUMI-DENT
Under surgery in dentistry a huge number of manipulations are combined, it is difficult to list everything, however, some areas of activity can be identified:
Tooth-preserving operations - these include the removal of a tooth cyst, a part of a tooth with a root, resection (excision) of a part of a root, etc. Now they are carried out more and more often: where previously the doctor simply suggested removal, today doctors are trying to the last to save their own tooth.

Treatment of periodontal (posterior tissue) in cases where classic and more gentle methods are not suitable, or do not give the desired result.

Elimination of complications that arose as a result of improper prosthetics or root canal treatment. So, if a mistake was made when treating the roots for the first time, this causes inflammation, the need to fill out and remove the inflamed tissue.

Extraction of teeth of different types, and in different conditions - including wisdom teeth and roots.

Installation of implants: every year this service of surgical dentistry in Kiev is becoming increasingly popular. It requires highly qualified doctors, extensive experience and professionalism. In Lumi-Dent implants are installed with a complete and partial absence of teeth - these are the highest quality designs from world manufacturers.

Restoring bone volume — a sinus lift operation — is usually associated with implantology. To install implants for fixing dentures. In some patients, implantation is not possible, since you will not have enough space to support and fasten - under such conditions, it will not hold.
Surgical alignment of teeth - necessary in orthodontics in cases where braces or mouth guards cannot align the bite. Surgical tooth alignment is often performed in orthodontics with adult patients who have already fully formed jaw bones. Also, this service is provided to those patients who do not want to wait long for the effect of treatment with bracket systems, or other technologies of orthodontics.
Photo. An example of the work done to remove wisdom teeth in the clinic Lumi-Dent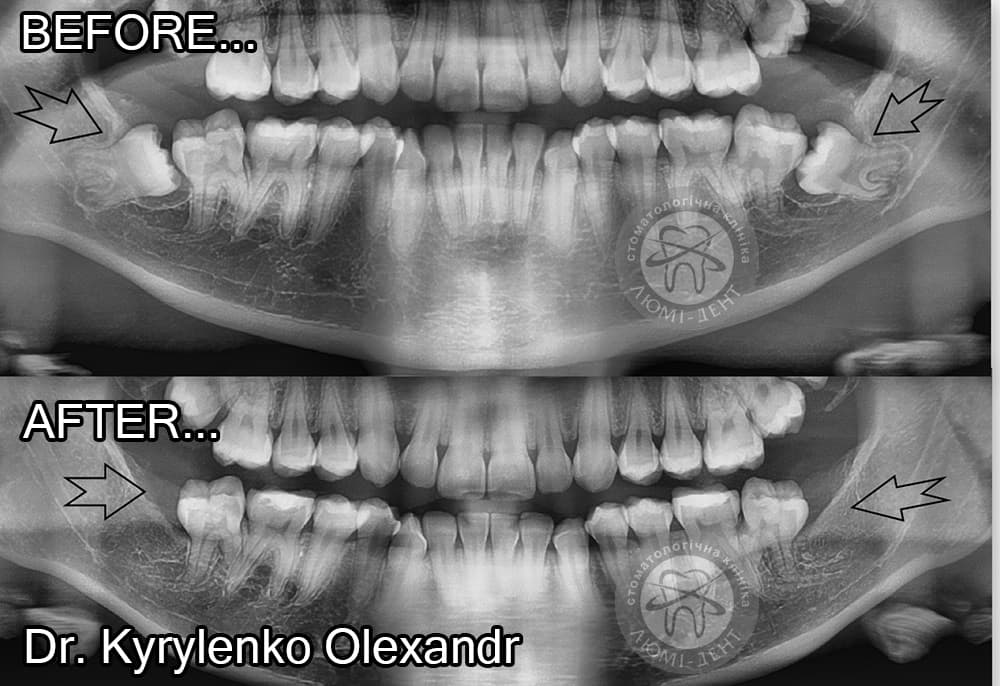 To list the services of surgery, which relate to dental surgery and orthodontics, can be a long time. Modern dental surgeries with soft and hard tissues that solve any problem - with the help of a dental operation you can even change the position of the teeth, align the teeth, fix complex problems associated with the bite. Complex manipulations in relation to adults and also to children - high-quality pain relief removes any restrictions.
TECHNICS IN THE SERVICE of SURGICAL DENTISTRY IN KYIV
Surgical dentistry is an area in which something interesting constantly appears: technologies are being improved, new, better and more reliable equipment is being produced.
So, in the clinics Lumi-Dent has long and actively used in surgery the capabilities of a laser, with which ulcers are treated, periodontal pockets are reduced, bloodless operations are performed according to many indications. In many cases, the laser completely replaced the usual scalpel, because it provides a completely different level of work.
In order for the treatment to proceed as efficiently as possible, the doctor does not miss anything in the process, they use a solution such as dental microscope. Therefore, the doctor sees everything that is needed, for example, the doctor with a microscope can well examine the atypical location of the roots.
A huge role in equipping clinics is also played by what opportunities it uses to anesthetize. In Lumi-Dent, special STA devices are used for surgical dentistry - they are controlled by a computer, and the liquid enters the tissues through a special tool, without the usual syringes and long frightening needles.

The advantages of such anesthesia are that it provides accurate analgesia and does not capture areas that the dental surgeon will not process.
Photo. Computer-assisted anesthesia system STA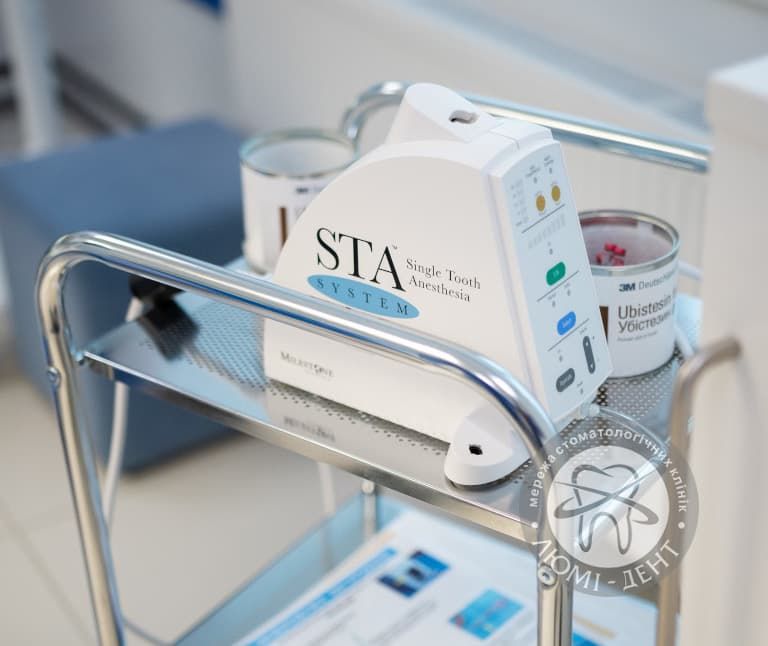 SURGICAL DENTISTRY FROM LUMI-DENT: DIVERSITY OF SERVICES
We offer our clients the following types of services of dental surgeons:
Extraction of teeth and roots - regardless of the complexity involved. The dental surgeons even undertake cases that other specialists do not like to contact. Doctors remove both ordinary and impacted teeth, work with broken crowns. You can simply remove the crowns and roots, or you can immediately perform an implantation operation - it all depends on the specific situation.

Removal of a wisdom tooth—this is often a complex manipulation that requires a lot of experience from a specialist. Lumi-Dent even solves such a problem with maximum comfort for the patient.

Treatment of a tooth cyst - today, treatment is a priority decision, because many people are still confident that a cyst is a direct way to remove a tooth. But dental surgeons are doing everything to prevent this from happening: now there are tooth-preserving surgeries such as cystectomy, hemisection, cystotomy. Since these manipulations in surgical dentistry are quite complex, they can only be trusted by experienced doctors.

Bone grafting PRF — this method of surgical dentistry suggests that the patient's blood base is used to make the membrane. Innovative technology is used for sinus lift, bone transplantation, periodontal defects and other problems.

Plastic of the frenulum of the upper and lower lips, plastic of the frenulum of the tongue - a laser is used to solve these problems. It immediately stops the blood, disinfects tissues - as a result, the risk of any complications tends to zero. Such operations are performed both for children of different ages and for adults. Please note: in the Lumi-Dent clinics, children's dentists work with the appropriate qualifications and the ability to find an approach to any child.
Another technology that has been successfully used in dental surgery clinics is piezosurgery, which involves the use of a special apparatus: a piezotome.
Ultrasonic vibrations affecting the bone allow for complex operations: for example, to remove problem teeth, to solve orthodontic tasks for installing implants, to perform surgical alignment of teeth, etc.
The device acts strictly on the bone - it does not cut soft tissues, does not touch the vessels or nerves, which reduces the invasiveness of the intervention to a minimum.
Photo. Doctors at the Lumi-Dent Clinic at work
The plus of the method is that the impact on the patient's body is minimal, therefore, after a dental operation, the patient feels much better.
In many cases, in surgery, the piezotome replaces the aging drill, but there are situations where it can do what the classical instrument is not capable of - for example, to take bone tissue for transplantation.
PRICES FOR SURGICAL DENTISTRY IN KIEV, IN CLINICS LUMI-DENT
The prices of the services of a dental surgeon excite each patient: and everyone understands that services using modern equipment and the highest quality materials cannot be too cheap.
But in the Lumi-Dent centers, a balance was reached between the prices of dental surgery and the possibilities that the patient receives. Promotions are constantly held in clinics, additional discounts are offered - there is always the opportunity to save money.
Lumi-Dent strictly refers to its reputation, and therefore, the prices for surgical dentistry to patients are announced immediately. When you come to the reception and go through the initial examination, the doctor will be able to immediately orient you on the financial issue - with the prescribed treatment, the cost of services does not change.
A change in value occurs only as a last resort - and only when there are serious confirmed indications for a change of treatment.
The patient always knows what he pays for - it is not in vain that surgical dentistry in Kiev in the Lumi-Dent clinics has become one of the most popular areas.
Patients always know that such services as, for example, surgical alignment of teeth - they can afford - even in the most difficult situations.
Photo. Implantation and prosthetics for the patient of our clinic
CLINICS OF SURGICAL DENTISTRY LUMI-DENT: SOLUTION OF THE MOST DIFFICULT TASKS
If you are looking for a dental surgeon in Kyiv, check out the offers of dental centers Lumi-Dent.
Each specialist working in clinics has not just received a quality education and has good experience - these people are constantly improving their skills, gaining new skills. Thanks to this approach, it was possible to form a team that is able to solve any problem of surgical dentistry - even the most neglected and unusual.
High-quality equipment that helps in the diagnosis and treatment of teeth, greatly facilitates the task of doctors, helps to reduce all risks, simplify the rehabilitation period after tooth extraction, plastic surgery, implantation and other manipulations.
Photo. Happy patient of our clinic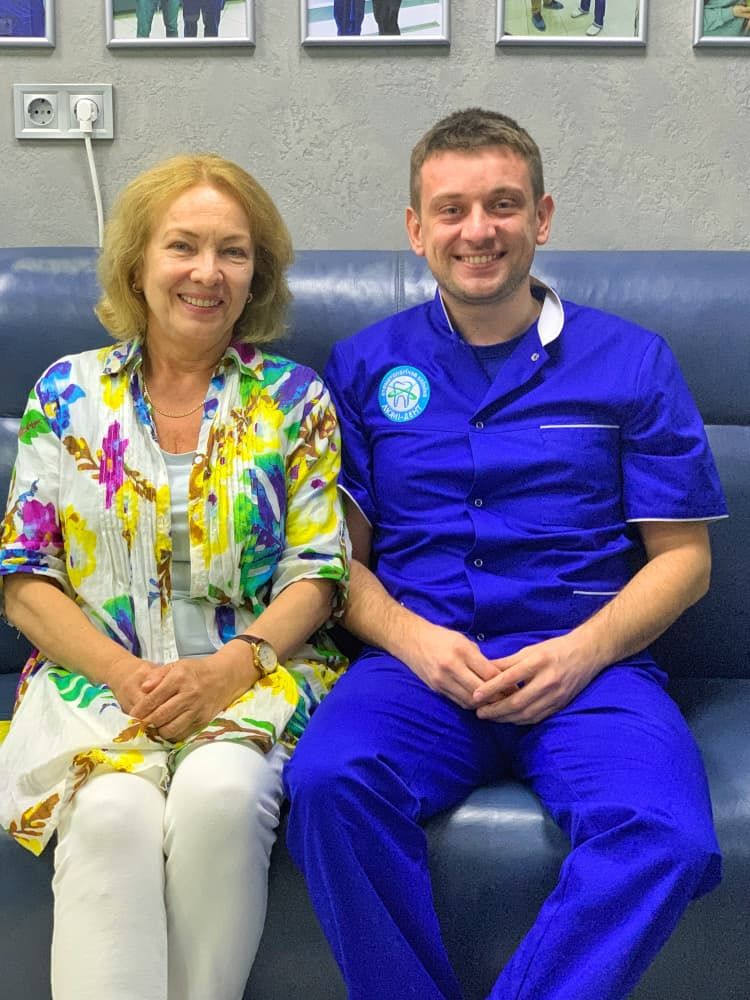 Lumi-Dent — it is safety, efficiency, painless procedures and attention to every detail!
Make the best choice!
Order a free consultation!