Ekaterina Zaytseva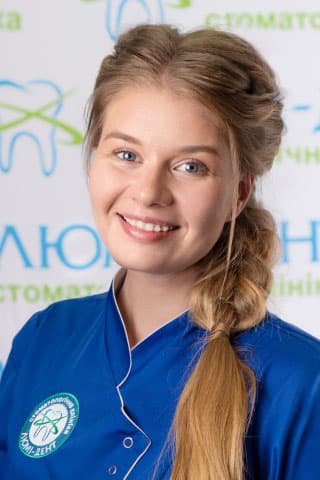 Ortodontist
Orthodontist in the network of dental clinics Lumi-Dent in Kiev, conducts an appointment at the department in Poznyaki.
Education:
Graduated from Zaporizhia State Medical University with a degree in Dentistry;

The internship was held at the P. L. Shupyk National Medical Academy of Postgraduate Education;

Professional development, specialization in Kharkov Medical Academy of Postgraduate Education.
Specialization and activities:
Prevention of dental anomalies in children;

Bite correction and normalization of jaw growth in children and adolescents;

Treatment with functional devices Bioblock, Tweenblock, Frankel appliances;

Treatment with fixed individual devices RME, Quad-helix, Bi-helix, Ha-as;

Correction of bite and position of teeth in adult patients;

Treatment of malocclusion with the help of all types of braces;

Bite correction with transparent caps;

Orthodontic preparation of the patient for orthopedic treatment, implantation;

Use in practice of a temporary cortical support - microimplants.
Participated in seminars and courses:
2017
Course "Treatment of pathologies of class II. Forsus ", Lviv;

"Correction of deep bite in adolescents and adult patients" St. Petersburg

Certificate «Micro Implant Anchorage Orthodontics (MIAO)»;

Certificate "Work with Bi-helix machines. Typodont ";

"Scientific-practical conference in the framework of the International Dental Forum, the cycle of orthodontics", Kiev;

Tidodont course on Tweed technique: "Cl II with removal of 4 teeth on the upper and lower jaw", Kyiv
2016
Certificate "Early effective orthodontic treatment: key positions and new approaches", Minsk;
Statistics of Dr. Zaitseva E.V. for 2018:
Number of consultations.

234

The number of installed braces by type.

Metal bracket system.

13

Low-profile metal bracket system.

15

Ceramic braces.

22

Sapphire (monocrystal) bracket system.

9

Braces Damon-3 mx (metal) self-ligating.

13

Damon-3 clear (ceramic) self-ligating braces.

11

The number of corrections.

480

Installed children's dental plates

32

Installed aligners.

18
Certificates
← Return to the list of doctors