Sign up for online consultation
Suleymanova Laura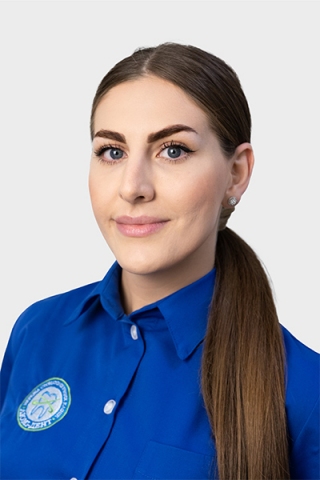 Therapist
Make an appointment with this doctor
Therapist in the network of dental clinics Lumi-Dent in Kyiv, conducts an appointment at the department in Poznyaki Osokorki district.
Education:
Graduated from Odesa National Medical University, majoring in «Dentistry»;

Internship at the Donetsk National Medical University;

Specialization in therapeutic dentistry took place at the Donetsk National Medical University.
Specialization, types of activities of the dentist:
Professional oral hygiene (scaling, AIR Flow);

Direct tooth restorations using photopolymer materials;

Treatment of carious and non-carious lesions of teeth, as well as their complications;

Treatment of root canals of teeth with the help of a dental microscope and the use of modern methods of obturation;

Removal of foreign bodies (separated tools);

Preparation of teeth for orthopedic treatment.
Participated in seminars and courses:
2023
«A modern scientific view on the instrumental processing of root canals»;

«Analgesia in dentistry»;

«Microendodontics Work with a microscope as the basis of endodontic treatment»;
2022
«Features of instrumentation and obturation in primary endodontics»;
2021
«Modern biomimetic method of creating aesthetic restorations»;

«Subtleties of secondary endodontics»;
2019
«Therapeutic and Ortopaedic Aspects of Adhesive Dentsdtry based on academic studies in "Tokyo Medical and Dental University"»;
2018
«EstePerio 2018. International Congress of Periodontology & Esthetic Dentistry»;

«Diagnosis and treatment of complications in endodontics»;

«Application of Reciproc system in root canal treatment».
| | |
| --- | --- |
| Dr. Suleymanova Laura statistics | 2022 |
| Consultations | 197 |
| Tooth fillings | 168 |
| Treatment under anesthesia | 175 |
| Professional teeth hygiene | 134 |
| Teeth whitening | 32 |
| Treated channels | 195 |
Return to the list of doctors
Until prices rise - sign up for a free consultation!
Sign up for free online consultation