Sign up for online consultation
Obraztsova Kateryna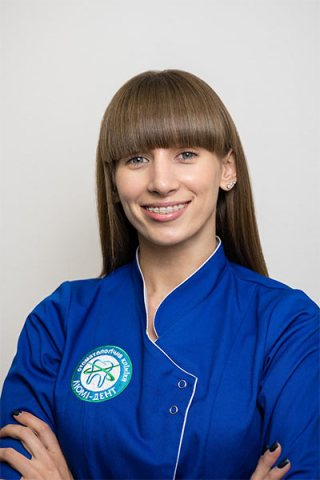 Ortodontist
Make an appointment with this doctor
Orthodontist in the network of dental clinics Lumi-Dent in Kiev, conducts an appointment at the department in Obolon'.
Education:
Graduated from the National Medical University named after Bogomolets with a degree in dentistry.

Passed internship at the National Medical University named after Bogomolets.

Received a certificate of specialist in Kharkiv Medical Academy of Postgraduate Education, specialty "orthodontics".
Specialization, types of activity:
Treatment of incorrect bite in children with the use of removable and non-removable appliances;

Orthodontic treatment of adolescents and adults with various types of braces;

Fixed the bite with transparent bite plane;

Orthodontic preparation of patients for orthopedic treatment, implantation;

Use of microimplants as a temporary bone abutment.
Participated in seminars and courses:
2019
"Treatment of Class 2 pathologies. Forsus";

"Invisalign Training Course";

"Treatment of skeletal anomalies of the maxillary system: Growth, compensation, ankorage, orthognatic surgery";

"Ortho-Perio- Protetics. Diagnosis, planning. Types of teeth movements. Protocols for treatment of paradonthological patients";

"Ortho-Perio- Protetics. Planning of the final result and stages of orthodontist and orthopedist work. Center alignment";

"MBT Treatment Mechanics".
2018
"Complex clinical cases in orthodontics";

"The practical training program «From the anatomy and biomechanics of the teeth to the constructions of the bracket system";

"Features of diagnostics and treatment of 2-3 classes";

"Ortodontics by the rules. Diagnosis and planning of orthodontic treatment";
2017
"Orthotropy from A to Z";

"Functional dentistry from A to Z";
Statistics of Dr. Obraztsova K.F.

2022

Number of consultations.

145

The number of installed braces by type.

Metal bracket system.

6

Low-profile metal bracket system.

5

Ceramic braces.

10

Sapphire (monocrystal) bracket system.

5

Braces Damon-3 mx (metal) self-ligating.

11

Damon-3 clear (ceramic) self-ligating braces.

9

The number of corrections.

210

Installed children's dental plates

17

Installed aligners.

8
Return to the list of doctors
Until prices rise - sign up for a free consultation!
Sign up for free online consultation