Sign up for online consultation
Kustro Tetiana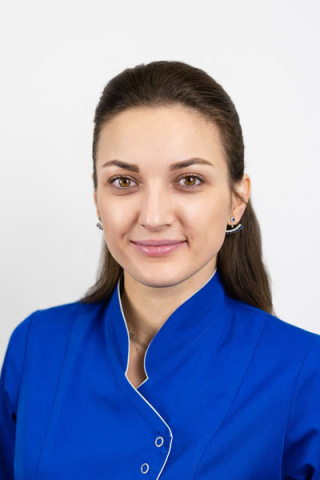 Surgeon-implantologist
Make an appointment with this doctor
Dentist, oral and maxillofacial surgeon, implantologist, dentist of the highest and first category in Kiev Lumi-Dent clinics, conducts an appointment at the department in Obolon and Solomianka district.
EACMFS (European Association for Cranio Maxillo Facial Surgery) and AOCMF (Association for osteosynthesis Cranio Maxillo Facial) full member.
Education:
Bogomolets National Medical University at the department of Stomatology graduated;

Bogomolets National Medical University internship, department of surgical dentistry and maxillofacial surgery;

Bogomolets National Medical University clinical residency, department of surgical dentistry and maxillofacial surgery;

Maxillofacial surgery specialization graduated at Ukrainian Military Medical Academy;

Fellowship in dentistry department at The Institute of Postgraduate Education in the Bogomolets National Medical University.
Specialization, types of activity:
Teeth extraction of any complexity;

Periodontal diseases surgical treatment;

Tooth-preservation surgery;

Implantation with a digital protocol usage (Megagen, Nobel, Straumann implant systems);

Bone grafting (Increasing the height and width of bone tissue for further implantation);

Sinus augmentation (direct and indirect approach);

Maxillary sinuses surgical interventions (maxillary sinusotomy);

Benign formation of facial soft tissues excision (retention bones of small salivary glands, fibroids, lipomas, atheromas);

Jaws cystic formations excision (radicular cysts, follicular cysts, residual cysts);

Maxillofacial area traumatology (jaw dislocation, replantation of teeth with complete dislocation, etc.).
Participated in seminars and courses, internship:
2021
Took part in the Congress "Extreme Rehabilitation" in Kyiv;

International Online Congress of the European Association for Cranio-Maxillofacial Surgery;

Boris Bernadskiy online course «Bone 2 soft tissue concept (B2S) immediate reconstruction of dentoalveolar complex»;
2020
«Aesthetic rehabilitation protocols: from single implantation to total»;

«Surgical stages of dental implantation, preoperative preparation»;

Master class: «The boundless world of digital dentistry. Computerized tomography and scanning in dentistry as the basis of any digital protocol»;
2019
Internship in «Hospital Universitario Ramon Y Cajal», Madrid, Spain;

Internship in «Klinik und Poliklinik für Mund-, Kiefer- und Gesichtschirurgie», Aachen, Germany;

Scientific and practical conference «V Ramon Y Cajal International Symposium on Maxillofacial Surgery: «The impact of technological advances in cranio-maxillofacial surgery», Madrid;

«Topical issues of diagnosis and treatment of patients with head and neck malignant neoplasms»;

«Strategy for the TMJ disorders treatment: modern surgical protocols build on evidence-based medicine»;
2018
Internship in «Maxillo-facial unit of Klinikum Rechts der Isar», Munich;

24th Congress of the European Association of Craniofacial Surgery, Munich;
2017
«Stem Cell Day»;

«Deadlab workshop obtained skills of vascular anastomosis «end tо end», «end to side», «side to side»;

Internship in «Szentagothai research Centre», Pécs, Hungary;
2016
«Implant and prosthodontics»;

«Implantology - basic course: just about the complex and difficult about the simple»;

«3D printing in dentistry»;

«Computer simulation in dentistry»;

Internship in «Az sint Jan, department of maxillofacial surgery», Bruges, Belgium;
2015
III National Ukrainian Dental Congress, Kyiv;

«Modern dentistry and maxillofacial surgery»;
2014
VI Ukrainian International Congress «Dentistry. Implantation. Osteointegration»;

«International Dental Student Congress», Brno, the Czech Republic;
2013
«Innovations in dentistry»;

III Congress of the Ukrainian Association of Craniofacial Surgeons;
2012
«Actual Problems of Modern Medicine»;
2011
II Congress of the Ukrainian Association of Craniofacial Surgeons.
Dr. Kustro Tetiana statistics

2020

Consultations held

980

The number of implants installed, the total number and separately for the types of implants:

- Nobel Biocare

103

- MIS

21

- MegaGen

465

- Straumann

189

Total number of implants installed per year

778

Simple tooth extractions

794

Wisdom tooth extractions

294

Operations performed sinus lift

51

Amount of soft-woven plastic held including recession closure

603

Bone grafts performed

72
Return to the list of doctors
Until prices rise - sign up for a free consultation!
Sign up for free online consultation