Sign up for online consultation
Hresko Andrii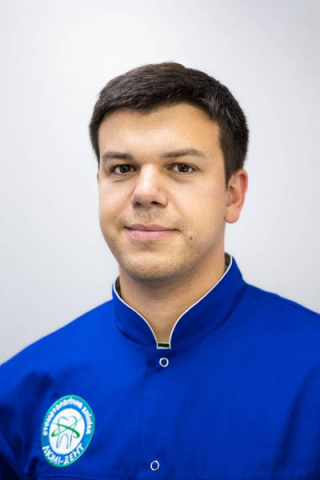 Surgeon-implantologist
Make an appointment with this doctor
Dentist, oral and maxillofacial surgeon, implantologist in Kiev Lumi-Dent clinics, conducts an appointment at the department in Poznyaki and Solomianka district.
EACMFS (European Association for Cranio Maxillo Facial Surgery) and AOCMF (Association for osteosynthesis Cranio Maxillo Facial) full member.
Education:
Danylo Halytsky Lviv National Medical University, department OF dentistry graduated;

Post-graduated internship in Danylo Halytsky Lviv National Medical University;

Ukrainian Military Medical Academy, specialization of "dental surgery" graduated;

Clinical residency in specialization of dentistry on the basis of the Center for Maxillofacial Surgery and Dentistry in Kyiv Regional Clinical Hospital.
Specialization, activities:
Implantation (Alfa Bio, Megagen, ICX, Nobel, Anthogyr Axiom, Straumann implant systems);

Guided surgery;

The alveolar process of the upper and lower jaw augmentation;

Soft tissues plastic surgery;

Piezotome work navigation (root apex resection, tooth extraction, sinus lifting);

Teeth extraction of any complexity;

Maxillary sinusotomy;

Root apex resection, cystectomy, oral cavity soft tissues benign neoplasms removing;

Maxillofacial area traumatology;

Maxillofacial area inflammatory processes treatment;

Digital implantation planning protocol usage;

3D cephalometric analysis performing (in case of dental and jaw anomalies analysis necessity);

Surgery planning aimed at eliminating bone-facial skeleton deformations (orthognatic surgery).
Participated in seminars and courses:
2020
Internship in the Clinic of Maxillofacial Surgery in Wroclaw, Poland;
2019
Pediatric maxillofacial surgery current issues;

Topical issues of diagnosis and treatment of patients with malignant neoplasms of the head and neck;

Internship at the Clinic of Maxillofacial Surgery AZ Monika, Antwerp, Belgium. This clinic is a leading center in Belgium for implantology and orthognathic surgery;

Regenerative technologies in dentistry;
2018
Osteosynthesis of facial skull bones: international protocols, achievements, innovations;

Orthognatic surgery: from past to future;

24th congress of European Association for Cranio Maxillo Facial Surgery (EACMFS);

Internship at the VU University Medical Center in Amsterdam, Netherlands, Surgical Dentistry and Maxillofacial Surgery department.
Dr. Hresko Andrii statistics

2020

Consultations held

1026

The number of implants installed, the total number and separately for the types of implants:

- Nobel Biocare

107

- MIS

18

- MegaGen

479

- Straumann

181

Total number of implants installed per year

785

Simple tooth extractions

753

Wisdom tooth extractions

284

Operations performed sinus lift

54

Amount of soft-woven plastic held including recession closure

591

Bone grafts performed

71
VIDEO REVIEWS OF DR. Hresko Andrii
EXAMPLES OF THE WORK OF DR. Hresko Andrii
PHOTO WITH A DR. Hresko Andrii
Return to the list of doctors
Until prices rise - sign up for a free consultation!
Sign up for free online consultation