Sign up for online consultation
Hevelyev Oleksandr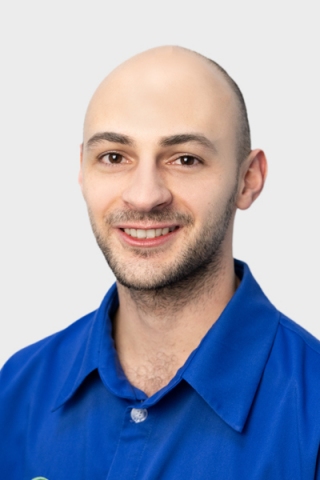 Surgeon-implantologist
Make an appointment with this doctor
Doctor implant-surgeon in the network of dental clinics Lumi-Dent in Kiev, conducts an appointment at the department in Obolon' district.
Education:
Graduated from Kharkiv National medical university;

Internship at the Department of Dentistry No. 2 of the Donetsk National medical university;

Specialization based at the Department of Surgical dentistry of the Donetsk National medical university.
Specialization, types of activity:
Removal of teeth, removal of wisdom teeth, atraumatic removal;

Implantation according to the classical method;

Instantaneous implantations, implantations with immediate load;

Surgical operations under sedation;

Bone plastics with bone tissue augmentation;

Closed and open sinus lifting;

Soft tissue operations with soft tissue augmentation;

Plastics of the frenulum of the tongue and the upper lip;

Treatment of alveolitis;

Piezosurgical operations.
Dental surgeon Hevelyev Oleksandr works with various systems, the most popular of them are: Osstem, Megagen, Straumann, Neodent.
Participated in seminars and courses:
2021
«Aesthetic rehabilitation protocols: from single implantation to total»;

«International dental conference "Kharkiv dental days"»;

«Prosthetics on collapsible and non-collapsible implants»;

«A modern view of tooth extraction»;

«Simplification of immediate load protocols»;

«Inclined implants: immediate implant-supported prosthetics in severe jaw atrophy»;
2020
«Gentle implantation. Planning and prosthesis on ultra-short implants»;

«Complications of implantological treatment: from aesthetic failures to peri-implantitis»;

«Immediate loading of temporary structures»;

«Top 5 mistakes in prosthetics on implants»;

«Comprehensive training on Straumann orthopedic and surgical solutions»;
2019
«Practical training "Ways to remove a tooth. Prevention of atrophy of the alveolar ridge using the technique of Socket-shield"»;

«Practical course "Practical implantation and augmentation"».
Dr. Hevelyev Oleksandr statistics

2022

Consultations held

601

The number of implants installed, the total number and separately for the types of implants:

- Nobel Biocare

46

- MIS

10

- MegaGen

183

- Straumann

103

Total number of implants installed per year

345

Simple tooth extractions

167

Wisdom tooth extractions

241

Operations performed sinus lift

29

Amount of soft-woven plastic held including recession closure

245

Bone grafts performed

35
Return to the list of doctors
Until prices rise - sign up for a free consultation!
Sign up for free online consultation