Sign up for online consultation
Stekhna Roman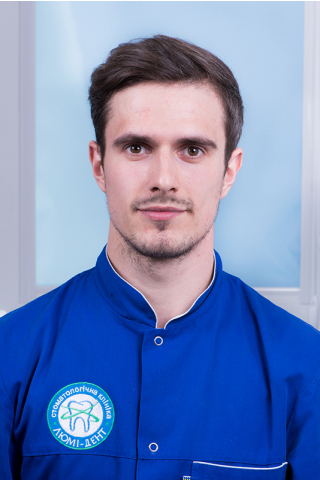 Surgeon-implantologist
Make an appointment with this doctor
Doctor implant-surgeon in the network of dental clinics Lumi-Dent in Kyiv, conducts an appointment at the department in Poznyaki Osokorki district.
Education:
Graduated from the National Medical University. A.A. Bogomolets;


Practiced at the Main Military Clinical Hospital of the Ministry of Defense of Ukraine and the Central Dental Clinic of the Ministry of Defense of Ukraine at the Department of Maxillofacial Surgery and Dentistry of the Ukrainian Military Medical Academy, as well as in a number of private dental clinics.
Specialization, types of activity:
Extraction of teeth of any complexity;

Performing one-stage and two-stage implantation;

Performing bone grafting;

Treatment by guided osteosynthesis;

Operations for plastic surgery of soft tissues of the oral cavity;

Performing tooth-preserving operations;


Elimination of complications associated with implant treatment.
Participated in seminars and courses:
2018
Congress «MIGOVO II: Modern concepts in dental implantation», TS Dental Group, Kyiv;
2017
«Sinus Lift Techniques», Bicon Dental Implants, Boston;

«Ridge Split Techniques», Boston;


Certificate «Guided Bone Regeneration Techniques»;

«Life changing dentistry»;

«Gentle implantation. Planning and prosthetics on ultrashort implants», TS Dental Group;

Tutorial «Bioactivation of bone tissue. Success Secrets of Bone Augmentation», TS Dental Group;
2016
«Implant Congress Bicon»;


Congress «3D printing in dentistry», Centre CAD/CAM Sтахановец;
2014
VI Ukrainian International Congress «Dentistry. Implantation. Osteointegration»;
2013
Medical English courses «Сertificate of 48 hours course of Medical English», Ukrainian Medical Council.
Dr. Stekhna Roman statistics.

2022

Consultations held

834

The number of implants installed, the total number and separately for the types of implants:

- Nobel Biocare

87

- MIS

15

- MegaGen

404

- Straumann

155

Total number of implants installed per year

661

Simple tooth extractions

683

Wisdom tooth extractions

291

Operations performed sinus lift

54

Amount of soft-woven plastic held including recession closure

577

Bone grafts performed

87
Video reviews about the Dr. Stekhna R.
Examples of the works of Dr. Stekhna R.
Photo with Dr. Stekhna R.
Date of publication:
21.04.2022
Return to the list of doctors
Until prices rise - sign up for a free consultation!
Sign up for free online consultation