Sign up for online consultation
Krapivka Dmytro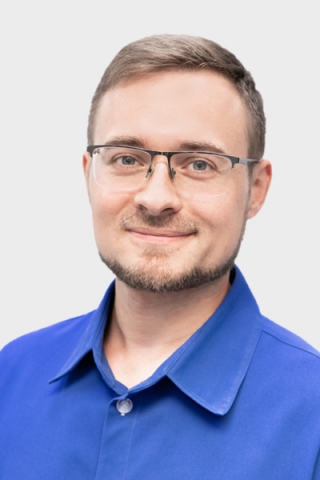 Therapist
Make an appointment with this doctor
Therapist in the network of dental clinics Lumi-Dent in Kiev, conducts an appointment at the department in Obolon' district.
Education:
Graduated from Donetsk National Medical University M. Gorky;

Internship on the basis of the FIPO Department of the Donetsk National Medical University M. Gorky.
Specialization, types of activities of the dentist:
Photo protocol;

Drawing up a treatment plan;

Professional oral hygiene;

Fissure sealing;

Diagnosis and treatment of all types of caries and its complications;

Restoration of the tooth stump for prosthetics using the Build-UP technique;

Specialist in working with a dental microscope;

Splinting of teeth;

Primary and repeated endodontics (treatment and retreatment of root canals);

Working with kofferdam.
Participated in seminars and courses:
2021
«Subtleties of secondary endodontics»;

«The art of Dental Photography to diagnosis and motivate the patient for treatment»;

«The concept is one step ahead. Diagnostics. Therapy. Digital dentistry»;

«Direct restoration. Just about the occlusal surface and bonding»;
2020
«Primary endodontics. Instrumental processing of root canals»;

«Features of clinical admission of patients with diseases of periodontal tissues»;
2019
«Technological and clinical solutions for direct restorations».
| | |
| --- | --- |
| Dr. Krapivka Dmytro statistics | 2022 |
| Consultations | 134 |
| Tooth fillings | 156 |
| Treatment under anesthesia | 163 |
| Professional teeth hygiene | 188 |
| Teeth whitening | 14 |
| Treated root canals | 129 |
Return to the list of doctors
Until prices rise - sign up for a free consultation!
Sign up for free online consultation