Dentistry for pregnant women Lumi-Dent
The best dentists will help!
Content:
FEATURES OF THE APPROACH TO DENTAL TREATMENT IN PREGNANT WOMEN

OTHER ADVANTAGES OF CLINICS "LUMI-DENT"

PROCEDURES WHICH MUST BE essential TO PREGNANT WOMEN

DENTAL CARE DURING PREGNANCYIt consists of several important points:
Features of the approach to dental treatment in pregnant women

Other benefits of clinics "Lumi-Dent"

Procedures that pregnant women need

Dental care during pregnancy
Pregnancy — this is a period that is associated not only with the joyful expectation of the baby, but also with many difficulties.
Due to the burst of hormones and the need to feed the fetus, the body is experiencing enormous stress.
If a woman does not have any vitamins and trace elements, at such time they become even less — after all, a part of the resources overtakes the baby.
It is not surprising that at this time, expectant mothers often begin to have problems with their teeth.
Caries, enamel fragility, bleeding gums and other, more serious diseases appear.
And here there is one problem: it is usually impossible to wait for the period after childbirth: the teeth are destroyed very quickly, an infection can develop - and this is very bad for the baby.
If there is a toothache, then it also cannot be tolerated.
And in the same situation it is impossible to use most pain-free, especially to put ordinary injections at a dentist.

In the photo - the treatment process using a microscope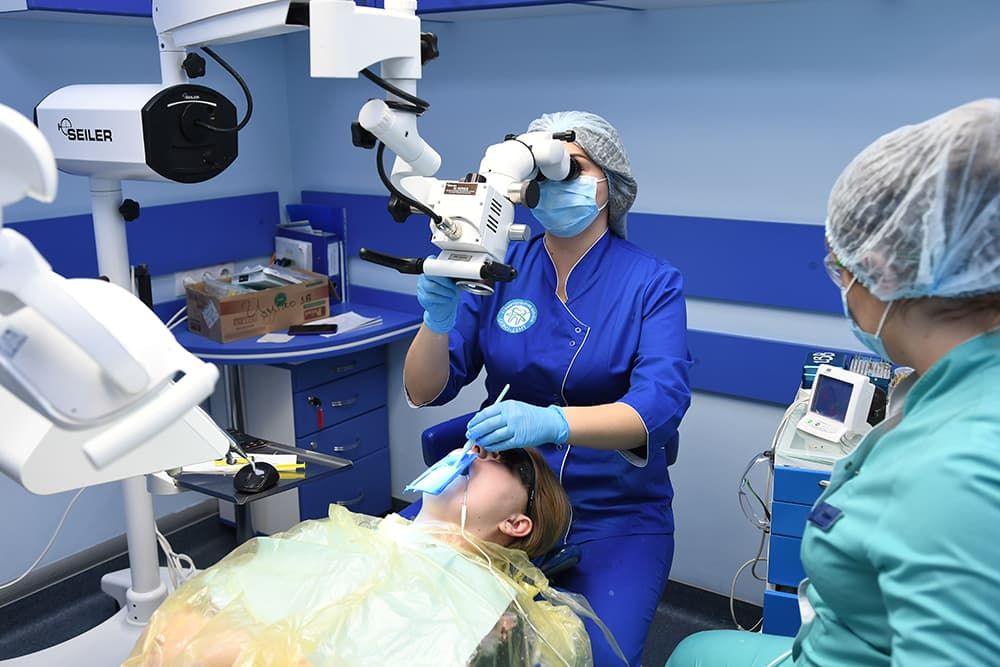 Only professionals with experience can solve this problem, and only if they have modern technical capabilities.
This is why dentistry for pregnant women is for what to contact to Lumi-Dent, one of the best clinics in Kyiv.
FEATURES OF THE APPROACH TO DENTAL TREATMENT IN PREGNANT WOMEN
In the clinics Lumi-Dent you may be offered anesthesia that is safe for women who are carrying a child.
Computer anesthesia is a better and safer alternative to conventional injections.
Such anesthesia is administered using a special device, very precisely.
It does not apply to the whole body, and therefore does not affect the fetus.
If you can't do without medication, it is recommended to carry out dental treatment in pregnant women with just such anesthesia.

In the photo - STA computer anesthesia device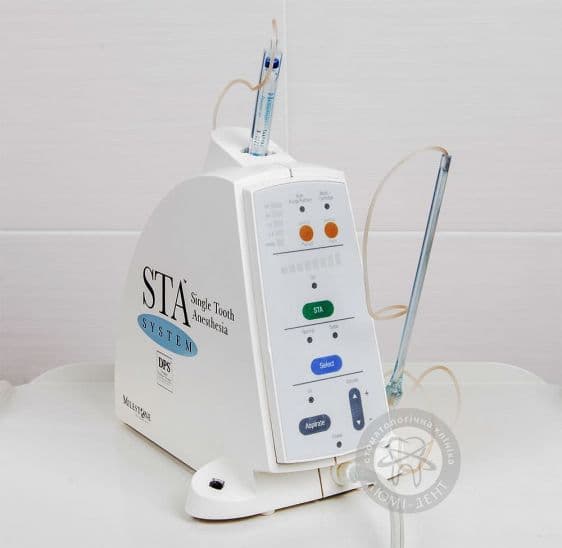 OTHER ADVANTAGES OF CLINICS "LUMI-DENT"
Any woman who carries a child is very sensitive to environmental circumstances and conditions.
Therefore, it is so important to go to a clinic in which a friendly, pleasant atmosphere reigns. And at Lumi-Dent, this is always taken care of.
Other benefits of dentistry include:
The most modern technical equipment. This is not only the STA anesthesia apparatus already mentioned, but also microscopes that allow you to work more accurately, various diagnostic techniques that make high-quality images, digital casts.

Doctors with the necessary experience. Dentistry for pregnant women in Kiev is one of the areas that Lumi-Dent clinics are constantly engaged in. And this means that doctors know well what they are working with and how not to harm the expectant mother.

Work with any problems and all diseases. No matter how complicated the situation, the clinic will find a solution. The vast experience of doctors and high-class equipment allow us to offer options when other dentists shrug.

Honest prices of dentistry, information about which is available on the official website of the company. Lumi-Dent never hides how much the service costs - patients themselves can calculate in advance how much a visit to the dentist will cost.

A truly individual approach. And these are not empty promises, like many other companies - in this dentistry, doctors are doing everything to keep the client satisfied.
In the photo - the process of getting a digital impression without impression mass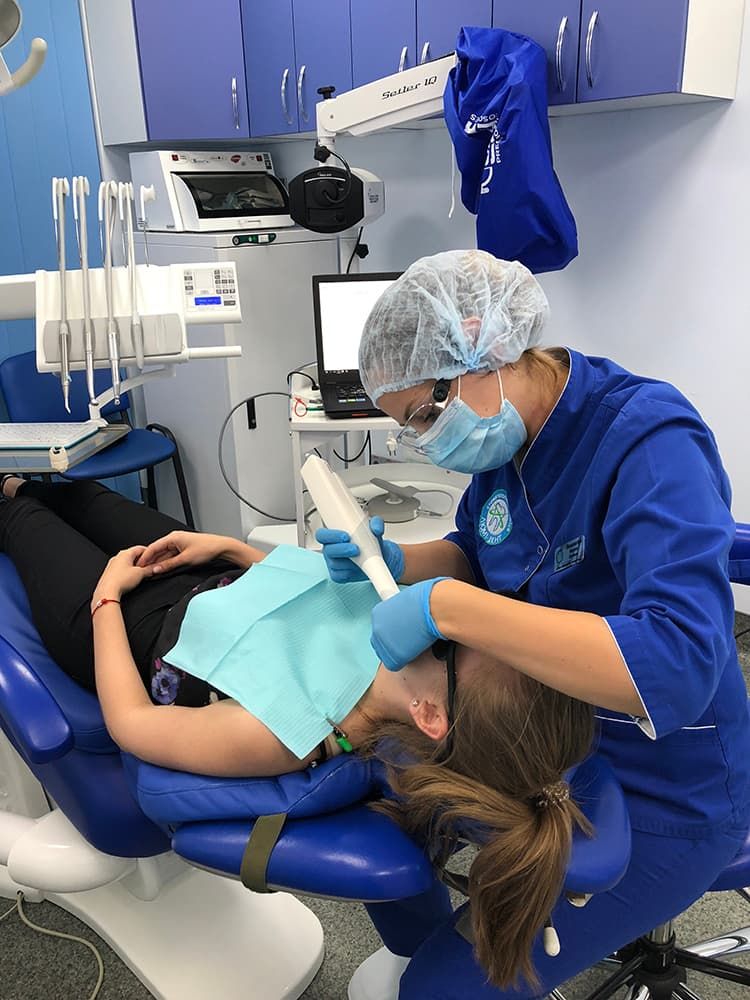 PROCEDURES WHICH MUST BE essential TO PREGNANT WOMEN
You need to visit a dentist for pregnant not only when inflammation has already begun or something hurts.
If a piece of tooth breaks away, but there are no unpleasant sensations, you still need to go to the doctor and put a filling.
Professional hygienic cleaning is mandatory for expecting mothers. If it is not carried out on time, the dental scale can cause gum disease and other problems.
So a preventive measure will not hurt in the case when everything is fine.
DENTAL CARE DURING PREGNANCY
It consists of several important points:
Regular hygiene at home. The use of dental floss, irrigator, good toothpaste, a suitable toothbrush is the minimum that is needed not only for pregnant women, but also for any other people.

Proper nutrition. When carrying a child, you should always monitor your diet - eat more vegetables, fish, meat, nuts and other foods rich in healthy substances. Features of the menu should be agreed with the doctor conducting the pregnancy. But sweets, carbonated drinks and other products that affect the body and teeth negatively, are necessarily excluded.

Control analyzes. To understand what is missing in the body, you need to regularly take tests. You cannot prescribe vitamins for yourself - the effect of such self-medication is often the opposite.

Pregnant women often have problems eating a product.

During toxicosis, it's difficult for some to brush their teeth - because the smell of the paste and its taste cause nausea.

If the general condition limits the possibilities of hygiene procedures, you should consult your doctor what to do in such a situation.

In "Lumi-Dent" clinics, expectant mothers will always be given professional advice and help to cure any dental disease without harm to the baby.
Choose the best in their field!
Sign up for a free consultation!