Teeth restoration (dental crown build up)
Prices for services
Natural implantation of enamel (for 5 teeth)
This service in our clinic is provided by
Artistic restoration of tooth. What is this?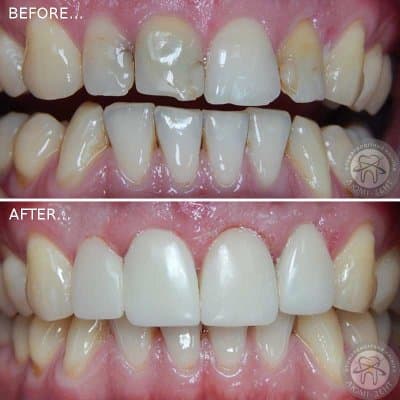 In our time of high technology development, we, as residents of the capital of Ukraine - Kiev – tend to impose to all received services increased requirements in regard to the quality.
And dentistry of Kiev is not an exception — our patients want to obtain not just a low-priced dental seal, but a complete and accurate restoration of the function and appearance of the damaged tooth.
Artistic restoration of the front teeth (in everyday life commonly known as - dental crown build-up) — is a very capacious concept which includes the main key points:
Absence under the reconstruction of pathologically changed dental tissues which will always distort the natural color of the reconstruction done.
Completely secure junction of the restorative material with dental tissues - which is impossible without the maximum dry and clean surgical area. To maximize the isolation of the workplace, we use the rubber dam - latex curtain which completely protects the working field from breathing, microbes, and saliva. In addition, the rubber dam excludes the ingress of the medical preparations used in the treatment to the mucosa.
The specialist in reconstruction must have some creative skills, because he must correctly choose the color and imitate all the layers for proper color rendering. Dental tissues (enamel and dentin) are different in color, density, refraction.
With the help of modern technologies and filling materials, it is possible to create an inconspicuous and absolutely harmonious aesthetic reconstruction.
It is equally important to reconstruct the whole relief structure of the external, internal and preferably interdental surfaces, each of which plays an important role in aesthetics, chewing food, speech function.
Artistic restoration of teeth (anterior and posterior) is a complete anatomical and functional restoration of their shape, color and function. Properly executed aesthetic tooth buildup will serve you for a long time, working efficiently in chewing food and delivering visual pleasure.
Factors of great importance in this work:
1) Experience and professionalism of a dentist;
2) Type and manufacturer of photopolymer materials used in the work;
3) The quality of equipment used in the process of work. For example, diode photopolymer lamps - overheat less the neurovascular bundle of the tooth (pulp) - which significantly reduces the risk of possible complications;
4) The four hands working style- joint work of a doctor with a dentist's assistant.
Reviews
Video-reviews of patients about the clinic could be seen on the "Reviews".
Teeth restoration price
Price depends on many factors:
1) The damage range of dental tissues
2) Number of planes to be restored (chewing, external, internal, interdental)
3) The type of photopolymer material that is used to restore the shape
4) The technology of reconstruction (complete imitation of all layers, or simple filling of the form with a single portion of material of the same color material).
The cost of the dentistry service of dental crown build up could be seen on the top of this page, as well as in the "Prices" section.
Examples of works of doctors of Lumi-Dent clinic in Kiev: