Sign up for online consultation
Put photopolymer fillings on teeth in Kyiv
Date of publication:
24.08.2021
Content:
Filling teeth without pain
Put fillings on teeth asleep under anesthesia
How are teeth filled?
How much does it cost to put a filling on the teeth in Kyiv?
The price of a photopolymer filling in Kyiv
Filling teeth without pain
Below you can read how much it costs to put a photopolymer filling on a tooth so that it no longer falls out.
Advantages of Lumi-Dent clinics:
1) Our specialists carry out dental fillings in case of caries mainly using fifteen of the latest dental microscopes, which provide a high level of visualization of the filling site and the quality of dental fillings.
This helps us to carry out photopolymer dental fillings with a guarantee of excellent quality fillings.
2) Qualitative treatment asleep or under reliable computer anesthesia is impossible without the use of data from 3D tomography of the jaws. There are 3 Vatech PHT-6500 CT scanners in our clinics.
Dental treatment with a microscope using 3D computer image data allows us to achieve maximum accuracy in making a diagnosis, and quality when working on filling teeth, root canals, and installing fillings in carious cavities.
On the photo - tooth filling with a dental microscope.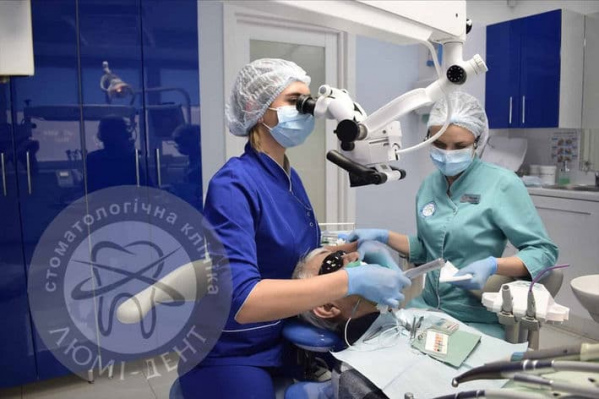 Lumi-Dent dental clinics have 3 multifunctional X-ray departments with three latest and most accurate Vatech PHT-6500 CT scanners.
The equipment allows us to obtain an orthopantomogram (panoramic image) and a computed tomogram (3-D image) of the maxillofacial region. Any examination can be obtained without waiting and queuing.
There is also a radiovisiograph that allows us to take digital local images, instead of outdated film ones, with minimal radiation exposure to the patient, to improve the quality of dental fillings and dental fillings in our clinics.
3) In Lumi-Dent clinics in Kyiv, teeth are filled with caries - light fillings are placed - under painless and reliable computer anesthesia, filling without using a syringe.
Photo. Computer anesthesia device STA.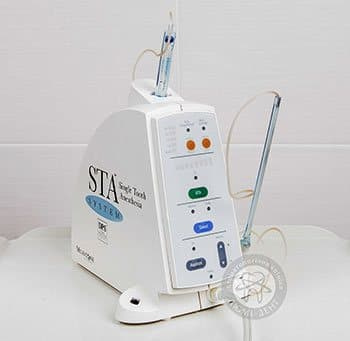 Therefore, dentists at Lumi-Dent clinics perform dental treatment with polymer fillings, photopolymer dental fillings and treatment without pain, as you will not even feel a needle prick. The price of such anesthesia in dentistry is a little more expensive, but its quality and comfort for the patient during filling are many times greater than the usual injection with a syringe.
4) Highly qualified professional dentists and therapists who have completed special courses in endodontic canal treatment, dental filling, and artistic restoration of dental tissues with photopolymer fillings are at your service.
5) You know in advance the price for treatment, canal filling, and polymer filling before each manipulation. The dentist and administrators are obliged to warn you in advance about the cost of fillings and other work, during your previous visit to the clinic, or by phone.
Photo of dental fillings - photopolymer filling - an example of the work of our specialists.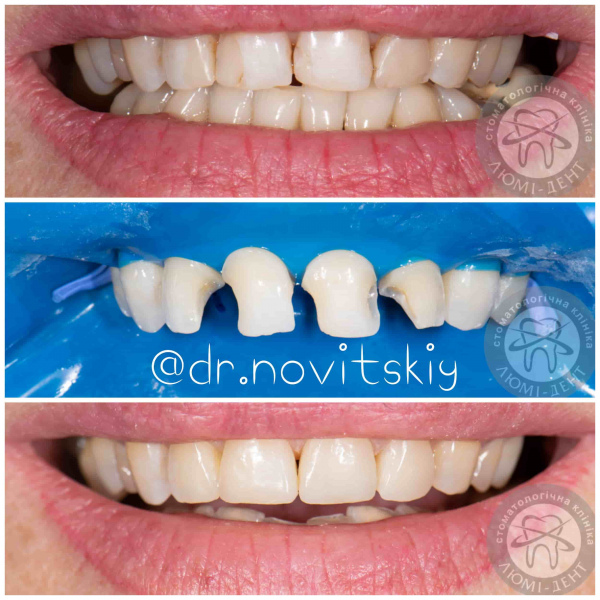 6) You can see examples of dental fillings and treatment by our doctors in the "Our Works" section. The fillings are of high quality and you can always be sure of the result!
7) In the "Reviews of dentistry in Kyiv" section, you can see the opinions of patients about our doctors - texts and videos.
You can also read the reviews of many of our patients about the service at Lumi-Dent clinics on numerous forums and review portals on the Internet.
Important! Our dentistry offers a 2-year warranty for polymer fillings and other services, and all other clinics offer only 1 year. It is safer with us!
Put fillings on teeth asleep under anesthesia
When severe pain occurs, general sedation is often necessary - immediately, otherwise the delay will lead to the progress of the disease, and to the onset of inflammation of the neurovascular bundle of the tooth - pulp.
In case of inflammation of the dental pulp, our therapists will carry out a high-quality removal of nerves from the canals, and their reliable filling using new technology, they will put fillings using dental microscopes.
A visit to Lumi-Dent dentistry for such a problem includes patency, cleaning and filling of the root canals if nerve inflammation begins. Then the dentist fills the tooth with a photopolymer dental filling.
A visit to our dental clinics always starts with a free dental consultation.
If pulpitis (inflammation of the neurovascular bundle) is suspected, the patient first undergoes an x-ray examination. Quite often, before the start of all procedures, electroodontodiagnostics (EOD) is performed - measuring the reactivity of the nerve to electrical stimulation. EOD helps to make a correct diagnosis and make a decision about root canal filling.
On the photo - before and after tooth filling with a light filling for our patient in Kyiv.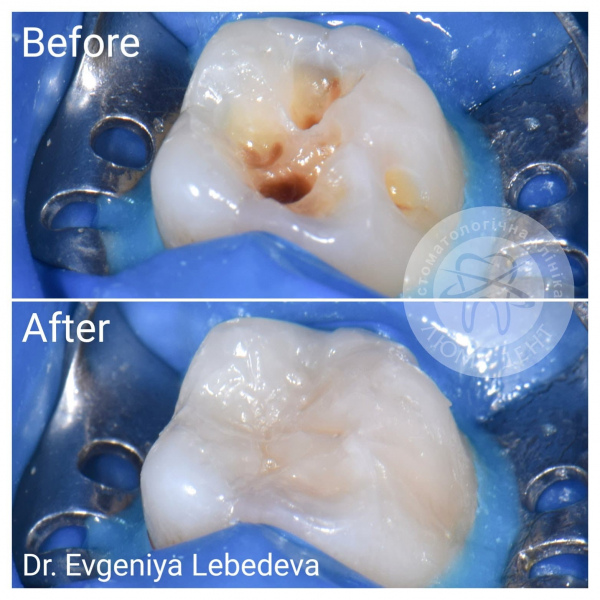 How are teeth filled

?
The main stages of filling teeth:
1) To eliminate caries, the dentist removes the affected tissues and fills the cavity in layers with a photopolymer filling on the tooth.
2) Before filling, you need to put a light-cured filling on the tooth. If necessary, the specialist installs special sectional matrices for filling, for the correct restoration of the dental lateral walls of the tooth.
One light-cured filling cannot be placed on two teeth, as they have a slight innate mobility. They seem to hang in the bone socket of the jaw on ligaments. If a common photopolymer filling is placed on two teeth, it will definitely come off from one or both teeth at once.
3) If the carious cavity is deep - often specialists put on the bottom under a dental filling - a special pad of calcium hydroxyapatite to activate the growth of intrapulpal dentin in order to increase the thickness of the dentin layer that protects the internal neurovascular bundle from external influences.
4) Then the dentist applies a light-cured filling layer by layer, and the assistant lights them up. With a large cavity, it is impossible to put a filling on a tooth with one application of a photopolymer. In this case, when the material of the photopolymer tooth filling is cured, a large internal stress will occur, which will lead to the separation of part of the filling from the tooth walls. In this place, sensitivity to irritants may appear, and in the future caries will develop again under the filling.
On the photo - before and after tooth filling with a photopolymer in Kyiv. Filling on chewing tooth.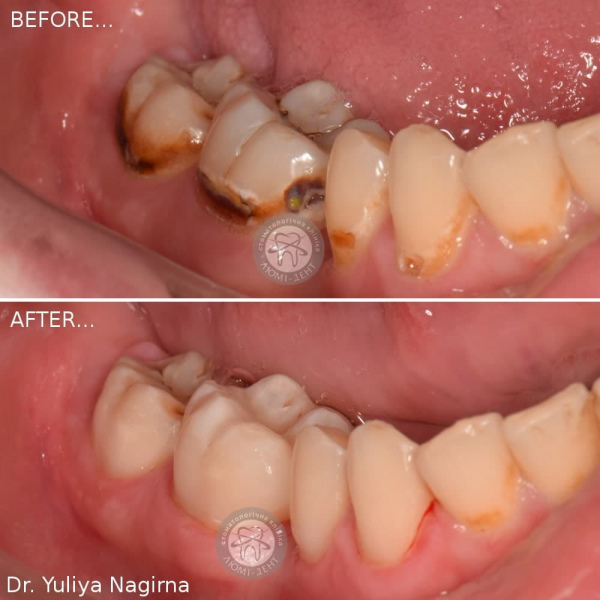 When placing light-cured fillings, dentists also actively use:
1) Retraction cord, which stops bleeding from the gums, if caries is located on the border of the tooth and the gingival margin. Also, the threads cause the gum to shrink, while opening and making it convenient for the doctor to access in case of fillings in the cavities located below the edge of the gum.
2) Interdental wedges that help to model and place a light photopolymer filling correctly so that food does not clog, the hygienic thread does not get stuck when cleaning the interdental spaces, and the gingival papilla is not injured.
3) The T-scan bite computer diagnostic system provides an optimal load on the future dental filling, to prevent an increase in the bite and possible chipping of the filling.
The restoration is modeled with individually selected materials for filling (photopolymer fillings, glass-ionomer), not only restoring the shape, but also recreating a beautiful aesthetic appearance, so that it would be difficult to determine the presence of problems in this area after the intervention of a doctor.
In our clinics, dental treatment and filling are often performed asleep (filling in a state of drug anesthesia) in one visit.
It is possible to take food right after installation of a light-cured filling from a photopolymer.
4) We are constantly developing our dental filling technologies, so today we are ready to offer all patients digital cavity scanning and the rapid production of ceramic inlays and veneers in our own digital dental laboratory. Ceramic inlays and veneers are no different from natural dental tissues, unlike photopolymer dental fillings - they do not change shape and volume over time.
In addition, ceramic veneers and inlays are much more resistant to chewing pressure, so they will serve you many times longer than photopolymer fillings. Ceramic inlays and veneers are placed in the treated tooth cavity using a special adhesive adhesive.
This construction does not differ visually from dental tissues, and it serves much better, longer, and more reliable than any type of photopolymer filling.
Our clinics have their own state-of-the-art digital laboratory that allows us to offer you the production of ceramic inlays and veneers at a uniquely low price, slightly different from the price of a light filling.
Ask our specialists about this latest treatment and prosthetics service!
Read more about veneers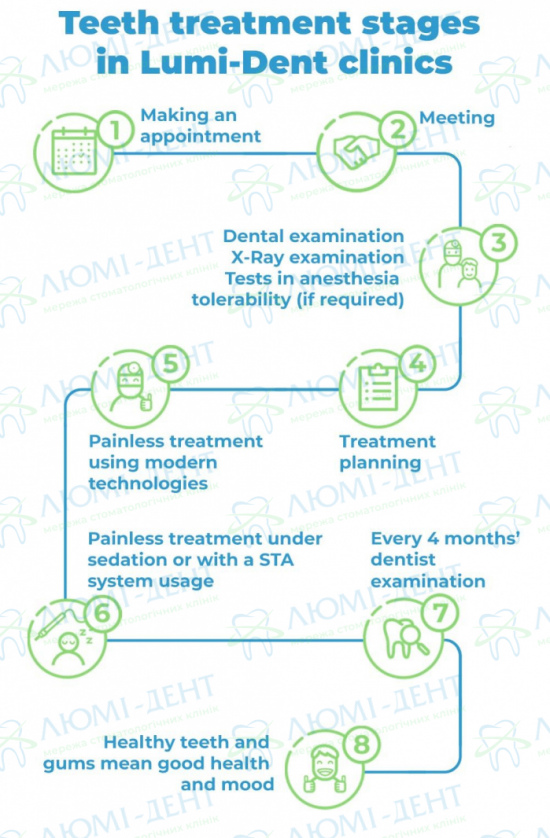 Today, you can choose the shade of the filling material of the dental filling that is optimal in color so that the restored part is no different from native dental tissues.
Moreover - usually each filling consists of several shades, with the help of such a combination it is possible to convey the maximum similarity of the structure of the teeth.
After filling the tooth, the dentist checks the restoration by bite, and then polishes the dental light-cured filling with special watering heads and pastes. After that, it performs its final illumination of the filling with a photopolymer diode lamp.
You can eat immediately after such a tooth filling, such as the light-cured filling solidifies instantly during the lightning process.
How much does it cost to put a filling on the teeth in Kyiv

?
How much does it cost to fix one tooth?
| | |
| --- | --- |
| Types of dental fillings | Price |
| 1 degree | 1 840 UAH |
| 2 degree | 2 140 UAH |
| 3 degree | 2 460 UAH |
| 4 degree | 2 520 UAH |
| 5 degree | 2 800 UAH |
| 6 degree | 3000 UAH |
| Full extension of the tooth at the root | 3650 UAH |
The price of photopolymer fillings and other services is indicated at the top and bottom of this page. Also, the cost of filling teeth can be seen in the "Dentistry prices" section.
Visit the Lumi-Dent dental clinics on the Right and Left Banks, on the Obolon, Poznyaky, Osokorky, Solomenka massifs - for a free consultation!
We guarantee you a professional approach and a great price!
The price of a photopolymer filling in Kyiv
Price calculation table for filling teeth in Lumi-Dent clinics

Types of tooth

filling by complexity

Sterile set

Computer
anesthesia
Applying a
rubber dam
Installation of a
photopolymer
filling
Use of flowable
composite
Total
cost

I degree.

100

400

190

1 150

—

1 840

II degree.

100

400

190

1 450

—

2 140

III degree.

100

400

190

1 550

220

2 460

IV degree.

100

400

190

1 610

220

2 520

V degree.

100

400

190

1 890

220

2 800

VI degree.

100

400

190

2 090

220

3 000

Complete restoration

100

400

190

2 740

220

3 650
Description of degrees of complexity

I

Superficial and initial carious processes on the chewing surface of premolars.

II

Superficial and initial carious processes on the chewing surface of the molars.

III

Medium carious processes on the masticatory and cervical surfaces of molars and premolars.

IV

Deep and medium carious processes on molars and premolars (filling restores 1-well contact and chewing surfaces). Medium carious process in the frontal area (contact surface), without damage to the cutting edge.

Tooth filling
of the V degree of complexity

The V degree includes deep carious cavities on the molars and premolars (the filling restores two contact and chewing surfaces). Medium and deep carious cavities of the frontal group with violation of the cutting edge.

VI degree

Deep cavities of all groups of teeth (filling restores more than 50% of the tooth surface).

Complete restoration

Tasteful restoration with the preservation of individual anatomy and the use of photopolymer paints in the work.
Choose from the best specialists!
Sign up for a free consultation today!
Prices for services - are indicated without taking into account additional manipulations. A detailed calculation of the cost can be seen above on the page.
Frequently asked questions and answers
Where is it better to put a filling in Kyiv?
You can fill your teeth with high quality and inexpensively in the network of Lumi-Dent clinics located in:
What is the price of a dental filling?
In Lumi-Dent dental clinics, the cost of a tooth filling ranges from 1150 to 2090 UAH.
What are the stages of dental filling?
Anesthesia;

Preparing;

Preparation for filling - gum retraction, disinfection, installation of matrices;

Installation of medical pads;

Installation of a seal directly - photopolymer, glass ionomer, compomer;

Running-in fillings in shape and bite;

Grinding and polishing of the filling;

Finishing illumination of the work done.
What is the cost of caries removal?
The cost of caries treatment with a photopolymer filling is - from 1150 to 2090 UAH. The exact price of treatment depends on the amount of affected tooth tissue.
In addition, it is also necessary to pay for anesthesia 400 UAH.
Until prices rise - sign up for a free consultation!
Sign up for free online consultation