Dear patients
15.07.2016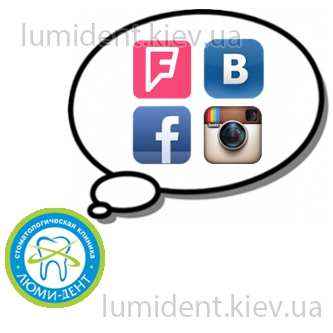 From now on you have a possibility to have a discount in amount of 6% for therapeutic treatment, 3% for prothesisi and ortodental procedures, and 4% for surgery at first visit to Lumi-Dent clinic by using any of mobile applications: https://www.instagram.com/, https://www.facebook.com/, https://ru.foursquare.com/
To obtain the discount from the first visit to clinic - please do the following:
Enter any social network from your cellphone https://www.instagram.com/, https://www.facebook.com/, https://ru.foursquare.com/ .
IF you are not registered yet - register (sign in) in this application.
Also you will need to write some informational message below it - kind of «I cam to #Lumident, decided to treat my teeth)», «Waiting for survey at dentist in #Lumident) Feeling fierce)))», «Came to treat my teeth in the #Lumident) waiting for a perfect result)» or any other - your choice.
Foursquare — Check-in at the reception area.
To obtain the DISCOUNT CARD you have to make a screenshot with your phone with the result and send it via the viber to the clinic number, administrators will guide you which number is better to use. After getting the screenshot by viber administrators will issue and give you the DISCOUNT CARD, which can be used immediately.
Attention! These discounts are not covering the special proposals in our clinic, teeth implantation, and are not cumulative!
To work with the application you will have to be connected to Internet, you can use free Wi-Fi, password can be asked at clinic administrators.
Follow our clinic in social networks and get the discount!
← Back to stock list